Grow Pod Solutions is on the leading edge of one of the most significant changes in the history of world food production
CORONA, Calif., Jan. 23, 2018 /PRNewswire/ -- Grow Pod Solutions, the developer of portable indoor growing environments, announced that their next gen systems will become a vital part of feeding the world's growing population.

Indoor farming is "the future of agriculture," according to a recent article in Futurism Magazine. "New technologies are changing the equation, allowing people to grow food in places where it was previously difficult or impossible, and in quantities akin to traditional farms," the magazine reported.
However, the magazine also noted that setting up an indoor farm is often not an easy task.
"Vertical farmers need to know how to operate the technology, including systems that control elements such as soil contaminants and water availability, that nature takes care of on a traditional farm."
Grow Pod Solutions advanced technologies eliminate these obstacles. Grow Pod's indoor farms are fully automated, and feature innovations such as greenhouse control software, Bipolar Ionization, automatic dosing, fertigation scheduling and full-time surveillance. The systems conserve water, have minimal energy costs, and produces clean, pesticide-free crops.
According to a Thomson Reuters Foundation study, indoor farms like Grow Pods are "critical" to combat hunger.
And EcoWatch said, "Urban farms could supply almost the entire recommended consumption of vegetables for city dwellers, while cutting food waste and reducing emissions from the transportation of agricultural products."
George Natzic, President of Grow Pod Solutions, said that the company is well-positioned to become a market leader in affordable, transportable automated farms.
"Our advanced, simple-to-operate system allows individuals, community groups, businesses and organizations to grow healthy, organic foods virtually anywhere," he stated. "Our pods feature technologies not found anywhere else, which I believe will position Grow Pod Solutions as the premier provider of superior quality automated farms."
For information on Grow Pod Solutions, visit: www.growpodsolutions.com or call (855) 247-8054.
Featured Product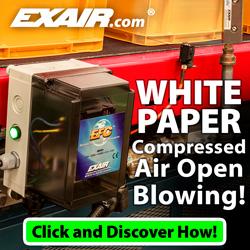 Compressed air is a limited resource that is generated in-house for the benefit of many operations within the manufacturing environment. Learn how to ensure all point of use applications are using your compressed air in the most effective and efficient way possible. Learn how much it costs to produce that compressed air and how Engineered Nozzles can help you use your air more effectively and efficiently.