New products to help manage time and resources for the 2018 growing season
MINNEAPOLIS, Jan. 9, 2018 /PRNewswire/ -- Sentera announces the availability of elevation maps within the Sentera AgVault™ platform, offering agronomists, crop consultants, and growers additional field insights. The system now delivers elevation variance maps. Topography and elevation data helps ag professionals increase operating efficiencies when building variable rate prescriptions, creating drainage or land-leveling plans, and designing subsurface drainage. Elevation maps are ordered within AgVault with the click of a button and are delivered as both a color-mapped topographic map image and set of industry-standard shapefiles.

"We are excited to offer our users another layer of data that will help drive decision making in 2018," remarked Reid Plumbo, director of product management for Sentera. "Elevation data is important in most agriculture application decisions, and our latest capability will allow users to consider it alongside vegetative health products when making application plans."
Getting It Right the First Time
Elevation data helps customers leverage resources in important ways. Kris Poulson, vice president of agriculture for Sentera explains, "Consultants and growers can survey a field and Sentera will produce and deliver an elevation model that reflects different elevation points throughout that field. This information helps customers streamline activities such as land leveling, prescription generation, sub-surface tile design, and surface water management, including ditching activities."
Poulson continues, "Maybe most importantly - having elevation data in advance dramatically increases your ability to get the project done right the first time, allowing you to focus on other value-added activities."
Increasing Efficiency
Elevation maps based on Sentera imagery are available at superior sampling resolution and grid spacing, and more quickly than maps produced with legacy techniques. The accuracy of the resulting product depends on the equipment and techniques used to collect the imagery, but even the most basic drones can generate useful elevation insights. For information about the accuracy of the elevation data available from Sentera's products, please contact Sentera at info@sentera.com.
Elevation maps are a paid product, available beginning today through Sentera's AgVault Platform.
https://agvault.sentera.com/
About Sentera
Sentera is a leading supplier of integrated remote sensing, analytics, and IoT solutions to the agriculture industry. Sentera makes it easy for users to integrate in-field real-time data with many digital ag platforms. Sentera's equipment has flown tens of millions of acres all over the world, and the company manages terabytes of new data for its customers every year. For more information, visit www.sentera.com.
Featured Product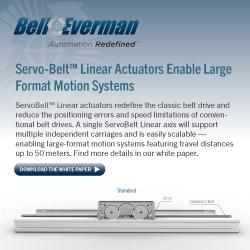 Manufacturing and packaging operations that still depend on manual material or parts handling operations can reap immediate benefits from a type of automation based on long-travel Cartesian robots with custom end-of-arm tooling (EOAT) and advanced sensing capabilities. These robots can support a variety of machines - performing otherwise manual tasks such as machine tending or transferring in-process parts - making long-travel Cartesian transfer robots a major upgrade to processes and operations. Download the White Paper from Bell-Everman