Strong R&D Pipeline of Microbial Products Aims to Boost Crop Yields and Fight Pests
COPENHAGEN, Denmark & ST. LOUIS--(BUSINESS WIRE)--The BioAg Alliance, Monsantos and Novozymes collaboration to improve crop harvests through products containing naturally-occurring microbes, today announced an updated research and development pipeline.

Among the highlights is the Corn BioYield 2 project, which advanced to Phase 4 (pre-commercial) in The BioAg Alliance R&D pipeline and is expected to be branded as Acceleron B-360 ST, pending regulatory approvals. Acceleron B-360 ST promotes symbiosis between microbes and corn plants to strengthen root systems and increase plants access to nutrients. Acceleron B-360 ST will be used in combination with the successful Acceleron B-300 SAT, which was introduced in 2017 and used by U.S. farmers on more than 4 million corn acres in its first year. Acceleron B-300 SAT is expected to be applied to between 8-10 million acres in 2018, while Acceleron B-360 ST is scheduled to enter the market in 2019.
Biological seed treatments such as Acceleron B-300 SAT help plants build healthy root systems, which enable more efficient uptake of nutrients into the plant. The increase in nutrient uptake results in a decrease in the release of those nutrients into the environment, either via runoff into water supplies or into the air. The increases in plant biomass can help to sequester carbon into the soil, particularly in microbes that promote root development. The result is pulling carbon dioxide out of the air and storing it in the soil.
The BioAg Alliance also announced the achievement of a significant milestone in the Corn BioYield 3 project. Over the past four years, researchers have screened thousands of microbes across multiple sites to find out which microbes deliver the highest increase in crop yield. A small group of top performers have now been selected for commercial evaluation and development.
"The BioAg Alliance sets a very high bar for success through a challenging and unique field testing program where microbes are selected by consistently outperforming thousands of other microbes in real application conditions across several years and in diverse environments," says Tom Adams, Monsanto Vice President of Global Biotechnology. "Our field testing program is not only generating novel product leads, but also providing insight into microbe and environment relationships, which will help lead to precision agriculture solutions in the future."
Projects in the soy pipeline also progressed. The Soy BioYield 2 project is expected to lead to a product for the North American market and a product for South America. Both products contain bacteria that increase soybeans uptake of nitrogen leading to improved plant health and more bountiful harvests. The Soy BioNematicide project is researching a new biological way to control soybean cyst nematodes, a parasitic roundworm that attacks the roots of soybeans and is a devastating pest worldwide causing stunted growth and severe loss of yield. The project has now shown efficacy for four consecutive years.
"Natures toolbox of beneficial bacteria and fungi can help us produce healthier crops with higher yields while reducing the need for fertilizer and other chemicals," says Ejner Bech Jensen, Novozymes Vice President for BioAg Research. "Our understanding of microbes and their symbiotic relationships with plants is evolving rapidly, and we have exciting products coming to market over the coming years in both the bioyield and biocontrol segments."
In addition to the pipeline updates, The BioAg Alliance announced it is preparing for expansion into Europe. Today, The BioAg Alliance products are primarily sold in North and South America, but in 2019-20 the Alliance plans to launch products for growers of corn, oilseed rape and wheat in European markets. The products will mainly be based on Acceleron B-300 SAT and Acceleron B-360 ST technologies.
The BioAg Alliance biological products are derived from naturally-occurring microbes such as bacteria and fungi. The Alliance aims to produce bioyield products, which help plants with nutrient uptake, and biocontrol products, which help protect plants against pests and diseases. The products can be applied to seeds before planting, to soil in-furrow, or to growing crops. They can be used by farmers that grow broad-acre crops such as corn and soy, and on fruits and vegetables. Microbial products can increase crop yields and complement or replace agricultural chemicals and fertilizers, while helping farmers reduce the amount of CO2 produced from their land.
The BioAg Alliance 2018 pipeline update was announced as part of Monsantos annual pipeline update. For more information, go to www.monsanto.com/pipeline.
Pipeline Highlights
Corn BioYield 2, expected to be branded as Acceleron B-360 ST pending regulatory approvals, harnesses the signal molecule LCO (lipo-chitooligosaccharide) that promotes beneficial plant-microbe interactions, such as symbiotic relationships between soil fungi and plants. Beneficial soil fungi colonizes the roots to increase the crop's ability to uptake nutrients and water. This project advanced to Phase 4 in The BioAg Alliance R&D pipeline.
The Soy BioYield 2 project is based on the beneficial soil bacteria bradyrhizobium. The bacteria and the soybean plants enter a symbiotic relationship which increases nutrient uptake for the plant and increases yield. This project advanced to Phase 3 in The BioAg Alliance R&D pipeline.
The Soy BioNematicide project is expected to provide an additional tool for growers to control nematodes, microscopic parasitic worms that damage plants. It shows activity against multiple nematode species, including the soybean cyst nematode. The Alliance will continue field tests to confirm efficacy in combination with a range of other chemical and biological seed treatments. This project advanced to Phase 3 in The BioAg Alliance R&D pipeline.
The Corn BioYield 3 project - The BioAg Alliance is testing multiple microbial strains for a new corn inoculant. The Corn BioYield 3 project is anticipated to be the first product invented and developed from discovery to launch through The BioAg Alliance.
About The BioAg Alliance
First announced in December 2013, the BioAg Alliance is unique in the industry, bringing together Novozymes BioAg operations and capabilities within microbial discovery, development and production with Monsantos microbial discovery, advanced biology, field testing and commercial capabilities. The result is a comprehensive discovery, development and commercial collaboration to help farmers globally meet the challenge of producing more with less in a sustainable way - for the benefit of agriculture, consumers, the environment and society at large.
About Novozymes
Novozymes is the world leader in biological solutions. Together with customers, partners and the global community, we improve industrial performance while preserving the planets resources and helping build better lives. As the worlds largest provider of enzyme and microbial technologies, our bioinnovation enables higher agricultural yields, low-temperature washing, energy-efficient production, renewable fuel and many other benefits that we rely on today and in the future. We call it Rethink Tomorrow. www.novozymes.com
About Monsanto Company
Monsanto is committed to bringing a broad range of solutions to help nourish our growing world. We produce seeds for fruits, vegetables and key crops - such as corn, soybeans, and cotton - that help farmers have better harvests while using water and other important resources more efficiently. We work to find sustainable solutions for soil health, help farmers use data to improve farming practices and conserve natural resources, and provide crop protection products to minimize damage from pests and disease. Through programs and partnerships, we collaborate with farmers, researchers, nonprofit organizations, universities and others to help tackle some of the worlds biggest challenges. To learn more about Monsanto, our commitments and our more than 20,000 dedicated employees, please visit monsanto.com. Follow our business on Twitter® at twitter.com/MonsantoCo.
Featured Product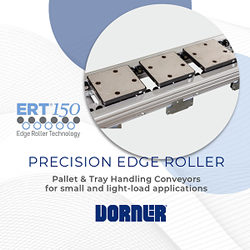 The next evolution in Dorner's Edge Roller Technology conveyor platform, the ERT®150, is ideal for small and light-load assembly automation, as well as medical and medical-device assembly application. The ERT platform is the only pallet conveyor of its kind available with an ISO Standard Class 4 rating for cleanroom applications. Earning the ISO Standard 14644-1 Class 4 rating means Dorner's ERT150 will conform and not contribute to the contamination of cleanrooms to those standards. As implied by its name, the ERT150 (Edge Roller Technology) uses rollers to move pallets through the conveyor smoothly with no friction (a byproduct often seen in belt-driven platforms). The conveyor's open design eliminates concerns of small parts or screws dropping into rollers and causing conveyor damage or jamming. The ERT150 is suited to operate in cleanroom environments requiring a pallet handling conveyor. It is capable of zoning for no or low-back pressure accumulation and is ideal for automation assembly applications within industries including medical devices, electronics, consumer goods among others.