Cape Fear Solar Systems is installing a 91 Kw Solar System for Farm Fresh Produce
WILMINGTON, NC, December 12, 2017 - From sweet potatoes to bell peppers, butternut squash to blueberries, Farm Fresh Produce is a major food distributor across the globe. The entire Farm Fresh operation is designed to work toward an optimized carbon footprint, by using natural pesticides, conserving water in the fields, and even deploying advanced logistics to minimize road-based emissions. Now Farm Fresh is taking sustainability to a new level by installing a 91 Kw Solar Array.

Cape Fear Solar Systems will be installing 260 solar panels on the Farm Fresh sweet potato packaging facility which will help power their operations. Solar power systems derive clean renewable energy from the sun and reduces our collective dependence on fossil fuels. Farm Fresh relies on the sun to grow their crops and now they will rely on the sun to power their distribution center which supplies produce across the world.
"We chose Cape Fear Solar Systems because they are local and more importantly have an excellent reputation," stated the Founder of Farm Fresh Produce, Steve Ceccarelli. "Our team is always looking for environmentally sound investments and we are thrilled to work with Cape Fear Solar Systems to add solar solutions." Concludes Ceccarelli.
The solar installation will be completed in Spring of 2018 at Farm Fresh Produces packaging facility in Clinton, North Carolina—where they grow and bundle sweet potatoes to be distributed locally and around the globe. The Cape Fear Solar Systems team consists of highly skilled, certified installers who are experienced in both commercial and residential Photovoltaic System installations. Farm Fresh is eager to utilize the sun to power their distribution center, making them even greener and more sustainable than they are currently.
Today, Farm Fresh has grown into one of the worlds most innovative and reliable produce distribution operations. "Solar is a fantastic fit for Farm Fresh. Not only is solar a sound investment for the company but it aligns perfectly with their sustainability model," stated Cape Fear Solar Systems Project Manager, Robert Parker. "Its so rewarding to work with customers like Farm Fresh that understand the environmental and financial impacts solar offers," explained Parker.
About Cape Fear Solar Systems, LLC
Cape Fear Solar Systems is currently ranked as the number one installer in Southeastern, North Carolina by Solar Power World. Established in 2007, the company has designed and installed over 500 solar systems to date. Cape Fear Solars pride is in its team, providing the highest quality of craftsmanship, products, and material. Additionally, customers receive unlimited post installation support. The company is the only SunPower Elite dealer in the region.
SunPower solar panels are recognized globally as the most efficient, and therefore, the most power producing panels, used by NASA and other intelligent organizations world-wide. Cape Fear Solar offers turnkey energy systems such as photovoltaic (solar electric) panels, battery backups, generators, solar water heaters, pool heating systems and Tesla charging stations for residential and commercial customers. To learn more about Cape Fear Solar visit www.CapeFearSolarSystems.com.
About Farm Fresh Produce
Farm Fresh is a family owned company headquartered in eastern North Carolina. They employ a highly skilled team that helps the company be specialists in two things: harvesting genuine North Carolina and Mississippi sweet potatoes, and bringing effective new ideas to market. The company chooses growing partners based on quality and commitment (instead of size) which helps support and sustain real family farms. They are committed to offering the kind of quality, reliability and service that adds up to the best value in the business. They reinvest in their operations to ensure steady, strategic growth. Today they are a leader in the produce distribution market. To learn more about Farm Fresh Produce visit: https://www.farm-fresh-produce.com/.
Featured Product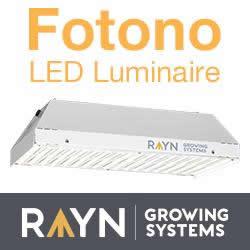 Fotono is a full spectrum LED horticultural luminaire designed to directly replace HPS lights in greenhouses. At 12 pounds, 20 inches long, and 5 inches high, Fotono's compact size makes installation simple while minimizing structural burden on greenhouses. This compact fixture packs energy-saving and yield-improving features, such as a high output, stepless dimming, advanced spectral capabilities, and more.