First practical drone solution for farmers
BOSTON--(BUSINESS WIRE)--American Robotics, an industrial drone developer specializing in agricultural automation, today unveiled its flagship product ScoutTM. It is a self-charging, self-managing drone system capable of autonomously carrying out daily scouting missions.

@amerobotics unveils fully-autonomous drone system for precision farming, #agtech #ai #agriculture #robotics
Tweet this
By 2050, the world population is expected to grow to 10 billion. As a result farmers will need to increase food production by 70%. This issue, coupled with a reduction in arable land and the shrinking number of farmers across the globe, will require new tools to increase automation and efficiency in agriculture.
Traditional scouting techniques, including first-generation and consumer drones, are inadequate at detecting plant stress early enough to offset the billions of dollars of lost yields. These methods are often time-consuming, complicated, and uneconomical. To improve agricultural decision-making, optimize inputs, and maximize yields, automation must be delivered in a reliable industrial solution.
Scout delivers this automation in a turn-key package consisting of an autonomous drone with visual and multispectral cameras and a weatherproof drone station which handles housing, charging, data processing and data transfer. Once installed within a farmer's field, it requires no manual intervention to plan, fly and manage the drone operations. Health reports and analysis are seamlessly sent to the farmer. The system has already been deployed in a range of agricultural locations across the United States this summer.
American Robotics is headquartered in MassRobotics in Boston, an emerging hub for robotics startups.
Quotes & Commentary
"The technology behind Scout was developed after working with farmers and ag professionals to understand the unique logistical and economic challenges they face. As a result, Scout is the first practical, industrial drone system that truly addresses the needs of this industry. Full-automation is a key ingredient in the future of precision farming, and were eager and excited to finally deliver this capability to our customers."
Reese Mozer, Co-Founder and CEO of American Robotics
"The potential for Scout to advance precision agriculture is immense. One of the most frequent questions I receive is, 'When am I going to be able to buy a drone that can just fly my whole farm without me being there? Because so much time and cost is needed just to operate a drone, growers and agronomists are unlikely to utilize it more than once a month, if at all. This prevents them from getting imagery data at a frequency and resolution necessary for effective crop scouting.
"Currently no other product directly address the needs of farmers, and I believe American Robotics has developed the drone solution that agriculture has been waiting for."
Dr. Ray Asebedo, Professor of Precision Agriculture, Kansas State University
"I have been conducting research in robotics for nearly 28 years, and have been working heavily in the area of agricultural robotics for the past six. The rapid expansion of drones in farming has been impressive, but Ive also been concerned with their inability to address the amount of time and cost required by the grower to use these tools.
"American Robotics Scout is the only practical solution that addresses this issue. Farmers need a tool that works for them, not another piece of technology that consumes their day. I believe fully-automated drone operation is a revolutionary approach that solves many of the real-world problems facing growers today, and I am confident Scout will scale to meet the needs of growers around the world."
Gary V. McMurray, Associate Director, Collaborative Robotics, Georgia Tech Research Institute
Other Resources
About American Robotics
Headquartered in Boston, MA, American Robotics has developed a practical drone system for commercial farming, capable of fully-automated, season-long operation. Learn more about American Robotics here, or connect on Twitter and LinkedIn.
Featured Product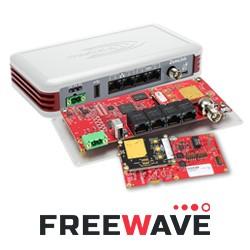 Making the most of IIoT in agriculture means making sure all data from the field can be readily accessed and acted upon, no matter where it is remotely generated. FreeWave has the solutions to power your precision farming systems, combining sensor data capture, IQ edge data processing, and network communications in the ways that meet your unique demands and enable you to easily uphold compliance as regulatory pressures rise.