Company aims to build local greenhouse farms in every major U.S. metro
BrightFarms has been named to Inc. Magazines list of the top 10 most successful startups in the food and beverage industry. Featured among brands such as Halo Top and Chefs Cut Real Jerky, BrightFarms was the only fresh produce brand to make the list.

The company has grown by more than 1,800 percent in the last three years with the development of greenhouse farms for leading retailers like Ahold-Delhaize and Roundys (Kroger). Earlier this year, Inc. Magazine ranked BrightFarms number 235 on their list of the 500 fastest growing private companies in America.
To support the growth, the company has recruited a number of key leaders from the food industry, including Vice President of Sales Dean Martel, former sales executive at Fresh Express; Vice President of Marketing Abby Prior and Vice President of Operations Josh Norbury, formerly with Bimbo Bakeries, among several others.
"Our rapid growth stems from the enormous consumer demand for locally grown produce" said BrightFarms CEO Paul Lightfoot. "Were developing the next phase of growth for our company and plan to enter every major metropolitan market across the country."
BrightFarms operates three commercial greenhouse farms in Rochelle, IL.; Culpeper, VA.; and Bucks County, PA., with another under construction in Wilmington, Ohio. The company plans to open another 10-15 greenhouses in the next three years.
For more information, visit http://www.brightfarms.com.
About BrightFarms
BrightFarms grows local produce, nationwide. BrightFarms finances, builds, and operates local greenhouse farms in partnership with supermarkets, cities, capital sources, and vendors, enabling it to quickly and efficiently eliminate time, distance, and costs from the food supply chain. BrightFarms growing methods, a model for the future of scalable, sustainable local farming, uses far less energy, land and water than conventional agriculture. Fast Company recognizes BrightFarms as "One of Worlds 50 Most Innovative Companies" and one of the "Top 10 Most Innovative Companies in Food" in the world.
Featured Product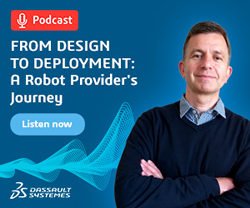 Let's listen to Arvind Krishnan, industry analyst at Lifecycle Insights and Michael Mayr, Industrial Equipment Sales Strategy Expert at Dassault Systèmes. They will discuss the robot industry and how startups can succeed in this market.