Repeat Orders Signal Ag Tech Industry's Standardization of Heliospectra's Market-Leading Technology Solutions
Heliospectra AB (publ) (OTCQB: HLSPY, FIRSTNORTH: HELIO), world leader in intelligent lighting technology for greenhouses and controlled plant growth environments, announces a sixth order from a global Fortune 500 AgTech company. The year-end order of E60 series lighting indicates that AgTech industry leaders are rapidly standardizing on Heliospectra's proven LED solutions. The order valued at 2 723 000 SEK ($328,482 USD) completes five previous orders from this customer between 2015 and 2017.

"It is exciting to see industry-leading companies standardize on Heliospectra's product portfolio with repeat orders," said Ali Ahmadian, CEO, Heliospectra. "Our AgTech customers' research results influence the future of commercial food production and spur the adoption of LED technologies worldwide."
Committed to delivering highest-quality crops and controlling consistent yields, Heliospectra provides AgTech companies with lighting solutions that address a diverse range of commercial and research applications.
"The superior quality of our products ensures reliable mission-critical lighting for greenhouse and indoor growing environments," explained Ahmadian. "Whether our AgTech customers are using our optimized fixed spectrum or adjustable full spectrum, they know they are implementing the most flexible and advanced horticulture lighting technology available in the market."
This order will be delivered in the fourth quarter and will be reflected in the Q4 accounts.
http://www.heliospectra.com
Featured Product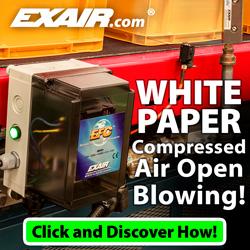 Compressed air is a limited resource that is generated in-house for the benefit of many operations within the manufacturing environment. Learn how to ensure all point of use applications are using your compressed air in the most effective and efficient way possible. Learn how much it costs to produce that compressed air and how Engineered Nozzles can help you use your air more effectively and efficiently.