Climate FieldView™ Platform to Deliver European Farmers Advanced, Data-Driven Technologies to Sustainably Increase Crop Productivity
SAN FRANCISCO & HANOVER, Germany--(BUSINESS WIRE)--The Climate Corporation, a subsidiary of Monsanto Company (NYSE:MON), announced today at Agritechnica, the worlds leading trade fair for agricultural machinery, the pre-commercial launch of the Climate FieldView™ digital agriculture platform into regions of Europe for the 2018 growing season. Through the companys innovative, analytics-based digital tools, farmers in these European regions will be able to get all their data into one, connected platform, uncover valuable field insights and maximize productivity to get the most out of every acre.

"Transformative digital technologies are helping more farmers around the world gain a deeper understanding of their fields through easy-to-use tools that are helping enhance their operations through the power of data," said Mike Stern, chief executive officer for The Climate Corporation. "Farmers around the world are experiencing the value of the Climate FieldView platform on millions of acres, and soon farmers in Europe will have the opportunity to bring their field data to life. Farmers will be able to seamlessly collect data, quickly visualize it, and gain personalized insights to optimize agronomic practices and make critical management decisions that impact sustainable crop production."
Over the past year, the Climate FieldView platform conducted robust testing efforts across farms in Germany, France and Ukraine. For the upcoming season, more farmers in these countries will be able to experience data collection and visualization in the cab of their equipment, along with additional tools to analyze and evaluate crop performance and manage variability through customized seeding and fertility prescriptions.
"Climate FieldView is an extremely user-friendly, intuitive tool," said Andreas Roehrl, a farmer from Bavaria who participated in beta testing the Climate FieldView platform this season. "From my point of view, it is the first tool that has the potential to help me finally get all my data in one place and easily analyze all the available information to start planning ahead and ensure I'm making the best decisions for the success of my operation. Im excited to accompany this coming year's growing season and harvest with Climate FieldView, and I hope the positive projections on my business can be implemented in practice and will bring desired results."
Climate FieldView Platform Offering in Europe
Data Connectivity - Farmers can collect, store and visualize their field data in one easy-to-use digital platform through the Climate FieldView™ Drive, a device that easily streams field data directly into a farmers Climate FieldView account. FieldView Drive is compatible with many equipment types across Europe, including planters, sprayers and combines, helping farmers easily collect field data for the agronomic inputs they manage throughout the season. Recently, The Climate Corporation announced a global data connectivity agreement with AGCO, providing more farmers even greater options to connect their equipment to the Climate FieldView platform. In addition to the FieldView Drive and AGCO connectivity, farmers will be able to connect their field data to their Climate FieldView account through Precision Planting LLC's monitors, cloud-to-cloud connection with other agricultural software systems such as the John Deere Operations Center, and through manual file upload. Available in Spring 2018.
Yield Analysis Tools - With Climates seed performance and analysis tools, farmers can see what worked and what didnt at the field level or by field region, and apply those insights to better understand field variability by quickly and easily comparing digital field maps side-by-side. Available in Spring 2018.
Seeding and Fertility Scripting - Farmers can manage their inputs to optimize yield in every part of their field with manual variable rate seed and fertility scripting tools. Through Climates manual seed scripting tools, farmers can easily create detailed planting plans for their fields to build a hybrid specific prescription tailored to their unique goals, saving time and improving productivity. Additionally, Climate offers a manual fertility scripting tool, enabling farmers the ability to optimize their inputs with a customized management plan for nitrogen, phosphorus, potassium and lime tailored to their unique goals. Available in Spring 2018.
Advanced Field Health Imagery - Through frequent and consistent, high-quality satellite imagery, farmers can instantly visualize and analyze crop performance, helping them identify issues early, prioritize scouting and take action early to protect yield. Climate's proprietary imagery process provides consistent imagery quality and frequency by using high-resolution imagery with vegetative data from multiple images, in addition to advanced cloud identification. Farmers can also drop geo-located scouting pins on field health images and navigate back to those spots for a closer look, or share with agronomic partners. Available in Fall 2018.
Additional Digital Product Offerings in Europe
As part of Climates suite of digital technologies, the company offers two additional product offerings that are changing agriculture and helping farmers more efficiently meet the needs of our growing planet.
VitalFields, an Estonia-based farm management software company acquired by Climate in late 2016, delivers a simple farm management tool allowing farmers to plan and manage their field activities, and generate management and compliance reports automatically to ensure compliance with European Union environmental standards. The widely-adopted VitalFields™ system continues to expand its footprint in Europe, with plans for integration into the Climate FieldView platform in coming seasons.
The AquaTEK™ irrigation system, launched by Monsanto Europe in early 2017, provides farmers an irrigation management tool for efficient water use in corn and is powered by an advanced analytics-based irrigation platform that is delivered through HydroBio, which was acquired by Climate in April 2017.
2018 Availability
The Climate FieldView platform will be available in Germany, France and Ukraine so that farmers can begin using it on their farms in time for planting of summer crops. To experience the complete value of the platform throughout the entire growing season, farmers should sign up for a Climate FieldView account this winter. The VitalFields tool is currently available in Germany, Poland, Austria, Estonia, Romania and Switzerland. The AquaTEK system is currently available in Italy, Spain and Portugal.
As Climate continues to expand its digital technologies to help more farmers access advanced agronomic insights, additional new data layers will feed the companys unmatched R&D engine, ultimately enabling the development of valuable new features for farmers in the Climate FieldView platform. In August 2017, the company announced the acceleration of R&D advancements through the companys robust innovation pipeline, along with new product features and enhancements to help farmers manage their field variability more precisely than ever before. Launched in 2015, the Climate FieldView platform is on more than 120 million acres with more than 100,000 users across the United States, Canada and Brazil. It has quickly become the most broadly connected platform in the industry and continues to expand into new global regions.
For more information about the Climate FieldView platform and pricing in Europe, visit www.climatefieldview.de (Germany), www.climatefieldview.fr (France) or http://www.climatefieldview.com.ua/ (Ukraine). For more information about VitalFields, visit www.vitalfields.com.
About The Climate Corporation
The Climate Corporation, a subsidiary of Monsanto Company, aims to help all the worlds farmers sustainably increase their productivity through the use of digital tools. The integrated Climate FieldView™ digital agriculture platform provides farmers with a comprehensive, connected suite of digital tools. Bringing together seamless field data collection, advanced agronomic modeling and local weather monitoring into simple mobile and web software solutions, the Climate FieldView platform gives farmers a deeper understanding of their fields so they can make more informed operating decisions to optimize yields, maximize efficiency and reduce risk. For more information, please visit www.climate.com and follow the company on Twitter @climatecorp.
About Monsanto Company
Monsanto is committed to bringing a broad range of solutions to help nourish our growing world. We produce seeds for fruits, vegetables and key crops - such as corn, soybeans, and cotton - that help farmers have better harvests while using water and other important resources more efficiently. We work to find sustainable solutions for soil health, help farmers use data to improve farming practices and conserve natural resources, and provide crop protection products to minimize damage from pests and disease. Through programs and partnerships, we collaborate with farmers, researchers, nonprofit organizations, universities and others to help tackle some of the worlds biggest challenges. To learn more about Monsanto, our commitments and our more than 20,000 dedicated employees, please visit monsanto.com. Follow our business on Twitter® at twitter.com/MonsantoCo.
Featured Product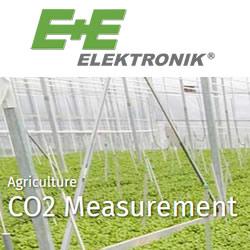 Lowering of energy costs, acceleration of growth and extension of the possible storekeeping duration can be optimised by the precise measurement of humidity, CO2-content and temperature. Optimum basic conditions for animals and plants ensure best agricultural products. As different applications demand various adopted solutions for optimization of agricultural processes, E+E Elektronik provides a broad portfolio of agricultural monitoring products