This integration makes it quick and easy for farmers and agronomists to put their drone data to work in agX Compliant Applications such as SST Summit®, Sirrus®, and Adapt-N®, AgSolver®, and others.
Botlink announces a seamless flow of actionable aerial data into the agX Platform.

This integration makes it quick and easy for farmers and agronomists to put their drone data to work in agX Compliant Applications such as SST Summit®, Sirrus®, and Adapt-N®, AgSolver®, and others.
Botlinks XRD LTE data-streaming hardware and Botlink Capture flight control software already make it easy for farmers and agronomists to acquire images and create aerial maps of their crops. Now, aerial maps created using the Botlink platform are automatically synced with agX®, further increasing the value of the Botlink platform for agronomists and farmers.
"THE QUICK AND SEAMLESS TRANSFER OF PRECISION AERIAL IMAGERY FROM DRONES FLOWN USING BOTLINK TO APPLICATIONS COMPATIBLE WITH AGX WILL HELP AGRONOMISTS COVER MORE GROUND ACCURATELY AND EFFICIENTLY," BOTLINK CEO TERRI ZIMMERMAN SAID. "DRONES THAT PROFESSIONAL AGRONOMISTS USE TODAY ARE NOW ESSENTIAL TOOLS TO IMPROVE CROP EFFICIENCIES."
Botlinks integration with the agX platform enables them to provide their customers with an end-to-end automated crop scouting and analysis workflow. This saves farmers and agronomists multiple steps and reduces the time between image capture and analysis, meaning the data can be used while it is still timely and actionable.
Botlinks partners are excited to offer this capability to their customers. Bret Chilcott of AgEagle, Botlink partner and manufacturer, commented: "Handling SD memory cards, manually uploading images to a computer, waiting for precision agriculture maps to be generated and then importing the image data into precision ag software is now a thing of the past."
Botlinks advanced technology now allows the seamless integration between drone and precision ag software. "OEMs are not the only players excited; ultimately, farmers and agronomists stand to benefit the most from our seamless integration with the agX platform," said Alex Kube Co-Founder and CSO of Botlink.
About agX
As a leader in data management for the agricultural industry, agX is a Platform as a Service (PaaS) that provides geospatial infrastructure and data standards necessary for a community of integrated products and services. agX offers a standardized, seamless, and secure method for users to exchange data between compliant applications. Thousands benefit by using the platform to consistently extract value from their data and efficiently use best of breed software products - making agX the language for agriculture. More information about agX can be found at, www.agXPlatform.com.
About Botlink
Botlink is a user-friendly control, safety, and data delivery platform that makes integrating drones into workflow simple and affordable, giving customers the real-time insight they need to make business decisions. Botlink integrates with users' existing industry analysis tools, while eliminating the problems that prevent many users from incorporating Unmanned Aircraft Systems (UAS) technology, such as a lack of aviation knowledge, stringent FAA flight guidelines and limited aircraft endurance. Botlink is based in Fargo, N.D.
To learn more about how Botlink drone software can help your ag business, visit www.botlink.com to start a free trial or chat with one of our specialists! Download our free Botlink Capture mobile app for android devices to start flying today!
Featured Product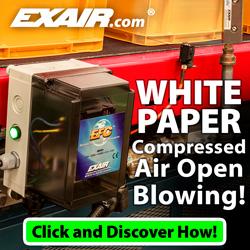 Compressed air is a limited resource that is generated in-house for the benefit of many operations within the manufacturing environment. Learn how to ensure all point of use applications are using your compressed air in the most effective and efficient way possible. Learn how much it costs to produce that compressed air and how Engineered Nozzles can help you use your air more effectively and efficiently.