Agreement to Help Farmers Seamlessly Integrate Field Data for Easy Visualization and Analysis, Enabling the Delivery of Digital Ag Insights for Enhanced On-Farm Decision-Making
SAN FRANCISCO--(BUSINESS WIRE)--The Climate Corporation, a subsidiary of Monsanto Company (NYSE:MON), announced a data connectivity agreement with AGCO (NYSE:AGCO), providing farmers around the globe more options to connect their equipment to The Climate Corporations industry-leading Climate FieldView™ digital agriculture platform.

"The Climate FieldView platform continues to lead the industry with the broadest equipment connectivity across many different equipment types, makes and models so farmers can experience the value of powerful, data-driven digital tools to get the most from every acre," said Mike Stern, chief executive officer for The Climate Corporation. "Through this new agreement with AGCO, more farmers around the world will be able to seamlessly get all their data in one place and maximize the value of that data with the Climate FieldView platforms advanced analytics-based insights to make management decisions for their operations with confidence."
The agreement will provide farmers three ways to connect to the Climate FieldView platform:
Enables real-time data connectivity between the AGCO Connectivity Module (ACM), the companys newest in-cab wireless technology, and farmers Climate FieldView accounts.
Expands compatibility across all lines of AGCO equipment for The Climate Corporations Climate FieldView™ Drive device, which streams field data directly into the Climate FieldView platform to help farmers harness their data to uncover valuable insights, optimize yield and maximize profit.
Continues to enable Climate FieldView data connectivity with Precision Plantings 20/20 monitors.
This agreement also paves the way for cloud-to-cloud data transfer that would give farmers the ability to easily send data, such as a seeding prescription, from their Climate FieldView account to AGCO for execution on AGCO equipment.
As The Climate Corporation continues to expand its data connectivity to help more farmers access advanced agronomic insights, additional new data layers will feed the companys robust R&D engine, ultimately enabling the development of valuable new features for farmers in the Climate FieldView platform. In August 2017, the company announced the acceleration of R&D advancements through the companys robust innovation pipeline, along with new product features and enhancements to help farmers manage their field variability more precisely than ever before.
Launched in 2015, The Climate Corporations Climate FieldView platform is on more than 120 million acres with more than 100,000 users across the United States, Canada and Brazil, and has quickly become the most broadly connected platform in the industry. The platform is continuing to expand into new global regions, and the company plans to bring the Climate FieldView platform to Europe in the near term, in addition to Argentina, South Africa and Australia over the next few years.
For more information about the Climate FieldView platform, contact your local Climate dealer or visit www.climate.com. To learn more about AGCOs precision agriculture offering and partnering model, visit www.AGCOcorp.com/Fuse.
About The Climate Corporation
The Climate Corporation, a subsidiary of Monsanto Company, aims to help all the worlds farmers sustainably increase their productivity through the use of digital tools. The integrated Climate FieldView™ digital agriculture platform provides farmers with a comprehensive, connected suite of digital tools. Bringing together seamless field data collection, advanced agronomic modeling and local weather monitoring into simple mobile and web software solutions, the Climate FieldView platform gives farmers a deeper understanding of their fields so they can make more informed operating decisions to optimize yields, maximize efficiency and reduce risk. For more information, please visit www.climate.com or follow the company on Twitter @climatecorp.
About Monsanto Company
Monsanto is committed to bringing a broad range of solutions to help nourish our growing world. We produce seeds for fruits, vegetables and key crops - such as corn, soybeans, and cotton - that help farmers have better harvests while using water and other important resources more efficiently. We work to find sustainable solutions for soil health, help farmers use data to improve farming practices and conserve natural resources, and provide crop protection products to minimize damage from pests and disease. Through programs and partnerships, we collaborate with farmers, researchers, nonprofit organizations, universities and others to help tackle some of the worlds biggest challenges. To learn more about Monsanto, our commitments and our more than 20,000 dedicated employees, please visit monsanto.com. Follow our business on Twitter® at twitter.com/MonsantoCo.
Featured Product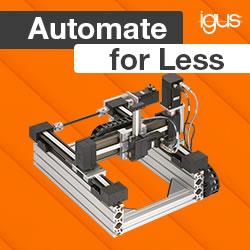 drylin® gantry robots consist of two base X-axes, a Y-axis, and an optional Z-axis. Their self-lubricating plastic liners have been engineered to slide instead of roll and to run smoother and quieter than recirculating ball bearings. drylin® gantries are also lightweight, corrosion-resistant, maintenance-free, and cost up to 40% less than traditional gantry robots. Visit this webpage to learn more.