The first hydroponic greenhouse for crafter breweries and hops growers to grow year-round
Rough Brothers, Inc. (RBI) has announced the launch of HopsHouse, a single-solution greenhouse designed to optimize yields through integrated systems and precision farming. It is the first single-solution hydroponic greenhouse for year-round hops growth and harvests, anywhere from 2-5 times a year. HopsHouse will provide growers and breweries a competitive advantage, supplying a fresher and more local product- straight from the bine to the brewery.

Hops are a relative of cannabis and grow similarly to hydroponic tomato vines. RBI has worked in both industries for a number of years. A team of crop scientists, engineers, growers and beer enthusiasts from RBI took what they know about the two plants and successfully designed a controlled environment that allowed hops to grow and flower after 3 months. The team grew 5 different hops rhizome varieties and tested different nutrient and lighting combinations to ensure the best rate of growth.
The HopsHouse is offered in two different sizes: 30 x 60, starting at $119,495 and 30 x 180 starting at $149,495. Pricing includes necessary systems and equipment. Options to customize are available.
"The craft beer industry is growing. We saw an opportunity and we are running with it," said Tom Vezdos, RBI Vice President and Divisional Manager of Commercial Greenhouses. "The introduction of HopsHouse allows breweries and growers to be more independent. No longer will breweries and growers be at the mercy of big beer conglomerates or inclement weather."
The overall beer market is a $107.6 billion industry, according to the Brewers Association, with small and craft breweries contributing $67.8 billion to the US economy. With Anheuser-Bushs acquisition of SAB Miller International, which includes SAB Hop Farms located in South Africa, craft breweries have seen their supply completely cut off. The introduction of HopsHouse will allow breweries and growers to be more independent. A study by Hop Growers of America reported that nearly 90 million pounds of hops were harvested in 2016.
For more information, visit http://www.YourHopsHouse.com or email info(at)yourhopshouse.com.
###
About HopsHouse: HopsHouse is the first single-solution hydroponic hops greenhouse. It is a product line offered by Rough Brothers, Inc., the nations largest greenhouse manufacturer.
About Rough Brothers, Inc.: Rough Brothers, Inc. was founded in 1932 as a maintenance and repair facility for greenhouses which were made out of redwood at the time. Over the last 85 years, RBI has evolved from a small workshop with a handful of employees to become the largest commercial greenhouse and garden center manufacturer in North America.
Featured Product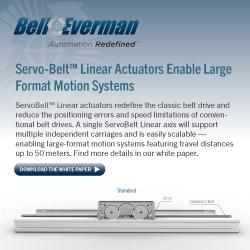 Manufacturing and packaging operations that still depend on manual material or parts handling operations can reap immediate benefits from a type of automation based on long-travel Cartesian robots with custom end-of-arm tooling (EOAT) and advanced sensing capabilities. These robots can support a variety of machines - performing otherwise manual tasks such as machine tending or transferring in-process parts - making long-travel Cartesian transfer robots a major upgrade to processes and operations. Download the White Paper from Bell-Everman