Digital Horticulture Gains Interest with Participation in Upcoming Speaking Engagements
Illumitex, Inc. is accelerating the digital revolution for controlled environment horticulture by introducing Digital Horticulture to industry leaders in a series of speaking events this fall. Jeff Bisberg, CEO & President will be discussing how Digital Horticulture provides actionable information to make better decisions, faster, in a series of lectures and panels.

Jeff is scheduled to speak at the following events:
Austin AgTech, September 20th in Austin, TX
Food & Agriculture Innovation Forum, September 29th in New York, NY
Horticulture Lighting Conference, October 17th in Denver, CO
"Digital horticulture is the next wave of transformational value that leverages the intimate relationship between light and plants, observed by digital technology, to drive new outcomes for our customers," says Jeff Bisberg. "We break the boundaries of the traditional lighting paradigm to capture visual information on every plant at every moment to provide actionable data that makes a positive impact on your grow."
Illumitexs Digital Horticulture puts the data in the hands of the farmer/grower for every plant at every moment. A key advantage to this system is the grower owns the data allowing for complete control by having the choice of who consumes that data, whether in a closed environment or as part of an aggregated set in a larger online community. Digital Horticulture is deploying a suite of technologies that that help improve outcomes by improving yield, improving predictability, and lowering variability. This data will provide a high value application that will help the grower lower their costs and improve their profits.
About Illumitex, Inc:
Founded in 2005 in Austin, Texas, Illumitex works diligently to create industry-shifting achievements in horticultural lighting. Our team of horticulture scientist and engineers have radically transformed LED lighting that influence plant benefits including yield, taste, color and smell. Illumitex is enthusiastically committed to scientific research, cutting-edge design, and innovative engineering. We are dedicated to work with our customer to deliver world class horticulture solutions while pushing lighting into the digital age with automated tools and services. http://illumitex.com.
Featured Product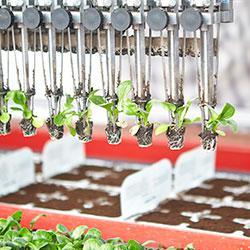 "Smart farming" is an important part of the answer to this existential question: Extremely high efficiency in food production through the targeted use of the latest technology, computer-supported and - where possible - fully automatic. Seeds are individually and precisely placed; fruits carefully picked by mechanical grippers; fertilizers and plant protection products applied in small doses and in a targeted manner. These operations require a large number of small electric motors that are both robust and powerful.