SAN FRANCISCO--(BUSINESS WIRE)--Early stage investment in agrifood tech startups totaled $4.4 billion in the first half of 2017, posting a 6% year-over-year increase, according to the AgFunder AgriFood Tech Investing Report - MidYear 2017. AgFunder is the leading agrifood tech investment platform.

Agrifood tech is the small but growing segment of the startup and venture capital universe thats aiming to improve or disrupt the global food and agriculture industry, from the farm all the way to the consumer. The agrifood sector is largely inefficient with increasing demands and constraints being placed on it, including changing consumer preferences, a growing population, climate change, environmental degradation, and waste. This creates an opportunity for entrepreneurs to create new efficiencies using the latest in software, artificial intelligence, biotech, IoT, and robotics.
Much like the overall global venture capital markets, growth in agrifood tech funding in H1 can be attributed to several large deals, but also points to the gradual maturing of this nascent tech category.
Report highlights include:
$4.4bn of early stage investment across 369 deals, 6% year-over-year growth in funding, but 27% decline in deal activity, particularly at seed stage.
Large deals pushed totals up, including years biggest outlier: $1bn Series H for Chinese Restaurant Marketplace ele.me.
Series A funding reached midyear record of $660m.
Food delivery startups raised $2.7bn as consumers increasingly want groceries and prepared food on-demand.
Farm technologies raised $1.1 billion, 56% year-over-year growth.
Novel Farming Systems - including insect farms and vertical farms - raised $198 million (+36% YoY).
Agribusiness Marketplaces raised $301 million (+2,480% YoY) as investors start to see value in using tech to disrupt traditional relationship-based supplies procurement process and how farmers market/sell their produce.
Investment in Midstream Technologies increased 21% year-over-year to $166m as startups aim to answer demand for transparency, traceability, efficiency, safety throughout the supply chain.
702 unique investors contributed in H1, including Silicon Valley VC funds, dedicated agrifood investors, corporate venture arms, governments, pension funds.
Agrifood tech is global: startups featured from 42 countries.
For detailed analysis, read the AgFunder AgriFood Tech Investing Report MidYear 2017: https://agfunder.com/research/agrifood-tech-investing-report-midyear-2017.
About AgFunder
AgFunder is an online investment platform for agrifood technologies. We help accredited and institutional investors discover & invest in startups transforming the food & agriculture industries using proprietary research, big data, and machine learning. Visit http://agfunder.com.
Featured Product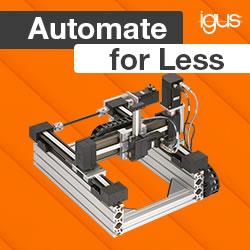 drylin® gantry robots consist of two base X-axes, a Y-axis, and an optional Z-axis. Their self-lubricating plastic liners have been engineered to slide instead of roll and to run smoother and quieter than recirculating ball bearings. drylin® gantries are also lightweight, corrosion-resistant, maintenance-free, and cost up to 40% less than traditional gantry robots. Visit this webpage to learn more.