Simultaneous capture of thermal, NDVI, and high-resolution RGB imagery
MINNEAPOLIS, Sept. 7, 2017 /PRNewswire/ -- Sentera, a leading designer and manufacturer of remote-sensing technologies for precision agriculture, today announced the capability of its Omni quadcopter drone to capture three distinct crop health data measurements in a single flight: thermal, normalized difference vegetation index (NDVI), and high-resolution RGB. Pairing a DJI XT Thermal sensor with Omni's standard Double 4K offers agronomists, crop consultants, advisors, and producers a precise agriculture data capture tool that offers multi-dimensional insights.

Sentera Omni drone offers simultaneous capture of thermal, NDVI, and high-resolution imagery
Sentera Omni drone offers simultaneous capture of thermal, NDVI, and high-resolution imagery
Robust Plant-Health Story
"We are excited to respond to our customers' unique application needs and extend the Omni Ag system's already robust payload capabilities to include thermal imaging," remarks Kris Poulson, vice president of agriculture for Sentera. "The ability to access three precise layers of data in one flight helps create an even greater scouting experience. The added ability to capture thermal data allows professionals to further evaluate plant health and practices as reflected through plant and soil temperatures."
While no sensor can diagnose specific diseases in plants, the Sentera Omni drone with thermal, NDVI, and RGB data-capture capability gives ag professionals a head start detecting and diagnosing issues earlier and more efficiently.
Poulson explains, "The ability to quickly and accurately pinpoint plants that appear to be sick is critical. With this knowledge, users can quickly ground-truth the area and take the appropriate action before a problem potentially gets worse."
Irrigation Insight
Thermal technology is also ideal for the irrigated crops. A thermal measurement can quickly show where areas within a field are under or over-irrigated, or where equipment is malfunctioning.
Thermal sensors are also useful when locating or confirming installation of subsurface drainage. "Historically, the most common way to detect preinstalled drain tile was to probe and dig, which was extremely inefficient and time-consuming. Now, through thermal technology, users can identify cooler areas of a field which would be an indication of the presence of drain tile. Users then can focus their efforts on that area," says Poulson.
Compatible Platforms
The Sentera Omni Ag drone with DJI XT Thermal Sensor is also compatible with Sentera's other Double 4K sensor variants, including the multispectral Double 4K sensor. The DJI XT Thermal sensor and Sentera Double 4K sensors are available through Sentera's extensive dealer network.
The Sentera Omni quadcopter drone with a DJI XT Thermal and Sentera Double 4K sensor will be on display in Sentera's booth, #604 at InterDrone 2017 taking place at the Rio Convention Center in Las Vegas, Nevada, through September 8.
See www.sentera.com/find-sentera-dealer/ to find an authorized dealer near you.
About Sentera
Sentera is a leading supplier of integrated remote sensing and IoT solutions to the agriculture industry, making it easy for users to bring in-field data off the farm for further analysis. Sentera equipment has flown tens of millions of acres all over the world. For more information, visit www.sentera.com.
Featured Product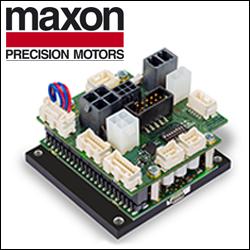 maxon launches the next generation of positioning controllers - the EPOS4. A high performance module with detachable pin headers and two different power ratings. With a connector board, the modules can be combined into a ready-to-install compact solution. Suitable for efficient and dynamic control of brushed and brushless DC motors with Hall sensors and encoders up to 750 W continuous power and 1500 W peak power. The modular concept also provides for a wide variety of expansion options with Ethernet-based interfaces, such as EtherCAT or absolute rotary encoders.