New name reflects expanded capabilities and product offerings
Transcend Lighting, Inc., leader in LED horticulture lighting, announced today it will be rebranding as Thrive Agritech, Inc. effective immediately. The change in name positions the company for future growth as a supplier of products that extend beyond lighting.

According to Thrive Agritech CEO, Brian Bennett, "When launching Transcend Lighting our mission was simple - to make controlled environment agriculture more efficient and sustainable through advanced LED technology. And we are accomplishing those goals with every light we install across North America. Moving forward we will be offering a basket of new products and technologies that will be even more impactful to our customers. Technologies that include software, controls, data analytics and more. This is certainly an exciting time to be part of the horticulture industry."
Bennett announced that Thrive Agritech recently filed for patent protection on new systems and controls technologies that will be incorporated into its product roadmap and offered to its customers in the coming months.
About Thrive Agritech
Thrive Agritech is a leading developer and manufacturer of innovative products for the controlled environment agriculture industry. The companys patent-pending technologies enable unique advantages for horticultural solid-state lighting and controls. Corporate headquarters are located in New York City, U.S.A. For more information, visit http://www.thriveagritech.com
Featured Product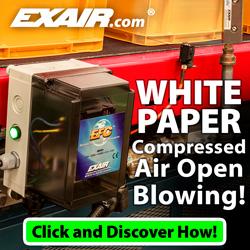 Compressed air is a limited resource that is generated in-house for the benefit of many operations within the manufacturing environment. Learn how to ensure all point of use applications are using your compressed air in the most effective and efficient way possible. Learn how much it costs to produce that compressed air and how Engineered Nozzles can help you use your air more effectively and efficiently.