100% solar, LTE camera brings live job site monitoring to smaller, short-term projects
SENSERA SYSTEMS, the fastest-growing manufacturer of job site monitoring, remote sensing and security products have launched their latest in affordable, automated site monitoring. The MC26 provides a level of affordability, ease of use, and portability that makes job-site cameras feasible for projects of all types and sizes.

The MC26 builds on Senseras patented low-power smart camera platform to deliver on the promise of the connected, automated job-site of the future - today.
The MC26 is supported by Senseras SiteCloud service, and is certified on Verizon, AT&T, and T-Mobile networks, providing nationwide coverage without the need for external power or WiFi connectivity.
The MC26 with SiteCloud provides fully-automated time-lapse as well as live video streaming. The public page feature turns the MC26 into a webcam viewable by stakeholders from anywhere in the world.
The 100% solar powered, all-in-one system can be installed by one person and be online monitoring in 20 minutes. The compact, lightweight system can be easily moved from location to location or job site to job site with ease.
The MC26 and SiteCloud system provides real-time monitoring of the job site from the palm of your hand via any smartphone or tablet.
"The vast majority of job sites continue to operate 'blind due to the cost and hassle of traditional job site camera offerings. Sensera has been working to change that," said David Gaw, CEO of Sensera Systems. "Our many hundreds of general contractor customers now understand the value of having Sensera job site cameras for documentation, sharing, safety, security, and project management. The MC26 delivers a new level of simplicity and affordability extending the proven value of job site cameras to GCs who have not yet experienced how they can save money, improve customer relations, and provide safety and security on the site. The MC26 is the next step in delivering on our vision of an automated, connected job site of the future - for every General Contractor!"
Time-lapse Monitoring & Live Streaming
The MC26 is designed as an ideal entry into site cameras systems for smaller, faster moving construction projects. It is 100% solar-powered and wire-free making it simple to place anywhere, with no WiFi or on-site power required.
Sensera SiteCloud and cameras such as the MC26 support construction firms goals in:
Progress tracking
Project management
Sharing with stakeholders
Project marketing
As-built documentation
Safety
Site Security
Key Features of the Sensera MC26:
Clear, 6MP HD Color images
Fully automated time-lapse generation and viewing
Automatic public URL for real-time sharing and viewing of remote site from any browser
100% solar-powered with 5-day battery backup built-in
Certified for 3G/4G LTE operation nationwide on Verizon, AT&T, and T-Mobile.
All-weather - operate rain or shine in any outdoor location
DIY Installation - complete mounting kit, 1 person install, no electrical or IT expertise needed
Mobile access - access cameras via Sensera SiteCloud from any iOS or Android™ mobile device, tablet, or PC
Cloud management and storage - secure, backed up storage of all project images and time-lapse
Live video streaming - view the site real-time on-the-go from any computer, smartphone or tablet.
Pricing & Availability:
The MC26 is shipping and available now at MSRP of $1999 for a complete system from Sensera and Authorized System Integrator Partners.
About SENSERA SYSTEMS, INC.
Based in Golden, Colorado, Sensera Systems designs, manufactures, and markets products for automated monitoring and site security in construction, real-estate, industrial automation, oil & gas, government, agriculture, and law enforcement. Sensera Systems' award-winning, patented SiteCloud Service and solar-powered, wireless camera products are significantly simpler to use and more affordable than existing systems. Sensera Systems' products achieve extreme ease of use, high functionality, and low cost by combining solar powered and wire-free operation with tightly integrated hardware and cloud-based monitoring.
Featured Product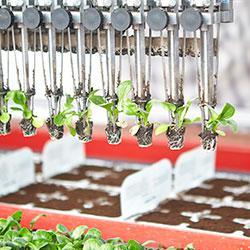 "Smart farming" is an important part of the answer to this existential question: Extremely high efficiency in food production through the targeted use of the latest technology, computer-supported and - where possible - fully automatic. Seeds are individually and precisely placed; fruits carefully picked by mechanical grippers; fertilizers and plant protection products applied in small doses and in a targeted manner. These operations require a large number of small electric motors that are both robust and powerful.