Investment will drive deployment of global, large-scale indoor farm network to deliver radically fresher, affordable food to local communities everywhere
SOUTH SAN FRANCISCO, Calif.--(BUSINESS WIRE)--Plenty, the leading field-scale indoor farming company remaking the global food system, announced today a $200 million Series B funding round led by the SoftBank Vision Fund, making it the largest agriculture technology investment in history. In connection with the investment in Plenty, the SoftBank Vision Funds Managing Director, Jeffrey Housenbold, will join the Plenty Board of Directors.

Plenty is using proven plant science and patented technologies to build a new kind of indoor farm that uses cutting-edge LED lighting, micro-sensor technology, and big data processing to deliver higher-quality produce for pricing as good or better than what consumers pay today. The world has run out of economically viable, arable land for many fresh fruit and vegetable crops. This investment will support building out Plentys global, hyper-yield farm network and support its mission of solving the increasingly critical need to make fresh produce available and affordable for people everywhere.
"Fruits and vegetables grown conventionally spend days, weeks, and thousands of miles on freeways and in storage, keeping us all from what we crave and deserve — food as irresistible and nutritious as what we used to eat out of our grandparents gardens," said Matt Barnard, CEO and co-founder of Plenty. "The world is out of land in the places its most economical to grow these crops. After a decade of development driven by one of our founders, our technology is uniquely capable of growing hyper-organic food with no pesticides nor GMOs while cutting water consumption by 99 percent, making locally-grown produce possible anywhere. Were now ready to build out our farm network and serve communities around the globe."
"By combining technology with optimal agriculture methods, Plenty is working to make ultra-fresh, nutrient-rich food accessible to everyone in an always-local way that minimizes wastage from transport," said Masayoshi Son, Chairman & CEO of SoftBank Group Corp. "We believe that Plenty's team will remake the current food system to improve people's quality of life."
Plentys farms, which the Company plans to build near the worlds major population centers, will deliver industry-leading yields of the freshest, best-tasting local produce thats completely GMO- and pesticide-free, all while transitioning agriculture to a predictable and perpetual model. Plenty farms maintain a perfect growing environment, use one percent of the water and a tiny fraction of the land of conventional agriculture, while delivering produce to local grocery shelves within hours of harvest.
The Series B funding round was led by the SoftBank Vision Fund, with participation from affiliates of Louis M. Bacon, the founder of Moore Capital Management, LP, and existing investors including Eric Schmidts Innovation Endeavors, Bezos Expeditions, DCM, Data Collective and Finistere.
About Plenty
Plenty is a new kind of farm for a new kind of world. Were on a mission to bring local produce to people and communities everywhere by growing the freshest, best-tasting fruits and vegetables, while using one percent of the water, less than one percent of the land, and none of the pesticides, synthetic fertilizers, or GMOs of conventional agriculture. Our field-scale indoor farms combine the best in American agriculture and crop science with machine learning, IoT, big data, climate creation technology and the extraordinary flavor and nutritional profiles of heirloom seed stock, enabling us to grow the food nature intended — while minimizing our water and energy footprint. Based in San Francisco, Plenty is currently building out and scaling its operations to serve people around the world.
Featured Product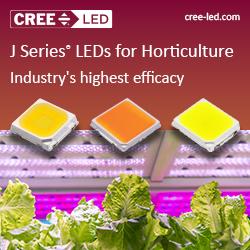 Horticulture and other forms of agricultural lighting require application-tuned ratios of spectral content, high efficacy and long lifetimes. Since these systems are designed to maximize yields for plants and animals, they require different metrics than lighting products designed around the human visual system. Cree LED delivers a wide range of spectral options and products optimized for these applications with leading efficiency and reliability.