CHICAGO--(BUSINESS WIRE)--Littelfuse, Inc., (NASDAQ:LFUS) today announced it has acquired the assets of U.S. Sensor Corporation. Headquartered in Orange, California, U.S. Sensor is a manufacturer of thermistors and probe assemblies used in the most demanding temperature sensing applications. Terms of the transaction were not disclosed.

"U.S. Sensor expands our existing sensor portfolio in several key electronics and industrial end markets, including home automation, HVAC and appliances," said Deepak Nayar, Senior Vice President and General Manager, Electronics Business Unit. "The business has strong design capabilities that are complementary to our growth initiatives."
"This is an exciting next phase for U.S. Sensor," said Roger Dankert, President of U.S. Sensor. "We share the same views on customer focus and innovation, and will benefit from Littelfuses global presence and scale."
Littelfuse does not expect this transaction to have a material impact to its 2017 revenue or adjusted earnings projections.
About Littelfuse
Founded in 1927, Littelfuse is the world leader in circuit protection with growing global platforms in power control and sensing. The company serves customers in the electronics, automotive and industrial markets with technologies including fuses, semiconductors, polymers, ceramics, relays and sensors. Littelfuse has over 10,000 employees in more than 40 locations throughout the Americas, Europe and Asia. For more information, please visit the Littelfuse website: Littelfuse.com.
About U.S. Sensor
Founded in 1989, U.S. Sensor Corporation manufactures an extensive variety of high quality negative temperature coefficient (NTC) thermistors as well as thermistor probes and assemblies. The companys products are produced using proprietary state-of-the-art processing techniques for long term reliability. Product lines also include Thin Film Platinum resistance temperature detectors (RTDs) and RTD assemblies. Customers world-wide use U.S. Sensor thermistors and RTDs in their most demanding applications.
Featured Product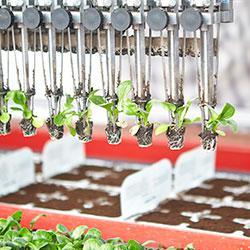 The FAULHABER Linear Actuator L series are designed to provide high performances in compact dimensions, these actuators can support large input speed, high output force and are suited for a wide range of applications like robotics, industrial machines and laboratory equipment.