A New Revolution in Drip Irrigation, The Industrys Most Comprehensive Thinwall Offering Provides Growers With A Full Range Of Solutions For Use In A Wide Range of Soil and Water Conditions
FRESNO, Calif.--(BUSINESS WIRE)--Building on more than 50 years of empowering growers with the technology and expertise needed to maximize yield potential and reduce costs, Netafim USA is once again revolutionizing agricultural irrigation with the addition of Aries™ and Typhoon Plus™ driplines to its industry-leading portfolio of thinwall dripline solutions.

A perfect complement to Netafims seasonal use Streamline Plus™ and the pressure compensating DripNet PC™ thinwall driplines, both Aries and Typhoon Plus provide growers with consistent and reliable performance in the most challenging soil and water environments. Engineered with Netafims new TurbuNext™ technology, the advanced emitter design utilizes a larger filtration area and a proprietary labyrinth design to maximize internal turbulence and ensure clog-free operation at the lowest flow rates in the industry.
"Aries and Typhoon Plus driplines are the result of growers requesting thinwall driplines with advanced emitter technology capable of standing up to the toughest soil and water conditions while maintaining a uniform distribution of water and nutrients to the entire crop," said Zeev Barylka, Marketing Director for Netafim USA. "From our inception, Netafim has been the most innovative company in drip irrigation, and our commitment to invest in what matters most to growers is what sets Netafim apart from all other manufacturers. Growers trust that Netafims innovation, expertise and technology will deliver healthier crops, while saving material and labor costs."
Aries and Typhoon Plus also incorporate features found on all of Netafims thinwall driplines, including injection molded emitters seamlessly welded into the tubing wall, flap outlet technology to block debris from entering the emitter, installation striping and enhanced polyethylene construction that improves tensile strength to maintain distribution uniformity at higher operating pressures.
Available with the industrys broadest range of wall thicknesses, inside diameters, flow rates, and variable spacings, growers are now able to choose a dripline that is tailored to provide the yield and cost benefits of drip irrigation, regardless of soil and water conditions.
More information on Aries, Typhoon Pus and the entire Netafim USA thinwall dripline family is available by visiting netafimusa.com/thinwall-driplines.
ABOUT NETAFIM USA
Netafim USA, based in Fresno, Calif., develops and manufactures drip irrigation systems for agriculture, landscape & turf, greenhouse & nursery, mining and wastewater. Netafim offers an extensive range of irrigation solutions including driplines, filters, sprinklers, valves, water meters and automation equipment for complete dripline system installations. For more information go to www.netafimusa.com.
Featured Product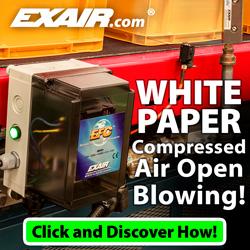 Compressed air is a limited resource that is generated in-house for the benefit of many operations within the manufacturing environment. Learn how to ensure all point of use applications are using your compressed air in the most effective and efficient way possible. Learn how much it costs to produce that compressed air and how Engineered Nozzles can help you use your air more effectively and efficiently.