AgFuse today announced the completion of its site upgrade designed to enhance UX and increase networking results
BLENHEIM, S.C., June 15, 2017 /PRNewswire/ -- The social networking site AgFuse is now offering a greatly improved user experience and increased connectivity among members, thanks to a new design and functionalities released today.

A range of new features, which includes group subscriptions and news feeds showing suggested and trending topics, allow users to access information in an easier manner. In addition to the platform's public and private groups, AgFuse now offers invitation-only "Ghost" groups, which are ideal for companies or organizations seeking a central networking spot that isn't public. These upgrades complement the AgFuse iOS app. The AgFuse Android app will be released later this summer.
AgFuse empowers farmers and the agricultural community to connect with everyone from farm organizations and experts to suppliers and the media. The farming community is using AgFuse to find information, experts' insights, and useful products as well as to network, share and interact. In just a few short years, AgFuse has quickly expanded and now has members from 63 countries.
Founder Pat Rogers explained the reason for the surging popularity of the website, "Increasing numbers of agricultural professionals now have access to high-speed internet and mobile devices. This is true not only in this country, but also internationally. The truth is agricultural production is built around access to evolving information, and we're providing the data platform to spread and grow this information."
Through AgFuse, the farming community can maximize the value of existing tools, and this translates into tangible, real-world successes. Daniel Hunter, a salesman with Carolina Irrigation Solutions, is using AgFuse as a platform to communicate with leads and customers. Hunter explained, "We have utilized AgFuse to make irrigators aware of the potential hazards of streaking in corn, while letting them know we can provide options for them through our company."
Josh Branch, a beginning cotton, soybean and corn farmer in Bennettsville, South Carolina, said, "I use AgFuse to stay up to date on timely issues that affect my operation. Since the site is customized based on my crops and location, all of the posts and articles are relevant to me. It's great to have all of that information and a network of farmers at my fingertips."
About AgFuse
AgFuse was created to provide farmers and the farming community with an easy and intuitive social media platform. Through AgFuse, agricultural professionals can promote their products, interact with one another, share ideas and tips, publish research, and more. Learn more by visiting http://agfuse.com or https://twitter.com/agfusenetwork.
Featured Product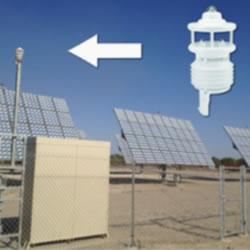 Professional weather sensors form the heart of large solar plants supporting their operation and performance. Lufft was the first manufacturer to combine several sensors in one housing, bringing the largest multiparameter weather sensor family with 19 members into being. Many of them are well-suited for solar site assessment and continuous monitoring. The most commonly used one is the WS600 delivering data on temperature, air pressure, wind, relative humidity and precipitation. Through its open protocol, it can easily be attached to radiation sensors e.g. from Kipp&Zonen. Other models have an integrated Silicon, Second Class or Secondary Standard radiation sensor.