The WxS 8800 product series provides IoT service providers, system integrators and enterprise customers with a universal sensing solution for a wide range of industrial IoT applications.
Polysense Technologies Inc., (Polysense) an innovation leader in industrial IoT solutions for fiber and wireless sensing, today introduced a commercially-available LoRa-enabled sensor nodes with support for LPWAN protocol and global ISM bands.

The Polysense WxS 8800 universal sensor node series incorporates LoRa® devices and wireless RF technology (LoRa Technology) from Semtech Corporation and LoRaWAN™ protocol from LoRa Alliance™. LoRaWAN supports low power, long ranges of 3km to 5km in NLOS (None Line of Sight) urban environments and over 15km reach in LOS (Line of Sight) open space environments.
With nine integrated internal sensors and connectivity for an external analog and digital sensor, the WxS 8800 enables a wide range of industrial IoT applications, including but not limited to:
Structural health monitoring (SHM) for buildings, bridges, tunnels, railways, oil platforms, with high precision sensing of vibration, inclination, displacement, and crack.
Precision agriculture applications such as vineyards, golf courses, orchards and tea plantations, with temperature, humidity, light and pressure above ground and soil condition sensing under the soil (Volume Water Content, salinity, pH)
Machine condition and preventive maintenance for Industrial 4.0
Asset tracking, with GPS/Beidou location service and accelerometer for asset security protection
Perimeter security of industrial campus or important facility, with PIR motion sensing, acoustic sensing, poisonous and explosive gas detection (such as power and chemical plants)
Fire detection and monitoring for forest, parks, industrial campus (such as power and chemical plants), historical site, and tunnel
Smart city applications such as street noise measurement, environmental quality measurement, street light control, parking lot management and city infrastructure security
"Polysense identified the customer need for a flexible yet cost effective universal sensor node with multiple widely used sensing parameters, and we responded," said Rick Li, Founder and CEO, Polysense. "Built on our proven fiber sensing technologies and experiences in distributed fiber sensing, the WxS 8800 sensor node series with Semtechs LoRa Technology offers the industrys only platform, supporting nine integrated sensors while enabling a host of external sensors, either analog or digital, via our flexible Multi-Purpose Interface (MPI)."
"Polysenses technology fills a gap in the current IoT ecosystem, offering a feature rich and ready-to-use multipurpose sensing solution," said Mike Wong, Vice President, Wireless and Sensing Products Group at Semtech. "As the adoption of LoRa Technology rapidly grows, its important to have sensor nodes that customers can easily integrate in their IoT applications for multiple industries including Smart Cities, Smart Buildings, Supply Chain and Logistics, Metering, and Agriculture."
With the new WxS 8800 universal sensor node family, Polysense is now the only vendor with an end-to-end solution for fiber and wireless LPWAN, supporting both linear and star topologies.
Key Features of the WxS 8800 LoRa-enabled universal sensor node series
One of the first commercially-available universal sensor node with LoRa Technology, supporting North America, Europe, and China ISM bands
Nine internally integrated sensors, including 3 axis accelerometer, high precision vibration , passive infra-red (PIR) motion , temperature, humidity, light, atmospheric pressure, gas, acoustic and GPS/Beidou GNSS location sensors
Patented tilt detection algorithm, enabling precise detection of the tilt-vector of the object in geodetic coordinate system in real-time
7 pluggable gas sensors for poisonous and explosive gases
Ultra-low power always on acoustic/noise sensor for both perimeter security and smart city applications
Multi-Purpose Interface (MPI), enabling connectivity to external analog and digital sensors such as DS18B20 and PT100 temperature sensor probe, displacement, distance, soil moisture sensors, and providing either direct powering or parasite powering options to external sensors - thus eliminating the need of separate powering need for the external sensors
PWM based actuator control output with up to 16 signal levels
IP67 rated enclosure with dual high capacity air flow protective vents, allowing for fast response of temperature, humidity, light and gas sensing
Flexible battery power or DC power, meeting different need of application requirements and deployment scenarios. Intelligent power monitor and management to maximize the battery life, allowing 5 to 10 years of battery operations with either 1 or 2 'AA Li-Ion batteries
Flexible internal or external antenna options, meeting different need of application requirements and deployment scenarios
Local data analytic and custom algorithms
Temperature compensation algorithms for displacement and vibration sensing across C and I temperature ranges
"We are excited by Polysense's WxS 8800 universal sensor node using LoRa Technology," said Mr. You Dong, Chairman and CEO, AEIDO Corporation Limited, the largest structure health monitoring and inspection service provider in China. "With support of both multiple internal sensors and external sensors, Polysense is providing us with an opportunity to deliver exciting new services to the China market for a wide range of real time IoT services. Particularly for structure health monitoring (SHM), many countries around the world have aging infrastructure, such as bridges, dams, tunnels, buildings, applications scenarios are unlimited with significant business opportunity"
Availability
Polysense's WxS 8800 universal sensor node series is in production and immediately available for ordering.
Contact Polysense for ordering and pricing: info(at)polysense.net
About Semtech LoRa® Devices and Wireless RF Technology
Semtechs LoRa Technology is a widely adopted low-power, long-range solution for IoT that gives telecom companies, IoT application makers, and system integrators the feature set necessary to deploy low-cost, interoperable IoT networks, gateways, sensors, module products, and IoT services worldwide. IoT networks based on the LoRaWAN™ specification have been deployed in over 60 countries. To learn more about how LoRa enables IoT, visit Semtech's LoRa/IoT site and join the LoRa Community to access free training as well as an online industry catalog showcasing next-generation products.
Semtech, the Semtech logo and LoRa are registered trademarks or service marks, and LoRaWAN and the LoRa Alliance are trademarks or service marks, of Semtech Corporation or its affiliates.
About Semtech
Semtech Corporation is a leading supplier of analog and mixed-signal semiconductors for high-end consumer, enterprise computing, communications, and industrial equipment. Products are designed to benefit the engineering community as well as the global community. The Company is dedicated to reducing the impact it, and its products, have on the environment. Internal green programs seek to reduce waste through material and manufacturing control, use of green technology and designing for resource reduction. Publicly traded since 1967, Semtech is listed on the Nasdaq Global Select Market under the symbol SMTC. For more information, visit http://www.semtech.com.
About Polysense
Located in Santa Clara, California, with offices in Beijing, Luo Yang and Shanghai, China, Polysense develops products and solutions for Industrial IoT and smart buildings, including distributed fiber sensing, LPWAN LoRa and NB-IoT based wireless IoT sensors, Passive Optical Network (PONs) and cloud based data management and analytics platform.
Featured Product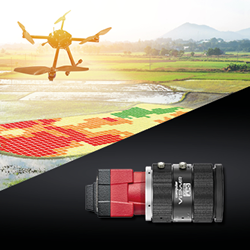 Allied Vision's compact and light weight Alvium SWIR (short wave infrared) cameras are the ideal choice to build cost-effective OEM systems used in embedded and machine vision applications. The cameras support a spectral range from 400 nm to 1700 nm at high quantum efficiencies. This allows to capture images in both the visible and SWIR spectra with a single camera and enables users to reduce overall system costs! Equipped with Sony's IMX990 and IMX991 SenSWIR InGaAs sensors, Alvium SWIR cameras deliver high image quality and frame rates. This makes them well suited for drones or handheld devices used in various industries such as, agriculture, mining, solar cell inspection or medical.