Providing Senior Management Strategies for Global Digital Agriculture
Willoughby, Ohio, USA - (AgPR) - June 8, 2017 - PrecisionAg® is pleased to announce the return of its PrecisionAg Vision Conference, October 10-12, 2017. Based on overwhelmingly positive response among attendees at last years inaugural event, this years conference will again take place in Phoenix, AZ. Conference organizer Meister Media Worldwide has enhanced the event this year to galvanize dialogue and foster greater collaboration among precision agricultures most central stakeholders: large growing operations and service providers in row crops and specialty/permanent crops around the world.

New for 2017, the PrecisionAg Vision Conference will offer solutions-based education. Delegates will join their senior-level peers in working through challenging problems to discover cross-functional solutions that apply to everyone in the precision agriculture industry. The takeaway will be practical lessons learned from and for growers, service providers, and colleagues working in like production systems around the world. "In addition to identifying practical solutions, the goal is for delegates to establish a grounded network that fosters communication and endures long after the conference ends," said Paul Schrimpf, Executive Editor of Meister Media Worldwides Agribusiness Group.
Also new this year, the event will offer a pre-conference tour of Arizonas agricultural technology and the University of Arizona Robotics System.
With a unique focus on both digital farming software and platforms and in-field precision tools, the 2017 PrecisionAg Vision Conference promises to take a deeper dive into what precision agriculture will look like two to three seasons out, without losing sight of the bigger picture. Paired with unsurpassed networking, this conference is a must-attend premier event in the precision agriculture space. For more information and to register, visit PrecisionAgVision.com.
About Meister Media Worldwide -- Empowering Global Agriculture
Meister Media Worldwide, founded in 1932 with headquarters in Willoughby, Ohio, USA, produces integrated business solutions for worldwide specialized agriculture. A leader in the industry, the company provides information and networking opportunities to communities including fruits, nuts, and citrus; vegetables; cotton; ornamental horticulture; horticulture in Mexico; precision agriculture; custom application of crop inputs; and the manufacturing, formulation, and distribution of crop protection and plant health products in the U.S. and globally. Meister Medias stable now includes 12 major brands whose portfolios include print publications, digital products, conferences and tradeshows, and Connect hosted-buyer events. In addition, Meister Direct produces custom print and digital products, and strategic business development services from concept planning through development and delivery. Contact us at info@meistermedia.com
Featured Product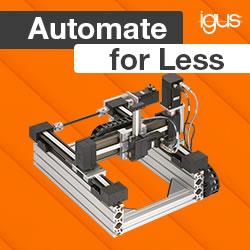 drylin® gantry robots consist of two base X-axes, a Y-axis, and an optional Z-axis. Their self-lubricating plastic liners have been engineered to slide instead of roll and to run smoother and quieter than recirculating ball bearings. drylin® gantries are also lightweight, corrosion-resistant, maintenance-free, and cost up to 40% less than traditional gantry robots. Visit this webpage to learn more.