A total of $250,000 USD in prize money to be awarded for a successful device or method that optimizes the quality and condition of harvested FRESH blueberries
SALINAS, Calif., Aug. 11, 2015 -- Naturipe Farms LLC the global leader in growing and marketing blueberries, is challenging creative technology minds to innovate a better way to harvest blueberries. As consumer demand for blueberries is at a record high, farmers are issuing a call for brainpower and offering $250,000 in prize incentives for new solutions that can improve automated blueberry harvesting. Worldwide technology transfer consultancy yet2 is managing the challenge and submissions for Naturipe Farms.

Naturipe's goal is to develop an automated harvesting system that can be used in blueberry fields and optimize the quality and condition of fresh blueberries destined for the fresh produce departments of supermarkets and restaurants. Blueberries continue to grow in popularity due to their nutritional benefits, versatility and overall great flavor. Today only blueberries destined to be frozen, juiced, dried or used as an ingredient item are harvested by machine which is not efficient and not well suited for fresh blueberries.
"The majority of the blueberries are picked by hand at the peak of maturity and flavor," said Robert Verloop, Executive Vice President of Marketing at Naturipe. "However, the berries don't ripen at the same time so we return to the same bush several times during the harvest season, which is both costly and a labor intensive process. There has been tremendous growth and interest in agricultural technology, robotics and sensory equipment to improve harvesting efficiencies, to manage costs and to reduce food waste. We hope the 'Naturipe Blue Challenge' will help solve some of our on-the-farm challenges."
In addition to the $250,000 USD prize money available, the winner(s) will have the opportunity to establish a strategic partnership with Naturipe and to deliver the next generation in automated blueberry harvesting technologies worldwide.
Main proposed operating specifications include: size/color sensing for detecting fruit maturity, careful handling to avoid any damage to the fruit, ability to directly fill field trays/baskets, 24/7 harvesting capability, average production of 500 Kg/day, mobility capabilities on uneven ground or dusty conditions, and fabrication costs per unit <$500,000 USD.
The initial proposal submission deadline is September 30, 2015 and all proposals submitted by this date ensure that they will receive thorough feedback from yet2 by Oct 16, 2015 to be incorporated into the final proposal submission. The final proposal submission deadline is on October 30, 2015. Semifinalists will be selected on December 16, 2015.
For more information or to submit an expression of interest, please visit www.naturipechallenge.com.
About Naturipe Farms LLC
Naturipe Farms LLC is a grower-owned producer and international marketer of healthy, best tasting, premium berries. With production primarily from multi generation family farms, located in the prime berry growing regions throughout North and South America. The diverse grower base ensures year-round availability of "locally grown" and "in-season global" conventional and organic berries. Naturipe Farms, formed in 2000, is a partnership between MBG Marketing, Hortifrut SA, Naturipe Berry Growers and Munger Farms. With sales and customer service offices located strategically throughout the USA - (HQ) Salinas CA., Grand Junction MI., Estero FL., Boston MA., Wenatchee WA., Atlanta GA.
For more information visit: www.naturipefarms.com or https://www.facebook.com/Naturipe
About yet2
yet2 operates at the hub of the global technology marketplace. Since 1999, we've been an Open Innovation services company working for an international corporate client base. We leverage our global network of affiliates, the 130,000+ users of our online technology marketplace, a proprietary database of several million innovative technologies and technology needs, and our offices in North America, Europe, and Asia to scout cutting-edge companies and technologies beyond the reach of most clients. yet2 provides hands-on technology transfer services in the areas of strategic dealflow, technology search, monetization, Open Innovation portal management, and anonymous patent-buying. With our deep client relationships, yet2 has scouted for, negotiated, and closed hundreds of deals — bringing our Open Innovation clients hundreds of millions of dollars in value. Additionally, we search continuously for novel technologies on behalf of our customers. Do you believe you have an innovative, commercializable technology? Contact us here at yet2. For more information, visit www.yet2.com, or contact Tim Bernstein: +1 (617) 244-4149.
Featured Product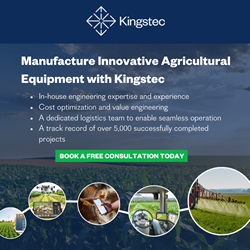 In the rapidly evolving agricultural landscape, leading AgriTech companies are increasingly leveraging the experience and expertise of strategic engineering and manufacturing partners to bring cutting-edge, cost-effective solutions to market. Kingstec is an all-in-one engineering, manufacturing, and logistics partner, with over 40 years of experience and 5,000 successfully completed projects. We can help you bring innovative, cost-optimized farm equipment, sensors, drones, components, and more to market quickly with in-house engineering and manufacturing expertise, a dedicated logistics team, and a network of world-class manufacturing and supply chain partners.