Israel's largest cannabis facility taps into REMY and Fluence's LED technology for better control over its cultivation process, leading to higher consistency throughout the grow
Green Fields Leverages Fluence VYPR Fixtures to Produce High-Quality Crops Year Round
Case Study from | Fluence
Fluence, a leading global provider of energy-efficient LED lighting solutions for commercial cannabis and food production, announced today the success of its partnership with Green Fields, an Israeli grower operating the largest cannabis facility in Israel. With Fluence technology, Green Fields has boosted yields, improved THC and terpene content and achieved consistent year-round crop growth inside its more than 42,000-square-meter facility.
Green Fields worked with REMY, Fluence's Israeli distribution and integration partner, to select VYPR 3p fixtures with BROAD R3 spectrum technology to provide a spectrum that is designed to supplement and replicate natural sunlight in its facility. Coupled with the facility's F-CLEAN™ technology, a fluoropolymer sheet that transmits the full spectrum of natural sunlight during the day, the VYPR 3p allows Green Fields to maximize lighting conditions to help drive peak growth regardless of season.
"I think every cannabis cultivator must have the golden triangle, which is the best cultivation facility, the best genetics and the right people and partners," said Lior Pisso Saada, founder and business development advocate at Green Fields. "Consistency is the name of the game and one of the greatest things we have achieved by using Fluence LED technology. We can now grow as consistently in the winter as we do in the summertime."
Each zone of Green Fields' flagship greenhouse is equipped with a special air treatment unit that stabilizes humidity, temperature and airflow to reduce microclimates and improve uniformity. The cultivation team uses innovative monitoring technology to control other critical aspects of the grow, including root zone management and irrigation. Green Fields also leverages REMY's expertise and Fluence's team of in-house horticultural lighting experts who support the agronomic team in adjusting and optimizing light levels, photoacclimation, pest control, irrigation strategies and mother stock treatment.
"To operate cultivation at this scale, we need three things: a high level of control, data and a strong team," said Yarden Roitemberg, chief agronomist at Green Fields. "Fluence and REMY offer more than just LED technology—they are true partners who provide comprehensive horticulture services and advisory."
The Green Fields facility houses the biggest agronomic lighting system ever installed in Israel. Since the deployment of Fluence lights, Green Fields has cultivated between 15 and 18 tons of cannabis per year.
"For Green Fields to trust REMY as a best-in-class overall solutions provider for what is now the largest cannabis facility in Israel is an honor," said Elad Toby, founder, chief business development officer and chief technology officer at REMY. "We knew our expertise in planning, installation, integration and quality assurance of agronomic lighting solutions, paired with Fluence's leading-edge technology and in-house horticulture services, was the best mix to equip Green Fields with the setup, data and knowledge to grow with confidence."
"The determination of the Green Fields team to break down barriers and improve the quality of greenhouse medical cannabis production in Israel is extraordinary," said Jörg Meyer-Brenken, lead account manager for cannabis in Europe, the Middle East and Africa at Fluence. "Whether you interact with management, the cultivation team or marketing, you can feel their passion everywhere. I am very excited to see Green Fields thrive and collaborate with the team to expand their businesses to other regions and new markets."
For more information on Fluence, visit www.fluence.science.
About Fluence
Fluence Bioengineering, Inc. (Fluence) creates powerful and energy-efficient LED lighting solutions for commercial crop production and research applications. Fluence is a leading LED lighting supplier in the global cannabis market and is committed to enabling more efficient crop production with the world's top vertical farms and greenhouse produce growers. Fluence global headquarters are in Austin, Texas, with its EMEA headquarters in Rotterdam, Netherlands. Fluence operates as a business unit within Signify's Digital Solutions division. For more information about Fluence, visit www.fluence.science.
About Green Fields
Green Fields is the largest cannabis cultivator in Israel and one of the largest and most innovative in the world. Green Fields invests vast resources in advanced technological solutions, strict regulatory control and diverse collaborations. To learn more about Green Fields, visit mgf.org.il.
About REMY
Established in 2008, REMY 108 LTD specializes in the planning, installation, integration and quality assurance of large-scale agronomic lighting solutions, as well as after-sales service and support, for commercial crop and food cultivation in Israel and beyond. REMY has been providing its customers with agronomic lighting since 2011 and it has been the company's main focus since 2018. An authorized reseller of Fluence LED lighting solutions, it today also provides agronomic lighting training at its headquarters in Yanuv. For more information about REMY, visit https://www.remy.co.il/en/grow.
The content & opinions in this article are the author's and do not necessarily represent the views of AgriTechTomorrow
---
Comments (0)
This post does not have any comments. Be the first to leave a comment below.
---
Post A Comment
You must be logged in before you can post a comment. Login now.
Featured Product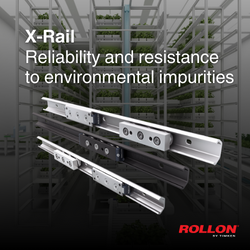 Rollon's X-Rail linear rails are a reliable solution in environments susceptible to impurities. Equipped with rolling elements with shaped and flat raceways, they are available in several versions: galvanized, nitrided or stainless-steel sheet metal. The latter version ensures total corrosion resistance, which is critical for hostile environments such as those found in vertical farming. Particularly innovative is the T + U configuration of the X-Rail linear rails, which can compensate for the parallelism errors of mounting surfaces. This simplifies installation and reduces costs.