With technology always changing, when it came time to build their third container farm last year, they knew they needed to investigate the latest in LED grow lights.
Oasis Springs Farm: How the Right LED Grow Lights Can Improve Crop Quality and Increase Production up to 33% in Shipping Containers
Case Study from | Heliospectra
InIn an effort to provide a more sustainable food supply, many indoor growers are bringing their farms closer to the dining table. It may seem a bit ironic that such farm-to-table operations are sometimes built in the very type of container that once shipped food across great distances and at great environmental cost. But for companies like New Hampshire's Oasis Springs Farm, a shipping container equipped with LED grow lights is the perfect way to produce fresh vegetables year-round within the community.
Maximizing Shipping Containers Space
Oasis Springs is an urban hydroponic farm built by Sarah and Chris Ward, a marketing/PR professional and an IT company head, who both had an interest in sustainable hydroponic growing. Five years ago, they bought their first shipping container farm and later built a second one, all to supply fresh leafy greens, herbs and microgreens to local homes and restaurants. They were doing this using high-tech, environmentally friendly resources such as LED lighting.
With technology always changing, when it came time to build their third container farm last year, they knew they needed to investigate the latest in LED grow lights. Sarah remarked, "We knew that modern lighting could decrease grow time, which increases the amount of food that can be grown and sold and helps our overall bottom line
Sarah and Chris went back to basics, running a trial to see which LED grow lights would work best for their particular crops and customers. They ran the trial with lettuce using technology from two LED manufacturers – one that required a lighting purchase and Heliospectra, which provided a complimentary set of SIERA lights for the trial. Chris commented that, "Working with the two companies was like night and day. Heliospectra was really interested in partnering with us, and Ryan, our Grower Liaison, met with us online every week. He would also bring in their plant and light specialist from Sweden for online consults."
The trial ran for six months, with ongoing adjustments to the light quantity and duration to achieve the desired lettuce results. Chris commented, "We tried different levels of light intensity and daily light integrals and having Heliospectra's experts guide us really helped." He continued, "In the end, although both vendors' lights could grow lettuce in the same time period, the Heliospectra lights produced a better-quality product."
Increasing crop quality with modern LED Grow Lights
Oasis Springs was first interested in Heliospectra's SIERA lights because of the amount of far-red included in their spectrum. Research has shown that far-red light has a positive effect on plant development, including extension growth and leaf size.
Chris commented, "We noticed that the SIERA lights had more far-red compared to the other products we looked at, which allows the leaves to stretch and grow bigger. Almost all the other lamps had a high concentration of blue light, which produces tighter, more compact plants." He continued, "During the trial, the other vendor's lights produced heads that were very tight and heavy, but the restaurants that we sell to didn't like that as much. Heliospectra's lamps produced bigger leaves – which are good for sandwiches and salads, as well as for our Weekly Share Program where we sell by the head."
Reducing the time to harvest
With the LED grow lights in their original two container farms, it takes eight weeks for Oasis Springs to grow lettuce: four weeks in propagation and four weeks in NFT trays. The goal of the lettuce trial was to bring this down to three weeks in each.
Chris commented, "Not only did we do that with the Heliospectra lights, but we achieved 16 days in each, and we had to dim the lights to slow production down to 21 days." He continued, "This also told us that if we increased the light a little bit each day, we would be able to decrease our grow time to 14 days in propagation and 14 in NFT trays for a total of four weeks with SIERA lamps, when it currently takes eight weeks to grow our lettuce with the old lighting. But right now, we're keeping it to our goal of six week sin total."
Producing a greater quantity with better consistency
Oasis Springs also saw improvements in their lettuce crop's consistency, and their output improved by over 33% using Heliospectra's lamps in their new facility. Sarah commented, "Even though the new technology can be expensive, it's worth the investment. In the same square footage, we are now able to grow over 1,000 heads of lettuce per week in our new container, while we grow 1,500 heads in our two other containers combined." She continued, "The other big difference we found was consistency – the same quality product in almost every head. When you're selling to a restaurant, that's what they're looking for."
Testing is key
Chris noted that the best way to choose LED grow lights is to test them out yourself. "Asa small business owner," he said, "papers done by universities were not relevant to us. Their tests are done in a lab, they do one thing at a time, and you can't really replicate them in the real world. While they're probably technically correct, I didn't find them useful." He continued, "For other growers like us, I would say definitely take advantage of Heliospectra's trial program. They really wanted us to succeed and make it work."
Sarah concluded, "I hope what we've done will help other farmers out there be successful. I would also add, don't be afraid of the sticker shock, because lights are the biggest investment when you're doing a farm. You've got to see the big picture – yes you're investing this much, but the return is in the quality and how much faster you can grow your crops."
Oasis Springs now has three container farms up and running, serving a market that consists of 50% restaurants and 50%consumers of their Weekly Share Program. Their lettuce trials showed that even with a small operation you can dramatically reduce the time to harvest and make a big impact on quality and consistency with the right LED grow lights and lighting partner. Want to know more? Let's talk.
The content & opinions in this article are the author's and do not necessarily represent the views of AgriTechTomorrow
---
Comments (0)
This post does not have any comments. Be the first to leave a comment below.
---
Post A Comment
You must be logged in before you can post a comment. Login now.
Featured Product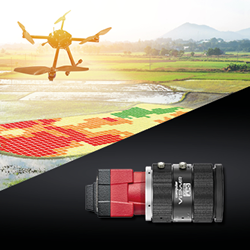 Allied Vision's compact and light weight Alvium SWIR (short wave infrared) cameras are the ideal choice to build cost-effective OEM systems used in embedded and machine vision applications. The cameras support a spectral range from 400 nm to 1700 nm at high quantum efficiencies. This allows to capture images in both the visible and SWIR spectra with a single camera and enables users to reduce overall system costs! Equipped with Sony's IMX990 and IMX991 SenSWIR InGaAs sensors, Alvium SWIR cameras deliver high image quality and frame rates. This makes them well suited for drones or handheld devices used in various industries such as, agriculture, mining, solar cell inspection or medical.