Global growers see increased cannabinoid levels and crop morphology with Fluence's VYPR product line
Fluence, a leading global provider of energy-efficient LED lighting solutions for commercial cannabis and food production, is helping global cannabis cultivators find operational stability by helping growers address cost efficiencies amid ongoing industry headwinds and energy market volatility.

Cannabis growers around the world are feeling the effects of higher operating costs due to supply chain challenges and rapidly fluctuating energy prices, making it more important than ever for cultivators to invest in and integrate reliable, cost-saving solutions. Fluence's LED technology VYPR series offer growers increased control over energy expenditure and a greater ability to customize light spectrum based on what works best for specific crops.
Replacing legacy high-pressure sodium (HPS) lighting systems with Fluence's energy-efficient and environmentally friendly LED fixtures is one of the easiest ways to achieve cost savings and improve energy efficiency as well as reduce the impact on local power grids. Cannabis cultivators around the world, including many in North America, have also cut capital expenses by leveraging Fluence's deep experience and guidance in helping partners receive energy efficiency rebates or subsidies in states with qualifying programs.
"Fluence's LED lighting solutions are helping cannabis cultivators in North America and across Europe, the Middle East and Africa advance operational efficiency and profitability," said Steve Graves, senior vice president of strategy and product at Fluence. "The VYPR product line enables growers to transition away from HPS lighting systems and save tens of thousands of dollars per year in energy consumption."
Fluence's horticultural and technical experts help partners to design, tailor and apply lighting solutions to specific facility footprints and meet their goals for plant growth and consistency. While growers have traditionally had to plan environmental control around the high heat output of HPS fixtures, VYPR fixtures and all other Fluence LEDs reduce interference with temperature and humidity in the grow space. Fluence's in-house research and horticultural teams work closely with partners pre-, during and post-installation to adapt to the flexibility and control LEDs offer over environmental conditions for plant growth and operational scale.
Chroni-Co, a tenth-generation family-run commercial agriculture company in South Africa, chose to introduce medical cannabis into its portfolio of crops in 2019. They turned to Fluence for its industry leadership in LED grow lights and professional support for companies entering or already in cannabis production. Chroni-Co has taken advantage of the full range of Fluence products for upscaling production, sustainability and eco-friendliness, incorporating VYPR 2P, VYPR 3P and SPYDR 2X to aid the transition to cannabis cultivation while navigating growing a warm-weather crop against South Africa's chilly winters.
"When we entered the medical cannabis space, we wanted to identify a lighting partner with a proven track record of supporting successful cannabis grows on a global scale whose work is backed by science and research," said James Simpson, director and founder of Chroni-Co. "After meeting with Fluence, we knew we'd found a perfect match. Fluence's VYPR and SPYDR solutions have helped us reduce our emissions and while lowering our operating expenses. More importantly, they've helped us provide our customers with a better, more consistent product."
Early results at Chroni-Co are incredibly promising, with Fluence LEDs leading to a 30% increase in cannabinoid levels and improved morphology in cannabis plants—demonstrating the ability of Fluence products like VYPR and SPYDR to build highly successful, environmentally friendly cannabis harvests in harsh winter environments by offering better heat management and providing a balance for the lack of natural sunlight compared to HPS fixtures.
"Helping science-forward partners achieve a more consistent product and a healthier bottom line is the driving force behind what we do at Fluence," said Timo Bongartz, general manager for Europe, the Middle East and Africa at Fluence. "Beneath Fluence LED technology, Chroni-Co's medical-grade cannabis started as and has remained top-quality flower that is now sold to patients across Germany, a testament to the caliber of product and the ongoing globalization of the cannabis market that we are proud to play a part in."
Fluence LED lighting solutions are available for purchase by licensed cultivators in territories in which the cultivation of cannabis is legal. For more information on Fluence, visit www.fluence.science.
About Fluence
Fluence Bioengineering, Inc. (Fluence) creates powerful and energy-efficient LED lighting solutions for commercial crop production and research applications. Fluence is a leading LED lighting supplier in the global cannabis market and is committed to enabling more efficient crop production with the world's top vertical farms and greenhouse produce growers. Fluence global headquarters are in Austin, Texas, with its EMEA headquarters in Rotterdam, Netherlands. Fluence operates as a business unit within Signify's Digital Solutions division. For more information about Fluence, visit www.fluence.science.
Featured Product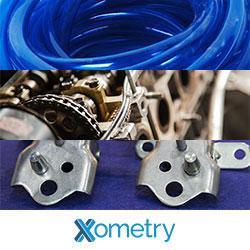 Xometry is your source for custom parts. Now, in addition to getting instant quotes on 3D Printing, CNC Machining, Sheet Metal, and Injection Molding, customers can create and send RFQs for die casting, stamping, and extrusion work to our nationwide network of pre-vetted manufacturers with just a 2D drawing. You will receive and be able to review responses from qualified shops within 7 days on an advanced web-based RFQ management platform. To learn more go directly to our site to issue and RFQ today. Stop wasting time managing RFQs through email and by phone, and start issuing RFQs at scale and in the cloud.