Project IF (Indoor farm) is a small hydroponic farm housed in the basement of an on-campus academic building. This registered student organization (RSO) grows fresh food without the need for soil in hydroponic ZipGrow Towers.
The Sky's the Limit for Vertical Farming at University of Washington
Case study from | ZipGrow
Founded in 1861, Washington is one of the oldest universities on the West Coast and one of the world's leading public research universities.
Step on campus, and you'll be surrounded by beautiful architecture, 100's of acres of green space, and lecture rooms that accommodate over 180 student majors.
With over a thousand student clubs on campus, you can expect to see many cultural organizations, sports arts, and entertainment opportunities; but what you may not expect to find is a club with an underground farm growing fresh lettuce, herbs, and fruiting crops.
Project IF (Indoor farm) is a small hydroponic farm housed in the basement of an on-campus academic building. This registered student organization (RSO) grows fresh food without the need for soil in hydroponic ZipGrow Towers. With no windows in sight, LED lights recreate the sun.
We recently caught up with three leads from the club- Maxwell Wang (President), Amelie Gahagan (Farm Manager), and Anna Phillips (Outreach Lead) to find out more about the project and how it benefits their University and their community.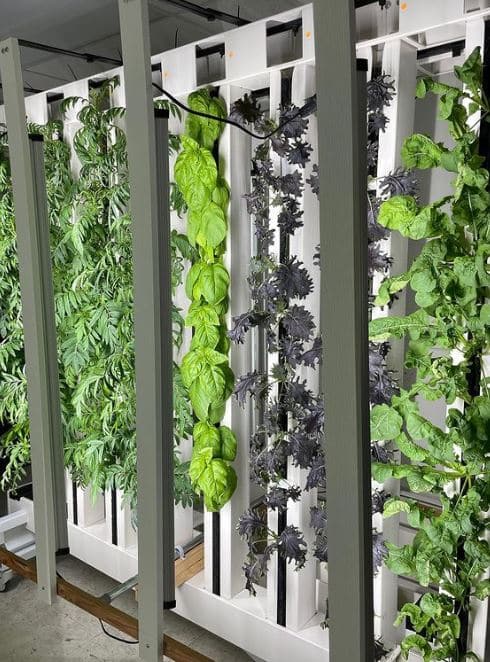 Interactive and Interdisciplinary
"We are a student-run club focusing on promoting hydroponic education as well as providing resources for students to do hands-on learning in the farm," explains Maxwell, a third-year computer science and statistics major.
"The best part of this project is how interdisciplinary it is." continues Amelie, who is in her second year of an Environmental Studies major. "We also have project groups that will work on niche projects that will optimize the farm in some way."
This includes a new crops group, an automation group, and more research-based groups.
"Anyone can join the project. It's open to everyone, which is what I love about the club," adds Anna, a first-year political science and global studies major.
Some members are also Computer Science Majors trying to automate the system.
Their farm setup consists of two double-sided education racks with thirty-two 5-foot ZipGrow Towers and LED lights. There is also a seedling station with an ebb and flow system.
The Education Rack is a complete hydroponic system utilizing ZipGrow's patented Towers. They are specifically engineered to fit inside a standard classroom door frame and are wheeled for easy maneuverability.
"I love to see this wall of produce growing; it's really easy to see everything and simple to switch up crops and substitute crops." Says Maxwell.
"I find the ZipGrow systems very approachable; you can immediately see what is happening. It's easy to understand, especially if you don't have a background in hydroponics." Says Anna.
And most of the members don't have any previous hydroponics experience; they are learning from scratch with the help of some protocols from the original members of the project.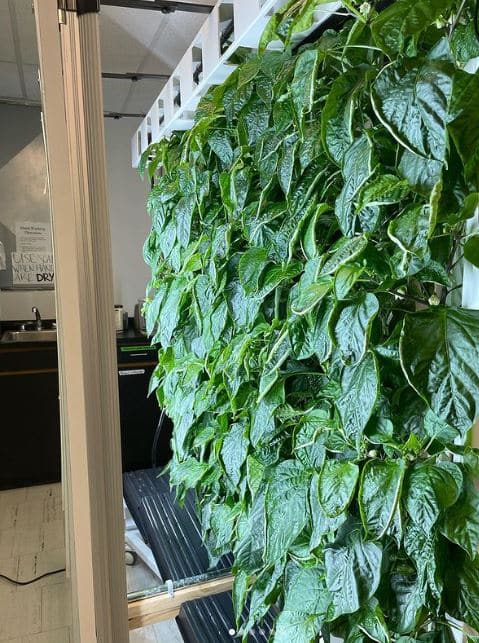 Project IF - The first of its kind on Campus.
Founded in 2016 by Kurt Kung, a postdoctoral Bioengineering researcher of the Pollack Lab, Project IF aimed to explore the feasibility of vertical farming on Campus and to show the feasibility of indoor growing to other Universities. Kurt secured funding from the Campus Sustainability Fund (CSF) and recruited other students to help operate the farm. He went on to win a Husky Green Award, which recognizes individuals and groups across all of the University of Washington campuses who lead the way for sustainability.
During the lockdowns of the Covid -19 pandemic, the technology sat unused for several months.
"There was a period during covid when there were not any clubs on campus," Maxwell explains, "so we brought the Towers back to life in 2021."
And Maxwell means this, quite literally, as the living walls have been growing fresh leafy greens and herbs.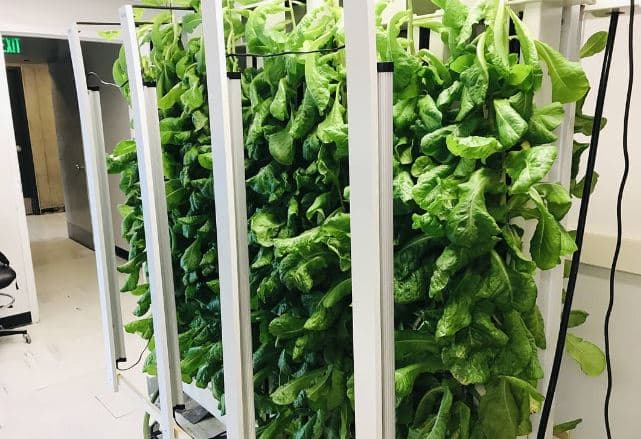 "Basil has been an absolute success in our farm, club members love it." says Amelie.
"We've hosted basil pesto potlucks which was a core part of bringing our club together and grows really well in the Towers."
This new wave of students re-launched Project IF as a Registered Student Organization (RSO), which they indicated was a simple process. However, as an RSO, they have specific responsibilities to contribute to the campus and the funders. It's why they have shifted more towards education and research rather than selling produce as a business.
"Not many of us were very knowledgeable about hydroponics," explains Amelie, "so we really started learning the basics. We worked with the systems, which became an educational space for learning about hydroponics and teaching others about it. Our goals are shaped by who we support, and we are very focused on outreach and research."
Project IF is also passing on their knowledge and experiences to high-school students in their community. Mini-hydro is a research and outreach team, and a couple of high school students are also involved in that group. They present at schools and create curiosity and education around soilless growing.
"It's easy to see and explain to other people. Especially when you only have a picture and are giving a presentation, it can be hard to describe other hydroponic systems…but with ZipGrow Towers, it's easy for people to see and understand that circular cycle of nutrients and how efficient it is," says Amelie.
One of the projects the sub-group is developing is a mini hydroponic unit they can take on-site for interactive opportunities with students.
In addition, Project IF hosts farm tours for classes on campus. "This is one of the ways we contribute to the education on campus surrounding sustainable living," says Amelie.
The week we caught up with Project IF, they had a tour scheduled for the Urban Farm class offered at the university, which discusses different urban farms and urban food systems and how they relate to sustainability. The tour showcases how their operation is an example of a type of Urban Farm in the community.
The group works as a team on presentations and has created posters and some educational assets. For tours, they walk visitors through each step of the process and then answer any questions along the way. "We explain why hydroponics may be better than soil agriculture and what some of the trade-offs are, "continues Amelie.
Project IF has also hosted workshops where visitors get more hands-on experience, such as their session on growing microgreens.
Now that members have more experience, the club is expanding into research. They recently tried ornamental flowers and pepper for the first time.
Since the start of the year, they have grown eight new crops, including arugula, bell peppers, chocolate bell peppers, marigolds, kale, basil, and mint. "There has been a lot of development on that side of the project, which I am happy to see," says Amelie.
"As we are developing new crops, we definitely want to document their progress," explains Anna. "We take many photographs throughout the growing process so that we have that to look back on. We are also creating a farm book that we can put in all the data that we use, including pH and EC levels for each crop type, in a creative way". The goal is to provide this as a resource at some of their workshops and tours.
"Some of the more challenging things that we have grown would be peppermint and the bell peppers we are growing now," continues Anna, "because we have never had fruiting plants in our Zipgrow Towers before, and that requires more monitoring of pH and EC levels. It's a very exploratory field environment for us right now."
The group has benefited from supplies of nutrients and grow plugs still available from operations of the first funded round of students. "We haven't exhausted any of that yet," says Maxwell.
However there are ongoing costs for resources, printing, seeds, research projects and technology maintenance.
Project IF is affiliated with the Paul G. Allen School, the Computer Science School of the University of Washington. They receive some annual funding to assist with project costs; additional funds come from the CSF.
The group is looking to spread awareness of this program throughout their campus as it can benefit students studying various disciplines.
"We feel it is really beneficial to include tours for many different classes," notes Amelie. "There is a class (on campus), Food Systems: Individual to Population Health. It's about local food systems, and we are hosting a tour and presentation as part of that class. If we can get more involved in different departments and help support them, it will provide more value to the entire campus."
The group has their sights set on growth in more ways than one.
"A future goal is to create something for workshops that can demonstrate multiple types of hydroponics," adds Maxwell.
The project leads are looking at other grant options related to engineering through the CSF, and they have some pending projects for expansion in the works.
"One of my biggest goals is to get more people into the farm. To attract people from other majors, I think it's something that can be interesting to anybody." Says Anna.
Maxwell suggests that for other Universities starting with a hydroponic farm, they "just start with growing a few things and playing around with the system."
"When we started, we barely had any success, even growing lettuce. We tried growing from seed and only had three plants that were transplanted."
It's a testament to their persistence that the group has evolved and can successfully grow mature crops to a level that the group can share with others and enjoy the fruits of their labor for themselves.
"You will also need to figure out what you are going to grow, what you are going to do with that produce, and how you want students to interact", continued Maxwell, "What are your general goals? We've ended up being more education focused. There are other routes you could go, such as more research-based, growing to sell, and learning about how different hydroponic systems work. Students can even work on how to improve existing systems. All of those things require a lot of different disciplines. So it's a good idea to decide where you want the club to go and try to steer the vision towards that."
The content & opinions in this article are the author's and do not necessarily represent the views of AgriTechTomorrow
---
Comments (0)
This post does not have any comments. Be the first to leave a comment below.
---
Post A Comment
You must be logged in before you can post a comment. Login now.
Featured Product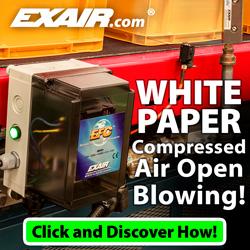 Compressed air is a limited resource that is generated in-house for the benefit of many operations within the manufacturing environment. Learn how to ensure all point of use applications are using your compressed air in the most effective and efficient way possible. Learn how much it costs to produce that compressed air and how Engineered Nozzles can help you use your air more effectively and efficiently.