While it's valuable for operators to gain familiarity with different systems and vendors, oftentimes these cultivators haven't considered how all these systems will interact and how the performance of one equipment category bears implications for other systems.
Equipment Validation: LED Lighting Edition
Mitch Galton | urban-gro
When designing or upgrading your grow facility, decisions around equipment specifications, selection, and integration are integral to helping ensure your facility is efficient and profitable post start-up. Improperly sized or specified equipment can have lasting implications on facility performance and lead to compromised yields, reduced end-product quality, and other unintended consequences. Often, growers come to us with a pre-selected brand of lights/fertigation/benching/etc. that they want to utilize.
While it's valuable for operators to gain familiarity with different systems and vendors, oftentimes these cultivators haven't considered how all these systems will interact and how the performance of one equipment category bears implications for other systems. Perhaps the most energy intensive system in your facility are the lights—not only do they represent significant CapEx investment, but they also make up a significant portion of OpEX costs. Lighting technology also plays an extremely important role in determining yield, cycle time, and secondary metabolite profile – which is directly tied to revenue.
When today's grower looks at the lighting market and competitive landscape, there are A LOT of options out there to consider—from names you know to ones you may have never heard of—and they all claim to be the best. So how do you pick? This situation is an instance where working with a partner experienced in lighting design and equipment integration is extremely valuable. Not only do you need to look at efficiencies and outputs, but you also need to consider things like: "If my lights operate at XX wattage, how will my HVAC system need to perform in order to maintain a consistent growing environment; how will these requirements differ from a system with lights operating at YY wattage."
To further complicate the decision, what if the lighting system you're considering doesn't perform according to the manufacturer's published metrics once installed inside of your facility? While everything might look great on paper, it won't mean much if outputs vary in a real-world environment. It's variables like these that inspired the urban-gro team to conduct research testing over a dozen different brands in a controlled environment to see how actual performance compared to published metrics. What we found is that data varied significantly. While some brands performed very near specification, others were well outside the claimed metrics. Read on to see what this variability means for you and reach out to our team of lighting experts to talk about your project.
Why is lighting performance important?
Light intensity is directly tied to yield and secondary metabolite production (revenue). Because of this relationship to financial performance, and because of its impact on ancillary equipment systems, selecting light intensity is often among the first steps when designing a cultivation facility.
Unfortunately, increasing intensity (PPFD) typically requires more wattage, fixtures, and electrical infrastructure; both CapEx & OpEx. Raising wattage will also add to the rooms' sensible load which can dramatically impact HVAC requirements. It is important for HVAC engineers to properly understand and accurately account for sensible load requirements when specifying equipment. Incorrect wattage assumptions can lead to undersized or oversized HVAC systems and a resulting lack of environmental control. Incorrect PPF assumptions will result in too much or not enough light intensity and negatively impact plant health (yield / revenue).
Should you rely on manufacturer published specifications?
As outlined above, lighting is an equipment category in which incorrect data around performance metrics will create significant operational issues. In an effort better serve our commercial customers, urban-gro submitted LED fixtures from over 10 leading horticulture lighting manufacturers for third party integrated sphere testing to verify both light output (PPF) and power draw (wattage). While the majority of manufacturers tested within 5-10% of published performance metrics, multiple widely used fixtures measured significantly below advertised specifications. In some cases, efficacy (PPF / Watt) was over 30% below advertised data.
The below table highlights a portion of these results to show typical discrepancies among leading manufacturers.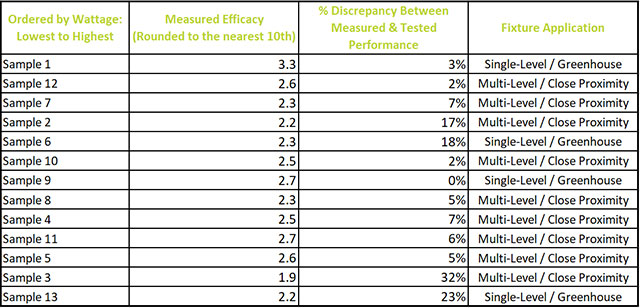 Why is this information valuable? Lighting manufacturers are often incentivized to inflate specifications such as light output or efficacy, but this practice can have a tremendously negative impact in the garden. urban-gro conducted this study to mitigate risk for our partners by ensuring that all systems operate as designed – and as required to meet financial / operational goals.
The content & opinions in this article are the author's and do not necessarily represent the views of AgriTechTomorrow
---
Comments (0)
This post does not have any comments. Be the first to leave a comment below.
---
Post A Comment
You must be logged in before you can post a comment. Login now.
Featured Product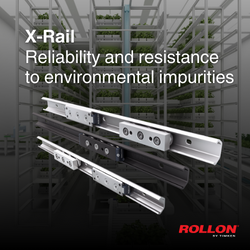 Rollon's X-Rail linear rails are a reliable solution in environments susceptible to impurities. Equipped with rolling elements with shaped and flat raceways, they are available in several versions: galvanized, nitrided or stainless-steel sheet metal. The latter version ensures total corrosion resistance, which is critical for hostile environments such as those found in vertical farming. Particularly innovative is the T + U configuration of the X-Rail linear rails, which can compensate for the parallelism errors of mounting surfaces. This simplifies installation and reduces costs.