Vertical container farming is on the up. Continuing pressure on UK growers to diversify their crops, rewild their land and use greener growing practices means that utilising the economic and environmental benefits of vertical farming is more popular than ever.
6 Steps to Becoming a Container Farmer
Artcile from | LettUs Grow
Vertical container farming is on the up. Continuing pressure on UK growers to diversify their crops, rewild their land and use greener growing practices means that utilising the economic and environmental benefits of vertical farming is more popular than ever. In fact, with the vertical farming market predicted to grow by 22% in Europe year-on-year in the next decade, it's likely that salad bags full of vertically grown microgreens and herbs will become a familiar sight.
Vertical container farming is also incredibly accessible, with no growing experience needed to start up your own hyper-local food hub. At LettUs Grow, all our growers have access to our team of experts for technical training, a host of tried and tested crop recipes, and the commercial know-how to assist in building your brand.
If you've been looking to bring hyper-local produce to your community but are unsure where to start, we can help guide you through the industry and bring your vertical farming venture to life.
Here are 6 steps you should take to help you get started in your planning:
1. Do your research.
Before every great idea is brought into reality, first there is homework. Some key areas you should look into are:
Growing with aeroponics: We will provide all the relevant training, walkthroughs and guided tours to make sure you are comfortable and familiar with the technology before you start growing in our container farms. However, reading up on the benefits of aeroponics systems and how indoor farming works will give you a head start in your understanding.
Understand your audience: Are you going to be the urban farming trendsetter in your community? Or are there container farms in operation nearby that you can learn from? Knowing where you stand at a local level and what makes your business model unique will help you establish what needs you're filling. After completing this stage, you should have a good idea about who you're going to be selling to, what crops they'll need and how this will impact your business plan.
However, maybe profit isn't the only part of container farming you're looking to benefit from. Having a hyper-local food source can be a powerful tool in reaching out to the community, educating visitors in how container farming contributes positively to the food system, as well as supplying an experiential opportunity to learn about how crops are grown and harvested.
Discovering how you can provide an opportunity for learning and engagement will enrich your audience far beyond the crops you can provide.
Make sure to research the benefits of container farming so you know where your business is best placed, and also where it isn't.
2. Location, location, location
The beauty of container farming is that you have the flexibility to place your business-in-a-box (almost) anywhere. Whether you find yourself in the suburbs or the city, the fields or the forest, where you choose to position yourself will determine your business model, the types of customers you will be selling to and the food miles your produce travels - so choose your location with all these elements in mind. In practical terms, you will also need:
- A relatively flat and level surface.
- An electrical supply.
- A water supply.
- Suitable set-up for waste water drainage.
- A reliable internet connection.
Don't worry if your location in mind isn't completely level - often our containers can be propped to create a flat surface.
3. What crops will you grow with aeroponics?
Your target market will be the defining factor behind the produce you want to grow, and our aeroponic DROP & GROW container farms can grow many different crop varieties.
Microgreens can be used in salad mixes sold to farm shops, independent retailers or directly to those in the community. Specialised varieties such as wasabi shoots could be sold to high-end restaurants or chefs looking for fresh local produce. Leafy greens are often used best in salad bags, but could also be utilised in pre-made sandwiches and salads, distributed to local schools, included in local delivery schemes or sold directly from your container with Click & Collect Schemes.
We have a collection of crop recipes to get you started, but make sure to read "Who does the container farmer market serve?" and "What crops can you grow in a container farm?" for inspiration.
4. Crafting your business plan
For any new business venture, a succinct and goal orientated business plan will set you in good stead for your farms first year, and years to come. The difference between a good business plan and a great one is in the details, and the more research you put into it the better. Providing a sustainable food production system for your community might be part of your ethos, but you should also think critically about how you are going to price your crops, the volumes you are able to sell and the cost of energy it's going to take to produce it to make sure your business is profitable. Taking measures such as utilising renewable energy sources to power your farm, and limiting food miles by positioning your container farm close to your customers will ensure your venture is performing sustainably whilst helping you achieve your business goals.
Our team of business development experts have a host of materials you can use to bolster your own business plan, as well as practical and experienced advice.
5. Finding your financing
Financing comes in many different forms, depending on whether you're striking out on your own, part of a co-operative, or if you're looking to add a container farm to your existing business. If you're applying for loans or grants to supplement your business expenses, a strong business plan will ultimately mean you are more likely to raise the investment needed. Our funding partners, Contain.ag, could also provide you with the assistance you need for farming technology, and make sure you check the Government website for suitable grants. For the latest grant information, make sure to sign up to our newsletter.
6. Experienced advice
As important as doing your own research is, advice from those who have already worked in the industry and have gotten their hands dirty (without the soil) will be invaluable in helping you get to grips with what to expect from your own farm. Don't know any vertical container farmers personally? Online interviews and articles should help fill the gaps until you branch out and meet others in the industry.
Maybe you have a good working knowledge of growing, and now you're interested in the commercial side? To find out more about how to set up your own business, read our own Business Development Specialist's interview on what it was like to create a brand, navigate the industry and make a seed of an idea into a thriving success.
Whether you're ready to get your business plan up and running or you're still doing your research, our business development team can help guide you in the right direction.
Ready to start your container farming journey? To get your business off the ground, speak to our business development team today.
The content & opinions in this article are the author's and do not necessarily represent the views of AgriTechTomorrow
---
Comments (0)
This post does not have any comments. Be the first to leave a comment below.
---
Post A Comment
You must be logged in before you can post a comment. Login now.
Featured Product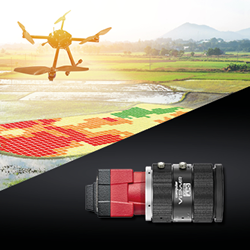 Allied Vision's compact and light weight Alvium SWIR (short wave infrared) cameras are the ideal choice to build cost-effective OEM systems used in embedded and machine vision applications. The cameras support a spectral range from 400 nm to 1700 nm at high quantum efficiencies. This allows to capture images in both the visible and SWIR spectra with a single camera and enables users to reduce overall system costs! Equipped with Sony's IMX990 and IMX991 SenSWIR InGaAs sensors, Alvium SWIR cameras deliver high image quality and frame rates. This makes them well suited for drones or handheld devices used in various industries such as, agriculture, mining, solar cell inspection or medical.