Colleges around the country have found a way to add new educational programs while becoming more sustainable: Container farms. These farms are made from repurposed shipping containers and allow students and faculty to grow food all year long, without any soil.
How Colleges Around the Country Use Container Farms
Leah Soto | Pure Greens LLC
In this article, you'll learn how 6 colleges around the country are using container farms on campus.
The Citadel
The Citadel is a military college in South Carolina that started, not one, but three container farms.
The Citadel Sustainability Project uses the three shipping containers to help the campus become more sustainable and provide unique educational experiences for its students.
Each container farm has a different purpose.
One, is for growing lettuce, the second, is for testing different growing methods and the third, is for building growing equipment.
Holyoke Community College
Holyoke Community College in Massachusetts partnered with the city and a local nonprofit to start two container farms to grow food for local residents and businesses.
A team of students and Holyoke residents grow leafy greens and herbs in the container farms.
The college uses the farms to train students and residents in hydroponic food production, while producing organic vegetables year-round for local markets.
The community college also donates a portion of every harvest to feed those in need.
Auburn University
Auburn University's two on-campus container farms produce fresh food for campus kitchens and help students train for careers in hydroponic farming.
The goal of the Alabama university's new farms is mainly to serve more locally sourced foods, but it also makes for a great educational tool.
University students run the container farms to gain experience in the high-tech field of urban farming.
The container farms are part of the university's new Transformation Garden, a 16-acre garden for academic research.
Texas State University
Texas State University started the EverGreen Lab in a container farm to help Hispanic students overcome low retention and graduation rates in agriculture and STEM programs.
The lab helps students research all topics related to developing a container farm, including engineering, water, energy and food.
The lab is part of a collaborative program by Texas State University, Palo Alto College and San Antonio College.
Students have won awards, fellowships and employment opportunities as a result of working with the EverGreen Lab.
Stony Brook University
New York's Stony Brook University was the first higher education institution in the United States to start a container farm on campus.
Lettuce from the container farm is served to students at the salad bar in one of the campus dining halls.
The container farm functions as an educational tool and an innovative way to make the campus more eco-friendly.
Students run the container farm to get a hands-on agricultural learning experience, while also shortening the food supply chain, reducing the campus's environmental footprint.
Central Lakes College
Minnesota's Central Lakes College started a collaborative indoor agriculture project called 'Sota Grown early in 2020.
The project includes a container farm that will help train students on how to plant, maintain and harvest hydroponic crops.
The container farm's first crop will be kale, that will be delivered to the Lakewood Health System to feed more than 600 people.
Three of the college's partners for the project will collect data to analyze the efficiency of indoor crop production for future technology.
The content & opinions in this article are the author's and do not necessarily represent the views of AgriTechTomorrow
---
Comments (0)
This post does not have any comments. Be the first to leave a comment below.
---
Post A Comment
You must be logged in before you can post a comment. Login now.
Featured Product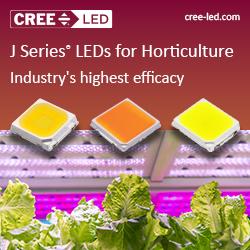 Horticulture and other forms of agricultural lighting require application-tuned ratios of spectral content, high efficacy and long lifetimes. Since these systems are designed to maximize yields for plants and animals, they require different metrics than lighting products designed around the human visual system. Cree LED delivers a wide range of spectral options and products optimized for these applications with leading efficiency and reliability.