Living green walls, such as those created by GSky Plant Systems, offer an exceptional solution to all of these concerns by improving parking garage aesthetics and environmental impact through the use of living plants in innovative designs.
Parking Garages Transform Urban Environments with Living Green Walls
Lea Ackerman, Marketing Coordinator | GSky
Parking garages are a central element in many urban and suburban development projects, ensuring lower congestion and greater access to retail, housing, offices, and more. They are often difficult to construct in a way that both improves the overall design of the developments and meets regulatory requirements for environmental concerns, all while keeping costs reasonable. Living green walls, such as those created by GSky Plant Systems, offer an exceptional solution to all of these concerns by improving parking garage aesthetics and environmental impact through the use of living plants in innovative designs.
Benefits to the Urban Environment
As a result of urbanization and the corresponding rise of population density in many areas, demand for dense parking solutions – garages and other similar parking structures – has risen as well. Parking structures are a crucial component of community planning. Without them, city streets would be even more congested, and access by car to retail, offices and other buildings in densely developed areas would be limited, thus negatively impacting business. Parking garages afford cities multistory vehicle storage that in turn frees up common areas. They usually are not, however, very aesthetically pleasing, and in fact can often be an eyesore in otherwise elegant and eye-catching modern developments.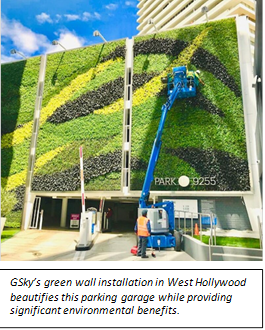 Many cities today are not only encouraging but also requiring parking structure design to include a façade that enhances the urban environment, establishing Design Guidelines that require parking structures to have façades on the street sides visible to the public.
Enter living green walls. Living green walls can completely transform the façade of otherwise bare parking structures, turning them into a central design element in developments rather than something to be hidden away.
What's more, living green walls can have significant environmental benefits, including helping to make cities quieter by introducing more shade, evaporative cooling, and sound absorption.
In doing so, they can also improve the building's LEED certification credits and make it easier for developments to meet municipal environmental regulations. What's more, the plants' air-scrubbing capacities can actually improve air quality, thereby improving quality of life near parking structures and reducing the pollution from vehicles that enters the overall environment. Though they thrive best in warm climates due to the risk that colder climates poses to the plants on them, green walls can in fact be installed on garage façades in a number of cities.
Meeting Developer Needs
Living green walls have been engineered to provide all of these benefits while also meeting developers' and architects' needs in terms of structural engineering, cost, maintenance needs, and building coverage.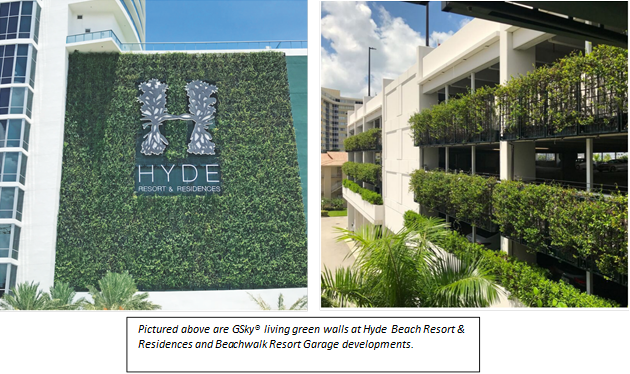 John Deutschmann of the Related Group says this of incorporating living green walls into the for Hyde Beach Resort & Residences and Beachwalk Garage developments in Hallandale Beach, FL: "We have incorporated living wall systems to enhance the exterior façade of both open air and enclosed parking garage facades to create an artistic landscape value into our high-rise properties in South Florida where our parking garage pedestal facade walls are highly visible to both pedestrian and vehicular traffic. The unique living walls installed by GSky® have been very well received in the communities that we have invested in and have proven to provide value and an aesthetically pleasing green alternative to our customers."
Parking garages tend to require a greater surface area of living green wall coverage than other applications, in order to effectively cover up what could otherwise be a boring façade with a visually pleasing, artistic design. Even simple plant designs in living green walls can dramatically improve the look of parking garages, and manufacturers like GSky® can create quite elaborate designs to meet developers' needs when installed in high traffic areas like retail centers, office buildings, and others.
Regardless of the plant designs used within, parking garage green wall installations can be more complicated than other green wall installations due to the building's height, structure, and access, as the areas are generally tighter to navigate installation equipment in and garages are often functional while installations occur. For this reason, it is imperative to choose the right company to build and install this kind of parking garage façade, particularly one with significant experience in working under these conditions.
Similarly, choosing the right company from the outset will also have an impact on the overall maintenance needs – and thereby successful growth – of a living green wall installation. Maintenance can be challenging for some walls, and maintenance teams must strictly coordinate procedures in regards to working hours, noise, delivery, dust, and daily clean up. This should also be considered when selecting a living green wall manufacturer, as the company should be extremely knowledgeable about maintenance needs in each specific installation.
Industry-Leading Living Green Wall Systems for Parking Garages
GSky Plant Systems, Inc., the company behind the living green walls described above by John Deutschmann, is one such manufacturer with expertise in the design, construction, installation, and maintenance of green walls on parking garages. The company demonstrates an exceptional capacity to meet developers' precise design and installation needs in a variety of climates and locations.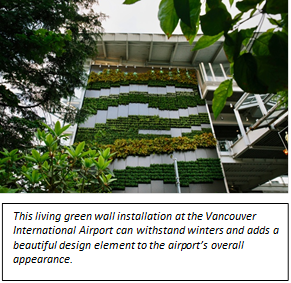 GSky® offers three different exterior living green wall systems in order to flexibly meet customers' price and design needs: Basic Wall® screening, ideal in cities where vegetation is required on new buildings; the Versa Wall® XT, ideal for easy installation, even in colder climates; and the Pro Wall®, for high design in very visible areas with the proper climate for thriving living green walls.
The company designed a living green wall for the Vancouver International Airport entrance that includes an artistic pixelated pattern element in the wall that was designed to reflect the mountains through groups of plants. This wall design also allows for less plants to be used, making a parking garage green wall possible in a colder climate.
GSky Plant Systems also installed a living green wall on a West Hollywood parking garage whose detailed design was important to developer Transwestern thanks to the garage's key location and visibility by tenants and those passing by. Installation of this wall was completed in 3 phases in order to maintain access to the parking structure and an active pedestrian walkway throughout the installation.
Regardless of location, GSky's living green wall installations ensure improved aesthetics and greater environmental benefits for parking garage design, benefitting developers and the garages' end-users alike.
The content & opinions in this article are the author's and do not necessarily represent the views of AgriTechTomorrow
---
Comments (0)
This post does not have any comments. Be the first to leave a comment below.
---
Post A Comment
You must be logged in before you can post a comment. Login now.
Featured Product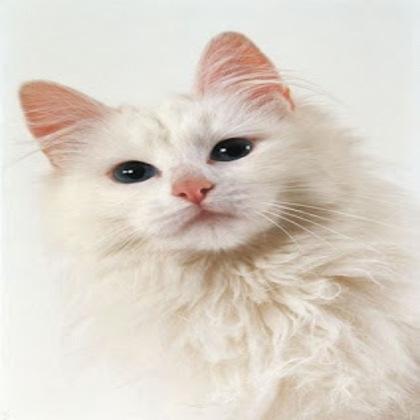 Image processing opens up a wide range of possibilities for the automation of modern agriculture - but what to do when only a small budget is available? That is where the uEye XLS comes in. With the launch of these super-small industrial cameras, even price-sensitive applications and volume projects become feasible. Measuring just 29 x 29 x 7 mm, the compact cameras offer excellent imaging characteristics without excessive heat generation, making them a perfect fit for embedded vision applications in agricultural machinery and equipment. The industrial cameras comply with the vision standard and are available with Micro-B connectors and with or without C/CS or S-mount lens holders, further increasing their adaptability to different agricultural environments. Thanks to these features, the cameras offered by IDS Imaging Development Systems lower the barriers to entry and make it easier to explore the potential of vision technology to optimize agricultural processes.