New mobile forage units from BioGen AG grow fresh, organic feed every day, in any season or weather.
A Crop Farmers Can Count on
Chad Schofield | BioGen AG
For many farmers and ranchers, feeding the herd is an increasingly challenging and costly proposition. Successfully growing enough food in the traditional manner is dependent on numerous seasonal and environmental factors, and subject to drought, flooding, extreme temperatures and other natural disasters. Buying and having food shipped in from outside sources is expensive.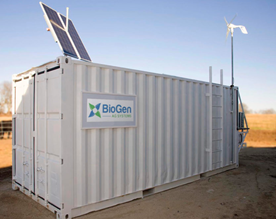 Now there's a consistent, sustainable, self-contained method of growing fresh forage for dairy cattle, performance horses, meat cattle and more thanks to an innovative concept from Kansas City, MO-based BioGen AG. The company is the creator of the patented Portable Feeding Platform, OR PFP. The PFP is a self-contained, internal bio-reactor housed in shipping containers and trailers that have been repurposed to grow fresh, organic forage.
The unit can produce between 300 – 4000 pounds of fresh green forage daily using 95% less water than the amount required to grow the same amount traditionally. Furthermore, the unit uses no fertilizer or harmful pesticides, resulting in quality organic feed, healthier animals, and ultimately greater revenues.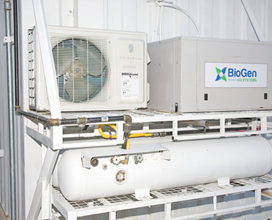 The fresh food produced by the units is less expensive and more nutritious than hay (forage that has died and dried out.). The PFP comes in three different sizes and is configurable for solar and wind power generation for off-grid operations.
BioGen AG is the brainchild of Chad Schofield, a self-made entrepreneur who left home at 14, and became a pilot and fish buyer in Alaska. He returned to college, where he earned a scholarship, starting and eventually selling a successful East Coast tech company. Schofield moved to Kansas City, started his cattle farm, and soon became passionate about finding a better, more sustainable way to feed AG animals.
The primary crop grown in the PFP is barley, but there are about 30 kinds of sprouting grasses that can also be grown there, according to Schofield. "The potential is much greater, as these units can grow everything from fruit and vegetables to hemp," he says.
BioGen AG custom makes each unit according to customer needs and specializes in modifying the containers and trailers to the specific needs of farmers. "Cost savings and quality of feed are of paramount importance to our consumers," says Schofield. "And we are especially proud that our units have helped to bridge the feed gap for farmers and ranchers whose animals' wellbeing has been impacted by fires, droughts and other natural disasters in recent years."
PORTABLE FEEDING PLATFORM
Fresh forage on demand. That's the premise behind the new BioGen AG Portable Feeding Platform (PFP), a self-contained mobile unit that grows food for AG animals 24 hours a day, 365 days a year, regardless of season or weather. The PFP offers farmers and ranchers a sustainable, affordable alternative to growing food traditionally, or outsourcing. The fresh, organic, hydroponicallygrown food is healthier than hay.
Units are housed in repurposed shipping containers and trailers using patented technology
Capable of growing between 300 to 4000 pounds of fresh green food per day
Excellent everyday solution to feeding cattle and horses, as well as emergency back-up in the face of drought, floods, fires, extreme heat and cold or other natural disasters
Consistent daily output with no waste
Affordable and not susceptible to price fluctuations due to weather/seasonal conditions
Perfect for dairy cattle, meat cattle, performance horses or any animals that eat grass
Fresh forage is healthier than hay (forage that has died and dried out)
Organic: uses no pesticides or fertilizers; healthier for animals, resulting in better end-products and improved revenue
Environmentally friendly: uses 95% less water than traditionally grown crops; can be solar- or wind-powered for off-grid use
Grows barley and at least 30 other types of sprouting grasses; also can be used to grow hemp, fruit and vegetables
Available in three different sizes and customizable to each client's needs
The content & opinions in this article are the author's and do not necessarily represent the views of AgriTechTomorrow
---
Comments (0)
This post does not have any comments. Be the first to leave a comment below.
---
Post A Comment
You must be logged in before you can post a comment. Login now.
Featured Product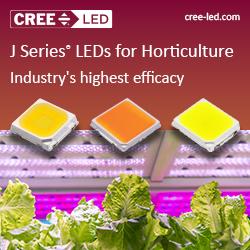 Horticulture and other forms of agricultural lighting require application-tuned ratios of spectral content, high efficacy and long lifetimes. Since these systems are designed to maximize yields for plants and animals, they require different metrics than lighting products designed around the human visual system. Cree LED delivers a wide range of spectral options and products optimized for these applications with leading efficiency and reliability.