China and U.S. driving most of global demand growth for these environmentally friendly alternatives to conventional fertilizers.
Population Growth, Less Arable Land, and Sustainability Driving Demand for Controlled-Release Fertilizers
Contributed by | IHS Markit
The global market demand for controlled- and slow-release specialty fertilizers is growing significantly and currently valued at $2.35 billion, as global populations continue to increase rapidly while the amount of arable land per-capita simultaneously declines. At the same time, changing climate patterns leading to extreme drought conditions or untimely rainfalls are driving a greater focus on sustainable agriculture, according to new analysis from IHS Markit (Nasdaq: INFO), the leading global source of critical information and insight.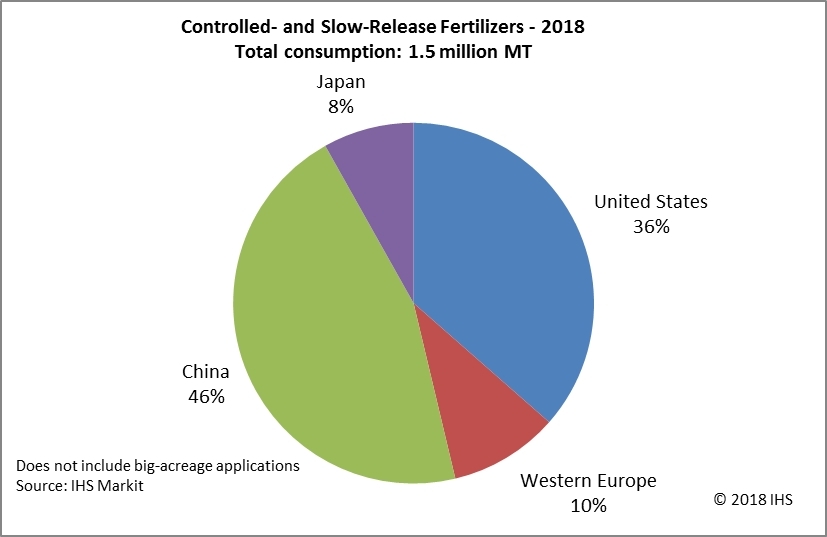 Led by China, the U.S., Western Europe and Japan, global demand for these specialty fertilizers (called CRFs or SRFs) currently stands at more than 1.5 million metric tons (MMT) in 2018, and is expected to grow to at a rate of nearly six percent during the period of 2017 to 2022, according to the IHS Markit Chemical Economics Handbook: Controlled- and Slow-Release Fertilizers Report.
Chinese consumption, in particular, has been increasing significantly in recent years, and is projected to grow at nearly 10 percent annually during 2017 to 2022. China currently consumes approximately 700 thousand metric tons (TMT) annually of these specialty chemicals or nearly 46 percent of the global total, while the U.S. consumes approximately 560 TMT of these specialty fertilizers, or nearly 37 percent of the global total. Western Europe follows with more than 10 percent of the global demand and Japan at roughly eight percent of global demand. China is also the world's leading producer of these chemicals, having aggressively expanded its production during the past five years, to reach nearly six MMT annually.
Historically, due to their high cost, these fertilizers were primarily limited to non-agricultural uses in niche applications such as golf courses, landscaping maintenance, and in nurseries and greenhouses. Increasingly though, they are being used for large, commercial agricultural applications—to feed an ever-expanding global population, especially among the developing nations, like China and India, with greater economic buying power. These countries are shifting to a more protein-based diet and away from traditional, carbohydrate-based diets. These protein-rich diets require the use of more fertilizers, the IHS Markit report said.
"The U.S. has traditionally been the most significant market for these specialty fertilizers, but we are seeing an extremely rapid growth in Chinese demand due to a confluence of market and social factors, including economic and population growth, less arable land per-capita, and a strong desire to lessen the environmental impact of fertilizers," said Bala Suresh, executive director, IHS Markit, and lead author of the IHS Markit report. "With its rapid economic growth and increased environmental awareness, India is expected to increase its demand for these products as well."
The 'zero growth,' in fertilizer use regulations in China, and the EU Nitrate Directive, are examples of increasing regulatory influences, the report noted. The U.S. Good Agricultural Practices for vegetable farming includes voluntary audits, which ensures that applicable environmental safeguards are followed. Expanding environmental regulations will only increase the use of these CRFs and SRFs, the IHS Markit report said.
"With less arable land available, significant changes in climate patterns and persistent drought conditions, the Chinese face similar challenges to the U.S., Europe and other regions—they need to feed more people with less land, so improving fertilizer efficiency, increasing crop yields, and reducing the impact of fertilizers on the environment, are essential," Suresh said. "These specialized fertilizers help achieve those goals, albeit at a much higher cost than traditional fertilizers."
These products differ from conventional fertilizers because they enable measured or a more controlled nutrient uptake (from the fertilizers) by the plants. This is achieved through the modification of the fertilizer products—either chemically by reducing their solubility (how fast they dissolve in water), or physically by coating them with a polymer or sulfur, or a combination of both.
While cost is an issue, Suresh expects costs for these products will go down over time, and the crop-yields and environmental benefits of these products are expected to outweigh the costs, including increasing regulations and penalties that encourage growers to minimize fertilizer run-off in water streams. Controlled- or slow-release fertilizers, such as polymer-coated or dual-coated varieties, can cost anywhere between 2.4 and 10 times as much as conventional fertilizers, which explains why traditionally, their use has been limited to non-agricultural uses such as golf courses and commercial nurseries.
However, they are more environmentally friendly than conventional commercial fertilizers because they release nutrients to the plants more slowly over time and, therefore, more of the fertilizer is absorbed by the plant as nutrients. As a result, less fertilizer is required over time, which saves resources and labor, less of the product is lost as waste run-off into the soil, and the level of nitrous-oxide emissions is reduced, the IHS Markit report said.
According to the Food and Agriculture Organization of the United Nations, there are more than 815 million people globally who are chronically undernourished, while the global population is expected to rise to approximately 9.6 billion to 10 billion people by 2050. In 2011, the U.S. Environmental Protection Agency (EPA) suggested in its Science Advisory Board (SAB) report that the crop nitrogen intake-efficiencies can be increased by as much as 25 percent over current practices through a combination of knowledge-based practices and advances in fertilizer technology in a period of the next two decades.
In addition to increasing crop yields, the use of these CRFs and SRFs also improve plant health and viability, including the reduction of nutrient losses that occur between application and uptake by the plant, the reduction of toxicity (reduced salt index), particularly to seedlings. Additional benefits include the reduction of topical growth (flush growth) and clippings, improved rooting, cell-wall strength and soil-microorganism health, as well as color retention.
"As farmers are expected to continue to do more for less—to grow more food on less land in less predictable weather patterns—these fertilizers provide greater predictability and sustainability. If you can't control the weather, it helps to know you can better control your crops at some level, and most farmers welcome anything that increases crop-yields, lessens uncertainty, and is more environmentally friendly."
The major manufacturers of CRFs and SRFs include Nutrien ICL Group; Lebanon Seaboard Corp., Haifa Chemicals, Compo GmbH and Co.; Shandong Kingenta; Sadepan Chimica; Aglukon; and JCAM AGRI Co., Ltd. IHS Markit expects consolidation to continue in this market as companies continue to strengthen their market positions for growth.
About IHS Markit
IHS Markit is a world leader in critical information, analytics and solutions for the major industries and markets that drive economies worldwide. The company delivers next-generation information, analytics and solutions to customers in business, finance and government, improving their operational efficiency and providing deep insights that lead to well-informed, confident decisions. IHS Markit has more than 50,000 business and government customers, including 80 percent of the Fortune Global 500 and the world's leading financial institutions. Headquartered in London, IHS Markit is committed to sustainable, profitable growth.
The content & opinions in this article are the authorā€™s and do not necessarily represent the views of AgriTechTomorrow
---
Comments (0)
This post does not have any comments. Be the first to leave a comment below.
---
Post A Comment
You must be logged in before you can post a comment. Login now.
Featured Product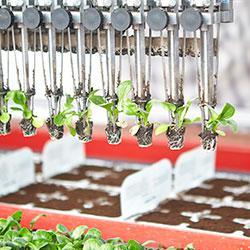 The FAULHABER Linear Actuator L series are designed to provide high performances in compact dimensions, these actuators can support large input speed, high output force and are suited for a wide range of applications like robotics, industrial machines and laboratory equipment.