Innovative technologies deployed in the greenhouse promise higher-quality product with higher yields and lowest operating costs.
Energy-Efficient Cannabis Greenhouse
Contributed by | Ceres Greenhouse Solutions
Ceres Greenhouse Solutions, a greenhouse design/build firm, has completed an innovative cannabis greenhouse complex for their client Vera Cultivation. Vera Cultivation contacted Ceres with a desire to be competitive in the recreational wholesale cannabis cultivation market. Their goal was to build a greenhouse that was extremely efficient and would yield a quality product. Ceres designed a complex that includes three 4,200-square-foot greenhouses as well as two 2,100-square-foot greenhouses connected by a 5,040-square-foot warehouse. The greenhouses are oriented east-west, and the north, east and west walls are insulated and have reflective material on the interior to reflect sunlight back into the greenhouse.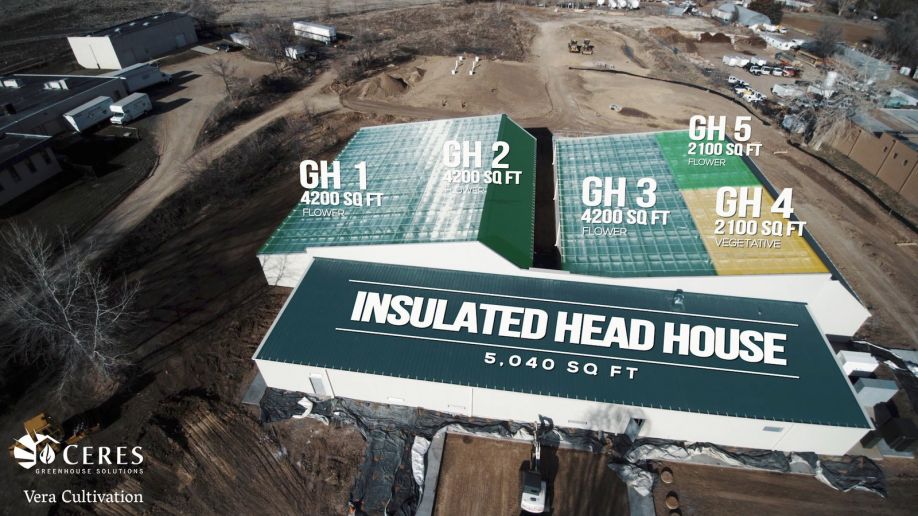 Insulated Head House and Attached Sealed Greenhouses with Light Deprivation Systems Installed
Key design elements from this project:
Sustainability: Most of the light used to grow the plants will come from the sun so energy costs will be drastically lower than an indoor grow of comparable size. Vera Cultivation estimates $1 per square foot of energy costs per month. Also, 90 percent of the water used in the greenhouse will be recycled back into the growing systems to ensure minimal water waste.
Grow Results: The controlled environment of the greenhouse plus the plant's increased exposure to full spectrum sunlight ensures higher-quality product and higher yields than an indoor, outdoor or traditional greenhouse grow.
Innovative Growing Technology: The glazing (light transmitting material) of the greenhouse allows for the full light spectrum and 89 percent sunlight transmittance while maintaining an insulation value of R-2. The greenhouse has a water-based chiller system for the hydroponic growing of the plants and the cooling of the sealed greenhouses.
"Ceres has been a great partner to collaborate with on this project. Their team is full of intelligent and friendly people. They are willing to do what it takes to meet their client's needs. No matter what roadblock we encountered, Ceres was helpful in working it through with us," said Harrison Somoza, marketing director, Vera Cultivation.
About Ceres Greenhouse Solutions
Founded in 2011, Ceres Greenhouse Solutions aims to reinvent the traditional greenhouse. We combine passive solar design principles with innovative heat-storage techniques to create the most energy-efficient, flexible and durable greenhouses for any climate in the world.
The content & opinions in this article are the author's and do not necessarily represent the views of AgriTechTomorrow
---
Comments (0)
This post does not have any comments. Be the first to leave a comment below.
---
Post A Comment
You must be logged in before you can post a comment. Login now.
Featured Product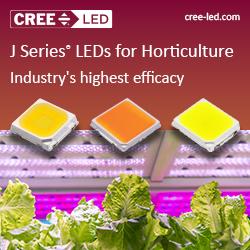 Horticulture and other forms of agricultural lighting require application-tuned ratios of spectral content, high efficacy and long lifetimes. Since these systems are designed to maximize yields for plants and animals, they require different metrics than lighting products designed around the human visual system. Cree LED delivers a wide range of spectral options and products optimized for these applications with leading efficiency and reliability.