Almost any plant can be successfully grown indoors. Youll need to do a little research to learn what crops will fit into your space and lighting availability. Herb gardens will grow in small spaces and in low light conditions.
Indoor Gardening is a Great Experience
Len Calderone for | AgritechTomorrow
When you do not have sufficient outdoor space or the weather is too cold for plants to survive, planting indoors could be an alternative. Developing an artificial garden environment inside your house is just the ticket for those living in homes or apartments where there is no room to garden outside. It's also ideal for those who would like to have fresh produce during the cold winter months.
Almost any plant can be successfully grown indoors. You'll need to do a little research to learn what crops will fit into your space and lighting availability. Herb gardens will grow in small spaces and in low light conditions. Crops, such as tomatoes, will need more space and higher lighting requirements.
Most people think that growing a tree in their house is crazy, but if you have the room in your home, or the weather is favorable to patio growing, consider a dwarf avocado tree. Avocados are full of healthy fats in addition to vitamins E and B6 and carotenoids, which are high in vitamin A and have been linked to a reduced risk of cancer, heart disease, and eye degeneration.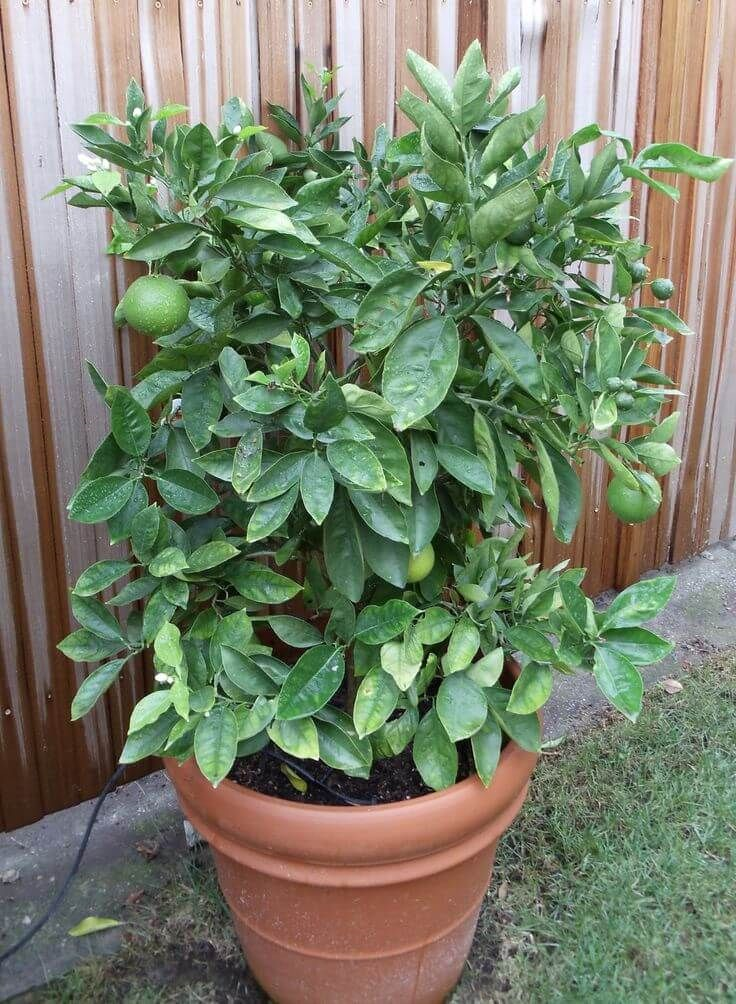 A dwarf avocado tree enables home gardeners to grow an avocado tree in a container. Dwarf varieties grow 10 to 12 feet tall. This fast-growing tree produces fruit in one to three years.
Carrots are among the easiest vegetables to grow indoors. Potted carrots fill a container with dark green, lacy foliage that can be displayed anywhere in your home. You can grow baby carrots in any size container. For longer versions, choose a pot that is at least 8 inches deep to grow short varieties, and one that is 10 to 12 inches deep for standard length carrots. Carrots are a particularly good source of beta-carotene, fiber, vitamin K, potassium and antioxidants.
Lemons are another well-adjusted houseplant and will be comfortable in containers as long as the container is large and the soil in them is well drained. I have two lemon trees on wheels so that I can roll them out on the porch during the summer. I love lemon in my tea—both hot and cold.
A quarter cup of lemon juice contains 31% of the daily recommended intake of vitamin C and 3% of folate and 2% of potassium with only 13 calories. Meyer lemons can be gotten as a dwarf plant and they produce a lot of medium size juicy lemons. Dwarf trees are particularly well suited for container growing, as they can be maintained at manageable sizes. As a bonus, their white blossoms fill the house with a wonderful fragrance.
There is nothing quite like the taste of fresh-picked greens—straight from the garden. Salad lovers can grow lettuce indoors all winter. Urban gardeners can grow a continual supply of their favorite greens on a windowsill or under grow lights. They will need a location that gets 12 hours of bright light each day, such as a south-facing window. If there isn't enough light on a windowsill, a crop can be grown under lights. There are special systems, such as the My Greens Light Garden.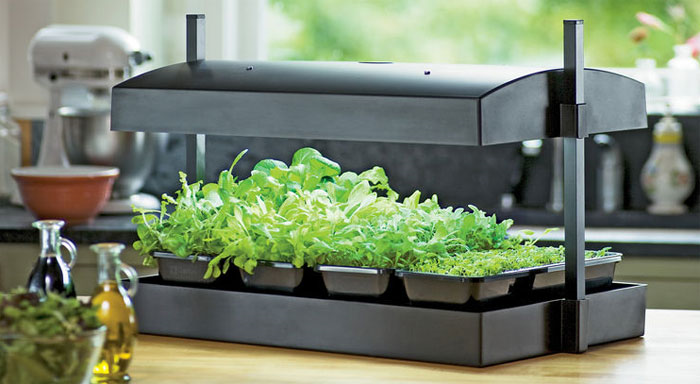 Tomatoes are an excellent source vitamin C, biotin, molybdenum and vitamin K. as well as a good source of copper, potassium, manganese, dietary fiber, vitamin A, B6, folate, niacin, vitamin E and phosphorus. Tomatoes are one of the world's healthiest foods.
Tomatoes need full sun and at least eight hours of light to produce any fruit. Temperatures should be at least 65°F indoors. Breathable unglazed pots with good drainage holes should be used when growing indoor tomatoes. The best plants for indoors growing are Red Robin, Tiny Tim, Toy Boy, and Florida Petite.
Mint is a bright green herb that can aid digestion. Mint adds flavor to both hot and iced tea. Planting and growing mint indoors is easy in a pot of soil, or even in a bottle of water. After planting, place the mint in an area with indirect light, preferably an east-facing window during spring and summer or a west or south-facing window in the fall and winter. You'll also want to locate your mint plant in an area with an indoor temperature of around 65-70°F during the day and 55-60°F at night.
To grow mint plants in water, take tip cuttings of about 5 to 6 inches from an existing mint plant. Remove the bottom leaves and place the cuttings in a water-filled glass or bottle. Place this in a sunny window with at least four to six hours of light.
For most plants, temperatures of 65-75°F are best. Plants that are too hot will be small and weak. Plants grown in a cold room may have yellow leaves that fall off. Plants need humidity. Winter tends to be drier than summer, and many homes are virtually bone dry, as heat pumps kick on and blow hot, dry air throughout the home. In these homes, a humidity of 20% is normal. A humidifier might be needed to keep the humidity high enough—even for humans—as a relative humidity of 50 to 60% is ideal.
Instead of growing indoor plants in a soil mixture, hydroponics may be an alternative. Hydroponics is gardening without soil. Soil holds nutrients and anchors plants roots. When growing hydroponically, you provide the nutrients directly.
The advantages of growing hydroponically include: faster plant growth; plants aren't root bound; plants start in a disease-free medium; and they are less likely to get disease.
An indoor garden can take up as much space as you are willing to give it. Some people have sun parlors where the sun shines most of the day and they turn this area into a blooming garden with both vegetables and flowers. An area with a tile or linoleum floor to catch the unavoidable drops of water would be a perfect location.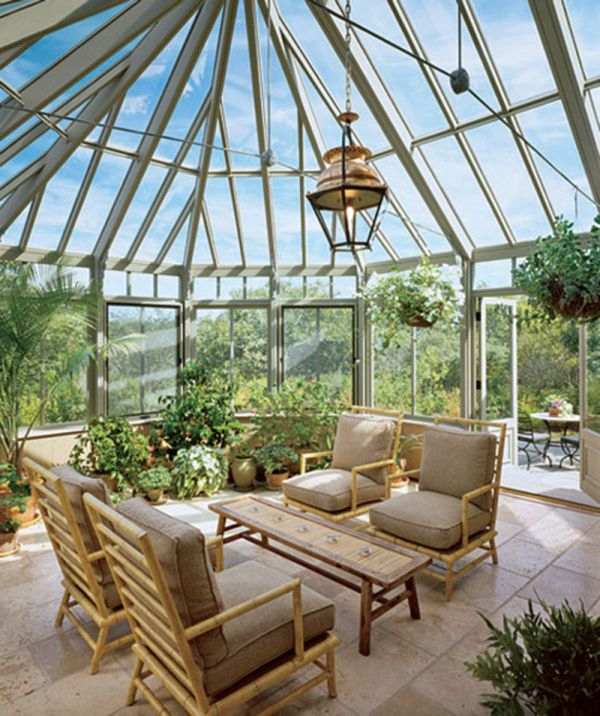 Sun Parlor by Homedit.com
As an indoor farmer, you can plant and harvest vegetables, sufficient to make a difference in your diet, your grocery bill, and your health. Why not give it a try?
The content & opinions in this article are the author's and do not necessarily represent the views of AgriTechTomorrow
---
Comments (0)
This post does not have any comments. Be the first to leave a comment below.
---
Post A Comment
You must be logged in before you can post a comment. Login now.
Featured Product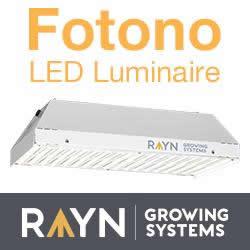 Fotono is a full spectrum LED horticultural luminaire designed to directly replace HPS lights in greenhouses. At 12 pounds, 20 inches long, and 5 inches high, Fotono's compact size makes installation simple while minimizing structural burden on greenhouses. This compact fixture packs energy-saving and yield-improving features, such as a high output, stepless dimming, advanced spectral capabilities, and more.