The Secret is Out—Average Variation of 20% in Product Distribution.
Huge Variation Found in Air Bulk Metering Systems
Contributed by | SeedMaster
Seed and fertilizer metered into high velocity air streams and sent down distribution tubes to manifolds that split into separate, smaller tubes of varying length to deliver the product to ground openers on toolbars up to 90 feet wide. What could go wrong with that? Plenty, as farmers, agronomists and some air cart manufacturers are finding out.
"When we started running high-yield wheat trials with seeding rates up to 160 pounds per acre, we really started to see variations between openers. It was all over the map," says agronomist and farmer Steve Larocque at Three Hills, Alberta.
A few years ago, Larocque ran a basic tubesock test on five different air distribution systems, using some of his customers' existing air drills. He zip-tied socks on one long and one short hose coming off the same manifold on the left wing, right wing and centre section (six socks in total). While not conducted with scientific rigour, the demonstration showed that the variance between hoses ranged from a low 29% on one drill to a high of 98% on the worst drill. Larocque says the worst drill was probably an outlier, and the high variation could have been reduced with some adjustments. The other three drills had variances of 33%, 41%, and 45%.
"Visually, that variance isn't easy to see in the field unless you are measuring plant stand densities across each row. I think that's why product variance hasn't been on people's radar," says Larocque. "I think it's high time for the industry to play catch-up and start matching the accuracy of distribution to the accuracy of their metering.
"If we truly want to elevate yields, increase standability and reduce maturity, I believe that air drills should be delivering that same amount of seed and fertilizer into each and every furrow."
At SeedMaster, Research Farm Manager Owen Kinch looked at different manifolds to see what kind of variation exists. He tested six different models of manifold towers from different manufacturers to see how product distribution varied from hose to hose after it left the manifold. Overall, the average variation of all towers was 20%.
"Industry has known about this problem, but most haven't wanted to do much about it," says Kinch.
At PAMI, in Humboldt, Saskatchewan, Program Manager Nathan Gregg says the variance is caused by a multitude of factors, including manifold type, number of manifolds, hose length, hose curvature, and even the metering system. He isn't aware of any recent research that has measured variation over an entire metering and distribution system. However with the development of more accurate seed row blockage monitors, farmers are now seeing variation between sections and even down to individual seed rows.
"In the past it was hard to diagnose and so it was easy to ignore. I think farmers are now becoming more aware of the limitations of the systems," says Gregg.
At Scobey, Montana, Rick Stahl with Willie's Farm Repair has also seen this inconsistency first hand in the field on his farm. He used to run an air drill that, with a primary and secondary tower, used an auger system on the bottom of the air cart and two in line manifold towers that split the seed or fertilizer twice on the way to the seed row opener.
"The metering was never uniform, with a glob of seed, and then nothing, and then another glob of seed. And there were too many manifolds. Some rows would be sparse and some thicker and sometimes there wouldn't be any seed for six or 12 inches," says Stahl.
"Pretty much every farmer I talk to would agree that there is a problem with bulk distribution systems."
Trent Meyer, Executive Vice President at SeedMaster, says SeedMaster has historically worked hard to reduce the variation on their bulk distribution system with the Nova™ air cart. As much as possible, distribution hoses are kept the same length, hose curvature is designed to allow product to flow smoothly around corners, metal pipe is used to reduce friction, and manifold design is aimed to provide the most uniform product splitting.
"We've worked to reduce the issue as much as possible, but we have seen very little from other manufacturers in this regard. They aren't doing their customers or the industry any favours," says Meyer.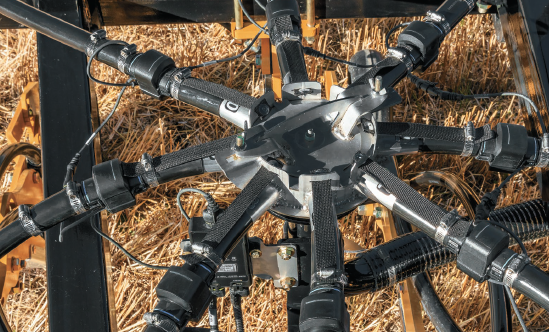 For 2017, Meyer says SeedMaster is going one step further with their new Tunable Tower™ manifold system to further reduce variance. The tower features a centre-cone adjustment that allows product and airflow to be balanced for each run, reducing the deviation between lines. The Tunable Towers are integrated with the XeedSystem monitor to continuously display product flow for each run in real time to guide adjustment to balance product distribution.
"In limited testing we've found that industry manifolds have a variance of 20–23%. With the addition of Tunable Towers, we've been able to balance product distribution across the toolbar and get absolute variance down to as low as 10%. That's 5% below or 5% above the target rate," says Meyer.
For farmers who prefer to use an air cart for both seed and fertilizers, Meyer says the Nova air cart with Tunable Towers will set the new industry standard for bulk product metering accuracy. That will pay off in better agronomics: more uniform emergence, better access to crop nutrients, uniform maturity, less wasted seed and fertilizer, and improved yield. Research at Agriculture and Agri-Food Canada (AAFC) found that uniform plant stands increased canola yields by up to 32% at low-yielding sites and by up to 20% at high-yielding sites compared to non-uniform plant stands. For the ultimate in seed and fertilizer distribution and placement, the new UltraPro™ II on-frame tank and distribution system from SeedMaster provides even more accurate seed row distribution of product with near seed singulation. SeedMaster research has shown the UltraPro metering system can reduce absolute variation to about 3% (1.5% about or below target rate). This metering variation can be accounted for by seed-size variation.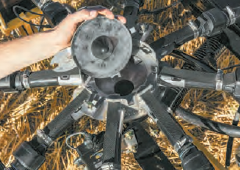 "The UltraPro has allowed farmers to cut canola seeding rates with confidence, and that saves them a lot on input costs. Cutting back just one pound per acre of canola seed can easily save them $10 to $13 per acre, while still achieving good stand establishment and maximum yield," says Meyer. "That's the value of reducing variance in seed and fertilizer distribution systems."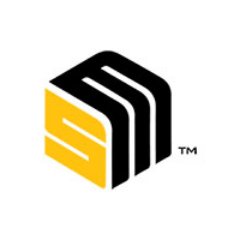 About SeedMaster
SeedMaster helps farmers grow better crops—more profitably. We build the lowest-maintenance seeding systems on the market, with terrain-following openers that place seed and fertilizer with pinpoint accuracy. It's the reason we've developed the most advanced tanks and metering systems available, allowing you to space canola with near-singulation accuracy down the row, and apply high rates of fertilizer on large drills with ease. And it's why we offer the largest air drills in North America—up to 100 feet wide—so you can seed more acres per day and get crops in the ground—and out of the ground—quickly.
The content & opinions in this article are the author's and do not necessarily represent the views of AgriTechTomorrow
---
Comments (0)
This post does not have any comments. Be the first to leave a comment below.
---
Post A Comment
You must be logged in before you can post a comment. Login now.
Featured Product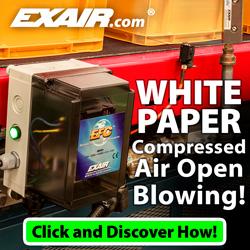 Compressed air is a limited resource that is generated in-house for the benefit of many operations within the manufacturing environment. Learn how to ensure all point of use applications are using your compressed air in the most effective and efficient way possible. Learn how much it costs to produce that compressed air and how Engineered Nozzles can help you use your air more effectively and efficiently.