25 robots in the field at World FIRA 2023: the world's largest demo and exhibition area for autonomous agricultural solutions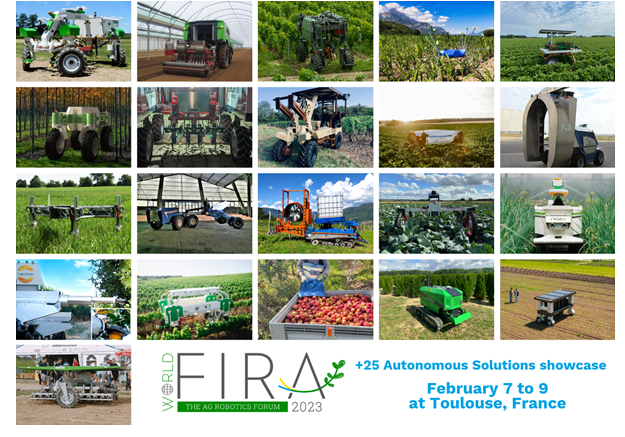 Robots and autonomous solutions for a more resilient agriculture have now entered the farms. For its 7th edition, the World FIRA is getting a makeover and inviting industry players into the fields, around 20 robot demos on 2 hectares of cultivated plots. See you from February 7 to 9, 2023 at the Agrobiopole, the campus of excellence for the agri-agro sector in Toulouse area - France.
Don't miss: the famous YouTuber "Thierry Agriculteur d'Aujourd'hui" will set up his TV set on February 8, followed by a "guinguette" evening with #CoFarmingTour.

Robots with multiple applications
The FR CUMA Occitanie, the major machinery cooperative in France, is the privileged partner of this renewed World FIRA. CUMA will operate the part of the demos in open field, in order to propose cultivated plots, in adequacy with the functionalities of the robots manufacturers:
Mechanical weeding, laser weeding and vineyards weeding
Harvesting
Spraying
Auger
Load carrier
Recognition…

Showcase of robots and autonomous agricultural solutions present at World FIRA 2023
World FIRA 2023 is now positioned at the crossroads between the "CES of agricultural robotics", with many start-ups and innovations presented, and a trade show specializing in autonomous solutions for agriculture, with many robots and machines now available to farmers:
Ant Robotics GmbH (Germany): Ant Robotics increase productivity by 30% with autonomous transport robots for fruits & vegetables.
Digital Workbench GmbH (Allemagne) : (Germany): Tipard 350 is an autonomous all-terrain carrier platform for automation use cases such as plant monitoring and data collection.
E-Terry (Germany): E-TERRY builds a highly adaptive and universally usable field robot for agricultural researchers & farmers.
Earth Rover (UK): CLAWS Rover helps organic farmers reduce their weeding costs and improve crop and soil health.
Exobotic Technologies (Belgium): develops and produces advanced autonomous robotic solutions for the most challenging applications.
Exxact Robotics (France): TRAXX, the autonomous straddle carrier operational for tillage and spraying applications in narrow vineyards.
Farmdroid (Denmark): FarmDroid FD20 is an autonomous robot powered by solar panels that records the location of each seed on each row and performs mechanical weed control between rows and on the row.
Hari Tech (Hungary): haRiBOT is a Hungarian full autonomous drilling and guidance robot.
K.U.L.T. (Germany): K.U.L.T. is an original equipment manufacturer with a wide range of parts for robotics and weeding systems for over 30 years.
Leger Sas (France): Robocut360 is an autonomous robot designed to cut the suckers around the hazelnut and other fruit trees trunks.
Meropy (France): SentiV is an autonomous scouting robot that detects the presence of weeds, pests and diseases in cereal crops.
Naïo Technologies (France) :

Orio is an autonomous robot dedicated to large scale vegetable farms or arable crops. It is able to seed, weed, cultivate, spray, fertilize, collect data, etc.
Ted is a straddling robot dedicated to vineyards. It can be used for mechanical weeding and pruning.
Oz is a versatile robot that helps small scale farmers in their daily tasks. With 20 different features, it's a real assistant to the farmer for weeding, seeding, planting, carrying loads, etc.

Nanovel (Israel): Nanovel's Autonomous Tree Fruit Harvester works in deep foliage and is able to separate, grip and clip fruit.
Odd.bot (Pays-Bas): mechanical weed removal robot provides a higher yield with less manual labour. Reducing and eventually eliminating the need to use any chemical pesticides used as herbicides.
Pek Automotive (Slovenia): Slopehelper - The agricultural robot for vineyards and orchards, one machine for the whole agro-cycle.
Pixelfarming Robotics (Netherlands): Pixelfarming Robotics designs and manufactures advanced smart agricultural robots for biodiverse farming.
Sabi Agri (France): ALPO electric straddle tractor performs all vineyard tasks with a high environmental plus-value.
SITIA (France): Versatile, autonomous, rechargeable in the field, TREKTOR adapts to your existing crops and tools.
Softivert (France): Softivert presents a new concept of robotics for field crops. The SoftiRover " e-K18 ".
TEYME (Spain): Safe and autonomous precision spraying tool integrated into a modular unmanned robotic platform.
WeedBot (Latvia): LUMINA is an autonomous towed decision making tool for the maintenance or destruction of a plant.
Widunn (France): Widunn automates crop monitoring in arboriculture to improve yields, time, and quality.
Most of these robots and autonomous systems will be in demo in the field, all the program available here:
https://www.fira-agtech.com/event/world-fira-2023/plannings/RXZlbnRWaWV3XzM2MTIzNQ==
Comments (0)
This post does not have any comments. Be the first to leave a comment below.
---
Post A Comment
You must be logged in before you can post a comment. Login now.
Featured Product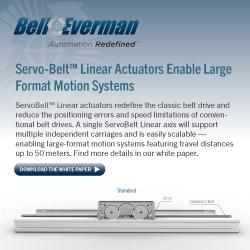 Manufacturing and packaging operations that still depend on manual material or parts handling operations can reap immediate benefits from a type of automation based on long-travel Cartesian robots with custom end-of-arm tooling (EOAT) and advanced sensing capabilities. These robots can support a variety of machines - performing otherwise manual tasks such as machine tending or transferring in-process parts - making long-travel Cartesian transfer robots a major upgrade to processes and operations. Download the White Paper from Bell-Everman