CANADA'S LARGEST COMMERCIAL VERTICAL FARM SETTING UP OPERATIONS IN CALGARY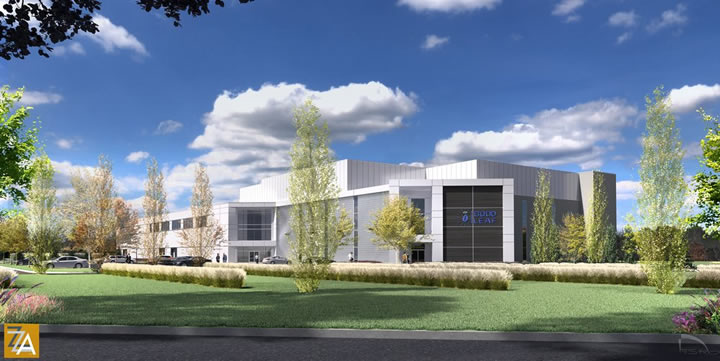 GoodLeaf Farms, Canada's largest commercial vertical farming company, has targeted Calgary for its next expansion project.
GoodLeaf is building a 74,000-square-foot indoor vertical farm in Calgary's industrial park on 108 Avenue SE. The new farm will create about 70 skilled and unskilled job opportunities in the city and will serve as a focal point for partnerships with post-secondary schools in Canada's west.
The design will be expandable, allowing a future expansion to double its size and more local jobs, when needed. Construction is currently under way with an expected completion date by the end of 2022. The Calgary farm will produce more than one million pounds of fresh, local leafy greens each year, which will be on the shelves of grocery stores across Western Canada by early 2023.
"Setting up in Calgary is a huge step forward for GoodLeaf to establish a truly national footprint as Canada's largest commercial indoor vertical farm," says Barry Murchie, Chief Executive Officer of GoodLeaf. "With Canada's limited growing season, climate-controlled indoor farms offer Canadians access to fresh, locally grown leafy greens year-round. And Calgary is the perfect location for our first Western Canada location as it's a main corridor and central access point."
The Alberta farm is being assisted with $2.73 million from the Alberta Government's Investment and Growth Fund, the first project to receive funding from that program.
GoodLeaf's Calgary farm will be the company's second Canadian location. The first GoodLeaf commercial-scale farm was established in Guelph, Ont., in 2019, with plans to grow in Quebec in 2022. Adding Western Canada will give GoodLeaf a true national footprint to provide fresh, healthy and local leafy greens to Canadians year-round.
GoodLeaf Farms grows Micro Radish, Micro Arugula, Micro Broccoli, Micro Asian Blend, Pea Shoots, Spicy Mustard Medley, Baby Spinach, Baby Arugula, Baby Kale and Spring Mix.
GoodLeaf's indoor vertical farms use innovative technology to grow microgreens and baby greens in Canada year-round, no matter the season, climate or weather. The plants are grown in a complex hydroponics system with traditional ebb-and-flood irrigation to feed nutrient-rich water to the plants, and specialized LED lights that are engineered to emulate the red and blue wavelengths of the light spectrum to mimic the spring sun — ideal conditions for plants to maximize photosynthesis.
Because the farm is indoors in an environment that is almost entirely controlled, there are no pests, bugs or birds — and thus no pesticides, herbicides or fungicides are used. It is also environmentally sustainable, using 95 per cent less water than a traditional outdoor farm would.
QUOTES
Doug Schweitzer, Alberta Minister of Jobs, Economy and Innovation
"I'd like to welcome GoodLeaf Farms to Alberta, where it will benefit from our low corporate tax regime, well-educated and skilled workforce and excellent infrastructure. The Investment and Growth Fund helped to close this investment in a competitive global market. This fund demonstrates to investors that could take their projects anywhere in the world that Alberta wants high-impact investments that create meaningful jobs."
Nate Horner, Minister of Alberta Agriculture, Forestry and Rural Economic Development
"We are thrilled to welcome GoodLeaf's vertical farming operation to our province. Alberta is home to a cutting-edge food and beverage processing industry and the most welcoming climate for businesses and investors in North America. We will be looking to the agri-food sector to help lead Alberta's economic recovery plan and spur growth, and this innovative project is a step in the right direction, creating jobs, providing an economic boost to the region and building a sustainable, local source for year-round greens in Alberta."
Rick Christiaanse, Chief Executive Officer, Invest Alberta
"Programs like the Investment and Growth Fund give Alberta a competitive advantage when attracting new and exciting investment to the province. Today's announcement with GoodLeaf is another example of a high-impact, high-value investment in Alberta that creates jobs and grows Alberta's innovative edge in the agri-food sector."
Barry Murchie, Chief Executive Officer, GoodLeaf Farms
"Vertical farming is a game changer for Canadian agriculture, providing fresh produce year-round, displacing leafy greens that are typically grown in the Southwestern United States and trucked to Canada. GoodLeaf aspires to be a global leader in controlled-climate indoor farming, and that growth will start with us establishing our presence across Canada."
Follow GoodLeaf Farms on Instagram @goodleaffarms and Like it on Facebook at /GoodLeafFarms.
About GoodLeaf Farms:
With a passion for delicious, nutrient-rich greens, GoodLeaf was founded in Halifax in 2011. Using an innovative technology and leveraging multi-level vertical farming, GoodLeaf has created a controlled and efficient indoor farm that can grow fresh produce anywhere in the world, 365 day of the year. The system combines innovations in LED lighting with leading edge hydroponic techniques to produce sustainable, safe, pesticide-free, nutrient-dense leafy greens. GoodLeaf has ongoing R&D Programs in collaboration with the University of Guelph, Dalhousie University and Acadia University.
Learn more at goodleaffarms.com.
Comments (0)
This post does not have any comments. Be the first to leave a comment below.
---
Post A Comment
You must be logged in before you can post a comment. Login now.
Featured Product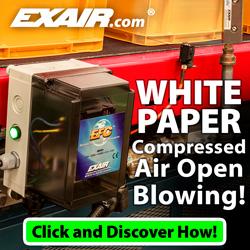 Compressed air is a limited resource that is generated in-house for the benefit of many operations within the manufacturing environment. Learn how to ensure all point of use applications are using your compressed air in the most effective and efficient way possible. Learn how much it costs to produce that compressed air and how Engineered Nozzles can help you use your air more effectively and efficiently.