Balderton Capital leads $25M Series A in 'urban farming' platform Infarm
Steve O'Hear for TechCrunch: Infarm, a startup that has developed vertical farming tech for grocery stores, restaurants and local distribution centres to bring fresh and artisan produce much closer to the consumer, has raised $25 million in Series A funding.
The round is led by London-based VC firm Balderton Capital, with participation from TriplePoint Capital, Mons Investments, and previous investors Cherry Ventures, QUADIA and LocalGlobe.
It brings the total raised by the Berlin-based company to $35 million, including a $2.5 million grant from the European Commission as part of the Horizon 2020 program.
Infarm says the new capital will be used for international expansion and to further develop its 5,000 sqm R&D centre in Berlin. This will include bringing its vertical farming system to Paris, London, and Copenhagen, in addition to other German cities later this year. The startup is targeting 1,000 farms to be operational across Europe by the end of 2019.
Founded in 2013 by Osnat Michaeli, and brothers Erez and Guy Galonska, Infarm has developed an "indoor vertical farming" system capable of growing anything from herbs, lettuce and other vegetables, and even fruit. It then places these modular farms in a variety of customer-facing city locations, such as grocery stores, restaurants, shopping malls, and schools, thus enabling the end-customer to actually pick the produce themselves.
The distributed system is designed to be infinitely scalable — you simply add more modules, space permitting — whilst the whole thing is cloud-based, meaning the farms can be monitored and controlled from Infarm's central control centre. The whole thing is incredibly data-driven, a combination of IoT, Big Data and cloud analytics akin to "Farming-as-a-Service".
The idea, the founding team told me back in June last year when I profiled the nascent company, isn't just to produce fresher and better tasting produce and re-introduce forgotten or rare varieties, but to disrupt the supply chain as a whole, which remains inefficient and produces a lot of waste. Full Article:
Comments (0)
This post does not have any comments. Be the first to leave a comment below.
---
Post A Comment
You must be logged in before you can post a comment. Login now.
Featured Product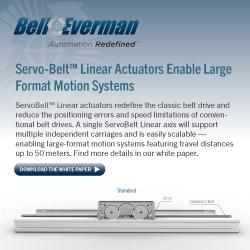 Manufacturing and packaging operations that still depend on manual material or parts handling operations can reap immediate benefits from a type of automation based on long-travel Cartesian robots with custom end-of-arm tooling (EOAT) and advanced sensing capabilities. These robots can support a variety of machines - performing otherwise manual tasks such as machine tending or transferring in-process parts - making long-travel Cartesian transfer robots a major upgrade to processes and operations. Download the White Paper from Bell-Everman