The quantum dot leader presented to cleantech investors on its spectrum-shifting films that enable more efficient utilization of sunlight in agriculture and energy applications
UbiQD, Inc., an advanced materials company, announced today that it was recognized as the 'Best Overall Venture' at the sold-out 2023 National Renewable Energy Laboratory (NREL) Industry Growth Forum (IGF) in Denver. Widely recognized as one of the premier global events in cleantech, the company's unique business model and market traction resonated with the IGF judges.

A panel of more than 150 climate-tech investors selected the 40 presenters from 189 applicants, with UbiQD participating in the growth track. "This crop of presenters was truly stellar," Event Manager Sheila Ebbitt said. "They show the continuing broad growth of the clean energy industry and the investors they meet at IGF can help them build the ventures that will impact climate change for the better."
UbiQD's proprietary quantum dots are prized for their efficient fluorescence and color-tunability. This is important for applications where sunlight is being absorbed, such as in agriculture (photosynthesis) and solar energy (photovoltaics). UbiQD tailors the light spectrum for each use case, for example, enhancing red light for plants or near-IR light for solar cells.
"Vast quantities of solar power are hitting the earth every instant. An area the size of Santa Fe County receives enough energy from the sun to supply the entire planet's electrical demand, we just need to utilize sunlight better," said Hunter McDaniel, Founder and CEO of UbiQD. "Given the amazing companies presenting, it was such an honor to come away with the top prize. I think it validates UbiQD's growth and impact potential."
The company's last major financing was its Series A in 2020 that enabled investments in its UbiGro® product brand for greenhouse growers. UbiQD is preparing to launch the second generation of this product, a first-of-its-kind greenhouse full cover film that embeds fluorescent quantum dots directly into the transparent roofing. The company is also advancing its growth in new markets beyond greenhouses, including utility-scale solar and building-integrated solar windows.
About UbiQD, Inc.
UbiQD is an advanced materials company powering product innovations in agriculture, clean energy, and security. Headquartered in Los Alamos, New Mexico, UbiQD is commercializing technology developed at Los Alamos National Laboratory, M.I.T., University of Washington, and Western Washington University. To learn more, please visit: https://www.ubiqd.com, https://ubigro.com, and https://wendow.us.
Featured Product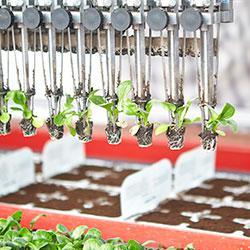 "Smart farming" is an important part of the answer to this existential question: Extremely high efficiency in food production through the targeted use of the latest technology, computer-supported and - where possible - fully automatic. Seeds are individually and precisely placed; fruits carefully picked by mechanical grippers; fertilizers and plant protection products applied in small doses and in a targeted manner. These operations require a large number of small electric motors that are both robust and powerful.