Conveyor solutions help indoor farmers apply lean principles for better productivity
Lean manufacturing has long been a way for industrial companies to improve efficiency and productivity, and the same principles can be applied successfully to vertical farming operations, according to Ultimation Industries. Ultimation is the leading direct-to-consumer conveyor manufacturer, specializing in solving productivity challenges with fast-to-deploy solutions for the vertical farming, food processing, automotive, heavy equipment, warehousing, fulfillment and delivery sectors.

"Emerging industries such as vertical farming need to quickly offset start-up costs and keep operational costs in line to be economically viable," said Richard Canny, president of Ultimation Industries. "One way to do that is to apply 'lean' principles and technologies that build efficiencies right into the infrastructure, such as modern material handling systems."
The vertical farming industry is projected to grow from over $4 billion in 2022 to nearly $21 billion in 2029. According to experts, the rising adoption of automation practices is one factor behind the projected increase.
Strategic implementation of conveyor solutions can be used to target the Lean principles of eliminating waste, fast delivery and optimizing operations. Here are some ways conveyor systems can drive efficiencies in vertical farming and other industries:
Eliminate waste. Vertical farming eliminates waste by reducing the distance food travels from producer to consumer and decreasing spoilage due to long-haul transport. But inside the four walls, the most targeted areas for waste reduction are space, energy and labor. Modern conveyor systems can contribute to efficiencies in all three areas. Overhead conveyors, for example, take advantage of unused vertical space by lifting grow trays when they're not being actively managed and bringing them down to operator level for harvesting. This allows more produce to be grown within the same footprint. Motorized driven rollers, or MDRs, are a great choice for energy efficiency because they only use electricity when they are actively moving cargo. They're also quiet and can handle a multitude of products such as packages, tote bins, pallets, tires, cartons and more. Power and Free conveyors enable tight concentration of product in some areas while then allowing separation of the products when required for movement to processing areas. Conveyors can also help reduce the manual labor of carrying items by hand, quickly and safely transporting plants from point A to point B within the farm.
Deliver fast. Bringing produce to market quickly is a hallmark of vertical farming. That means material handling systems need to move at speeds that allow for fast harvesting and packaging. Belt conveyor systems can handle small to heavy items and will move them throughout the facility quickly, safely and efficiently. The speed of Portec systems, for example, make them ideal for vertical farms as well as other demanding material handling environments, such as distribution centers, parcel handling operations and food/wine/beverage facilities. Because they are durable and low maintenance, there's less downtime.
Optimize the whole. Vertical farming systems require great efficiency across all of its resources: the volume each plant occupies, the energy to move product around, labor, ventilation systems, lighting and nutrients. Conveyors enable the optimization of each resource as much as possible and allows indoor farmers to defray capital costs of the equipment over the largest number of plants. Technologies used in the infrastructure planning stages such as 3D CAD, motion and simulation studies and FEA (Finite Element Analysis) of structural components ensure that conveyors, rack structures and the entire system can be optimized for strength, weight and cost. Solutions may include a combination of robots as well as overhead conveyors, floor conveyors and specialized plant processing equipment.
"Indoor farming systems are best optimized through a balanced use of low-cost material handling systems for the slow growing areas, complemented by more sophisticated conveyors and other devices for faster moving material handling tasks," said Canny.
Ultimation has worked with many of the leading players in the industry and can help with early-stage development work relating to the material handling systems, structural supports, drainage and other farm mechanical systems. For more information about Ultimation Industries and solutions for vertical farming, visit https://www.ultimationinc.com.
About Ultimation
Ultimation Industries, LLC is the leading direct-to-consumer conveyor manufacturer serving the automotive, food processing, vertical farming, heavy equipment, warehousing, fulfillment and delivery industries. The company offers a line of proprietary automation systems and is also the largest integrator of Jervis Webb Conveyor Systems. Ultimation's e-commerce channel sells Ultimation, Interroll, Itoh Denki, Jervis Webb, and a wide range of other conveyor equipment. Ultimation was recognized in 2020 and 2022 as one of Inc. 5000's fastest growing private companies in America. Ultimation was also named a 2022 Michigan 50 Companies to Watch by Michigan Celebrates Small Business. Visit https://www.ultimationinc.com/ for the latest product information and news about Ultimation.
Featured Product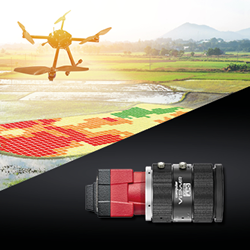 Allied Vision's compact and light weight Alvium SWIR (short wave infrared) cameras are the ideal choice to build cost-effective OEM systems used in embedded and machine vision applications. The cameras support a spectral range from 400 nm to 1700 nm at high quantum efficiencies. This allows to capture images in both the visible and SWIR spectra with a single camera and enables users to reduce overall system costs! Equipped with Sony's IMX990 and IMX991 SenSWIR InGaAs sensors, Alvium SWIR cameras deliver high image quality and frame rates. This makes them well suited for drones or handheld devices used in various industries such as, agriculture, mining, solar cell inspection or medical.