Portuguese growers have leveraged Fluence's industry-leading technology to achieve better yields and a more efficient cultivation process
Fluence, a leading global provider of energy-efficient LED lighting solutions for commercial cannabis and food production, is supporting widespread expansion of pharmaceutical-grade medical cannabis cultivation operations in Portugal.

Portugal's cannabis laws are among the most progressive in the world, and its established licensing system is ahead of most other European countries. Portugal decriminalized personal cannabis use in 2001 and legalized medical use in 2018. Since then, 20 official licenses for medical cannabis production, processing, import, export or a combination of categories have been issued, and Fluence has been chosen to provide lighting for over half of them.
Key Leaves, a medical cannabis market leader in Portugal, is one of the 20 companies to have received a medical cannabis license from the Portuguese government. The company is focused on delivering premium quality medicinal cannabis products that adhere to the Good Agricultural and Collection Practice (GACP) and Good Distribution Practices (GDP) wholesale standards, along with all relevant Portuguese regulations.
As a fully indoor facility dedicated to research and development, Key Leaves depends on sole-source lighting for its success—completing more than 20 full cultivation cycles using Fluence LED technology. Fluence's LEDs have helped Key Leaves optimize production and cultivation light cycles, increase plant yield, uniformity and decrease energy consumption.
"To achieve our business objectives using the most effective and efficient production processes possible, we've invested in the world-class technologies and partnerships available," said Alessandro Radici, CEO at Key Leaves. "Fluence's market-leading LED technology and the on-call support of its research and horticulture teams allow us to cultivate with maximum efficacy, deliver a highly standardized product and guarantee constant supply for our clients."
Fluence provides LED lighting solutions to 10 other licensed Portuguese medical cannabis producers—including Bathera, Curaleaf International and Clever Leaves, and pre-licensed AceCann—as well as several additional companies that are currently seeking licensing. Bathera, a German company, recently began producing its own medical cannabis and decided to construct its indoor cultivation and manufacturing facility near Lisbon. The site, currently in progress, houses 6,000 square meters of rooms dedicated to cultivation and 3,000 square meters of space for supporting areas, such as a GMP zone, six drying rooms and space for hand trimming and manual packaging.
"Because of the great Portuguese weather, outdoor cultivation is, of course, possible. We performed rigorous research and analysis with every construction decision and, after looking at the various options, we decided that cultivating indoors is the only way to ensure stable, high-quality products," said Boris Agababov, founder and CEO of Bathera.
Curaleaf International focuses on advancing the therapeutic value of cannabis used for medicinal purposes to develop products that meet the needs of patients across Europe. The company's commitment to accessibility, research and data-led product excellence brought it to Fluence when a lighting partner was needed for its Portuguese operations.
"Fluence's goal is to help our customers grow smarter and build efficient economies of scale," said Jörg Meyer-Brenken, lead account manager of cannabis in EMEA at Fluence. "We are led by science, and the collaborative approach we take to provide our partners with tailored lighting solutions, knowledge and experience has proven irreplaceable, especially for those in emerging medicinal cannabis markets."
Portuguese native André Lagareiro, Fluence's dedicated account manager for Portugal, works closely with Fluence's Portuguese customers to help them identify the right lighting solutions to optimize plant growth and facility operations.
"Helping companies to innovate and advance medical cannabis operations within Portugal's legislative environment requires a deep understanding of both cannabis cultivation and European regulatory standards," said Lagareiro. "The unmatched top-of-the-line product, market expertise and quality of service provided by Fluence's in-house research and development team is the deciding factor for the many Portuguese cannabis companies that have chosen Fluence as their lighting technology partner."
For more information on Fluence, visit www.fluence.science.
About Fluence
Fluence Bioengineering, Inc. (Fluence) creates powerful and energy-efficient LED lighting solutions for commercial crop production and research applications. Fluence is a leading LED lighting supplier in the global cannabis market and is committed to enabling more efficient crop production with the world's top vertical farms and greenhouse produce growers. Fluence global headquarters are in Austin, Texas, with its EMEA headquarters in Rotterdam, Netherlands. Fluence operates as a business unit within Signify's Digital Solutions division. For more information about Fluence, visit www.fluence.science.
About AceCann
AceCann is a Portuguese medical cannabis company that has a cost-efficient, scalable and superior quality organic indoor cultivation and extraction facility near Lisbon. AceCann is focused on the development of new medical delivery forms for cannabis, joining efforts with local and international universities and operating on a flexible structure capable of making fast decisions to scale according to market demands and needs.
About Key Leaves
Key Leaves is a Portuguese-founded company established in 2015 and licensed by Infarmed for the cultivation, import and export of cannabis products. With a multicultural and diversified international team, Key Leaves is proud to be working with some of the most renowned professionals and experts in the medicinal cannabis field.
About Bathera
Bathera is a vertically integrated medical cannabis company with operations in Germany and Portugal. In addition to its state of the art indoor medical cannabis growing facility in Portugal, Bathera, operates two independent wholesalers and importers for medical cannabis in Germany.
About Curaleaf
Curaleaf International (formerly EMMAC Life Sciences Group) is Europe's largest vertically integrated cannabis company, bringing together pioneering science and research with cutting-edge cultivation, extraction and production. With a unique supply and distribution network throughout Europe, Curaleaf International's vision is to bring the life-enhancing potential of cannabis to the people who need it. EMMAC Life Sciences was acquired by Curaleaf Holdings in March 2021. For more information about Curaleaf International, please visit www.curaleafinternational.com
Featured Product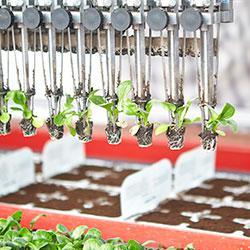 "Smart farming" is an important part of the answer to this existential question: Extremely high efficiency in food production through the targeted use of the latest technology, computer-supported and - where possible - fully automatic. Seeds are individually and precisely placed; fruits carefully picked by mechanical grippers; fertilizers and plant protection products applied in small doses and in a targeted manner. These operations require a large number of small electric motors that are both robust and powerful.