-Newest Device Automating Hard-Hose Reels and Pumps Now Available for Purchase in North America; Provides Enhanced Cellular Connectivity, Waterproofing, Integrated Backup Battery, and Magnetic Mounting for Even Easier Installation by Farmers -With One Easy Upgrade to Sprinkler Reels and Pumps, FarmHQ Provides Huge Savings to Farm Operations, Cuts Down on Stress for Farmers and Their Crews
SKAGIT VALLEY, WA - During Smart Irrigation Month in July, agricultural irrigation company CODA Farm Technologies unveiled its new, third-generation FarmHQ® retrofit cellular device for remote monitoring monitoring and control for hard-hose irrigation reels and pumps. The device is currently available for sale in North America directly from CODA Farm Technologies and its network of irrigation equipment dealer partners.

The device features:
• Enhanced cellular connectivity for even better performance in rural areas;
• An integrated backup battery that can provide users notifications if an external power source ever fails; and,
• Waterproofing for long-term durability over multiple irrigation seasons; and,
• An easy magnetic mounting option for even more simplified installation by farmers in under an hour.
"Since we first launched FarmHQ in 2020, we've shown the impact that remote monitoring and control for irrigation reels can have for farmers' bottom lines and day-to-day work. At every step, we've been listening to our customers and working to maximize their savings and reduce stress from using FarmHQ on their reels and pumps," said David Wallace, CEO of CODA Farm Technologies. "To best meet farmers' needs, we've improved the design of our FarmHQ device, and we're excited to bring it to more farms, reels, and pumps across North America."
"Our updated FarmHQ hardware provides farmers with an even more stable and durable retrofit option that allows them to watch and control their reels and pumps in real time,," said Connor Wallace, Chief Technology Officer of CODA Farm Technologies. "With their strong cellular connectivity, backup battery, waterproofing and easy mounting, we're excited to begin getting these new devices into our customers' hands and into their fields."
A universal retrofit option, FarmHQ is a small cellular device and app that lets users of irrigation reels and pumps upgrade their irrigation equipment with one simple installation and put them all on the same monitoring and control system, providing significant financial savings and less stress. FarmHQ works anywhere a smartphone does and provides status updates in real time. Compatible with all irrigation reels regardless of size or age, it instantly updates equipment with brand new features.
Once farmers complete the easy installation, FarmHQ constantly monitors the status and speed of their irrigation reels: tracking run progress, watching for equipment failures, and letting them know when problems occur. When the reel stops retracting for any reason, FarmHQ automatically sends a shutdown signal to the pump. The FarmHQ mobile app and online dashboard gives farmers easy access to this status information and detailed irrigation records.
FarmHQ devices installed on irrigation reels and pumps provide a 400 percent to 1,500 percent annual return on investment through savings on labor, water, fuel, and prevented crop damage. Each FarmHQ system saves up to $15,000 per season by preventing damage to high-value crops, eliminates up to 75 hours of labor, decreases energy costs by up to $650, and conserves up to 500,000 gallons of water each year.
This spring, CODA announced a North American partnership with hard-hose reel manufacturer Kifco to bring CODA's FarmHQ® retrofit cellular device and mobile app that provide real-time remote monitoring and control, including automatic pump shutdown, to Kifco Ag-Rain Water-Reels.
About CODA Farm Technologies and Its FarmHQ System for Sprinkler Reels and Pumps
Founded by third-generation farmers from Washington State, CODA Farm Technologies is a growing agricultural technology company bringing cloud-based automation to agricultural irrigation. Its first product, the FarmHQ platform, lets farmers use their smartphone and an easy-to-install device to remotely monitor and control irrigation reels and pumps in real time to save money and stress. A universal retrofit, it can be easily installed by the farmer on equipment of any make, model, and age and provides remote control, monitoring, and automation for farmers' existing irrigation equipment. FarmHQ is currently being used on mobile irrigation systems on farms across North America, and helped save 21,000,000 gallons of water in the 2021 summer irrigation season. To learn more, visit www.codafarmtech.com.
Featured Product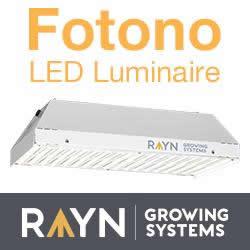 Fotono is a full spectrum LED horticultural luminaire designed to directly replace HPS lights in greenhouses. At 12 pounds, 20 inches long, and 5 inches high, Fotono's compact size makes installation simple while minimizing structural burden on greenhouses. This compact fixture packs energy-saving and yield-improving features, such as a high output, stepless dimming, advanced spectral capabilities, and more.