Certified Protection for Applications in Outdoor & Harsh Environments.
Lancaster, NY - Pfannenberg, Inc., a leading global manufacturer of thermal management and signaling technologies, highlights its NEMA Type 3R/4/4x Filterfan® Rainhoods for protecting applications from outdoor & harsh environments like rain, water spray, snow, or fluids. Offering multi-dam seal technology, the high-compression, closed cell gasket ensures a proper NEMA Type/IP rating seal to the enclosure. Its unique mounting system also offers certified protection when used with Pfannenberg Filterfans® and exhaust filters. Pfannenberg tests the Filterfan® with and without the fan running during certification, ensuring the highest quality and reliability.

Pfannenberg Rainhoods deliver maximized airflow capabilities and superior overspray protection. The direct spray barrier and high air-flow baffle shield overspray from entering the cabinet while minimizing airflow loss. The toolless design allows for easy removal of the rainhood for accessible maintenance and filter mat replacement. Pfannenberg also offers tamper-proof options. Installation is also easy, as the mounting bracket can painlessly be installed to the enclosure around the existing cutout.
Options include painted galvanized steel, stainless steel, and FDA compliant food and beverage grade versions, ensuring hoods look sleek and function well. All options of the Pfannenberg Rainhood share the same reliable rugged steel construction. In addition to the standard painted and stainless-steel designs, Pfannenberg also offers a specialty 4X stainless steel rainhood to meet the FDA-compatible requirements found in food and beverage manufacturing facilities.
About Pfannenberg
Pfannenberg, Inc. is recognized as a leading global manufacturer of Thermal Management, Liquid Cooling Solutions and Signaling Technologies. In 1958 we invented the Filterfan®, which continues to be recognized worldwide as a leading product to help manage the temperature in electrical enclosures. Our business philosophy: Protecting People, Machine, and the Environment.
Featured Product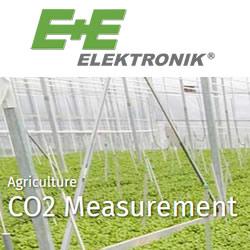 Lowering of energy costs, acceleration of growth and extension of the possible storekeeping duration can be optimised by the precise measurement of humidity, CO2-content and temperature. Optimum basic conditions for animals and plants ensure best agricultural products. As different applications demand various adopted solutions for optimization of agricultural processes, E+E Elektronik provides a broad portfolio of agricultural monitoring products