- IoT based solution monitors the fair distribution of water - - Dashboard reports on water extraction data for use by farmers and local authorities -
South Africa, November 9th 2021, Ezitech, a technology consulting company, today announced that it is helping the South African government to monitor the fair extraction of water by the country's agriculture sector. The solution, in partnership with JOAT, uses IoT connectivity provided by u-blox's Thingstream Communication-as-a-Service platform to ensure that data is passed from tamper proof electro-magnetic flow meters (termed magflow meters) to pull all the relevant data into the cloud.

Overseeing the extraction of water to the farming industry in South Africa are regionally based Catch Management Forums whose aim is to ensure that each farm holding keeps within their allocated amount of water extraction. Transparency and openness is a key ethos to ensure everyone receives their fair share of water.
By deploying the JOAT/ Ezitech solution each Catch Management Forum receives live data through a cloud based platform giving detailed analysis of each farms' consumption. Equally, farmers are also able to see their extraction metrics and correlate that to electricity consumption. This when combined with pump variable speed drives enables them to reduce electricity spend and drive efficiency.
JOAT and Ezitech are now deploying a cost effective water extraction and monitoring solution across South Africa which not only provides reliable transparency to the authorities but also enables the farming industry to significantly reduce their costs of water extraction by up to 40%. All data goes through u-blox's Thingstream communication-as-a-service platform.
- The monitoring solution provided is reliable and returns an ROI in as little as nine months for farmers that implement energy saving solutions.
- These solutions reduce their electricity bills by up to 40% per month. An average farm could be spending 50k Rand per month, so the savings can be significant.
- Catch Management Forums are able to have complete visibility of water extraction from all farms within their jurisdiction
- Solution uses u-Blox's Thingstream communication-as-a-service platform for all data transfer from pump to cloud.
Critical to the success of the solution is the ability to connect data to the cloud reliably and cost effectively. Ezitech uses u-blox's Thingstream communication-as-a-service platform to provide data transport via an MQTT broker and bridge for cloud-to-cloud integration.
Key advantages of working with u-blox's Thingstream platform include:
• Low-powered communication methods, easy credential allocation, and a small device resource load allows it to be run effectively to collect data from logger attached to the Magflow
• Ingestible data presentation to bespoke Google Cloud based UI
• Unrivalled mobile operator connectivity ensures remote location access
• Bi-directional communications capabilities. With devices spread across a large geographical area, the ability to communicate with each device is crucial
"ublox's Thingstream IoT connectivity platform enables us to transport data about water extraction and electricity consumption from remote water pumping stations to the Google Cloud more reliably, and at a fraction of the cost of previous solutions,"
"JOAT provides services to various countries in Southern Africa. u-blox's Thingstream connectivity platform provides a commercially proven solution, available globally, which reduces data costs by up to 10X and can be deployed cross border without any additional costs nor design change"
Trevor Hart Jones, Managing Director, Ezitech
Featured Product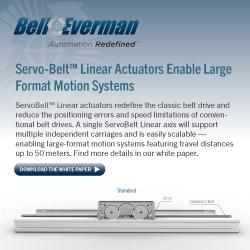 Manufacturing and packaging operations that still depend on manual material or parts handling operations can reap immediate benefits from a type of automation based on long-travel Cartesian robots with custom end-of-arm tooling (EOAT) and advanced sensing capabilities. These robots can support a variety of machines - performing otherwise manual tasks such as machine tending or transferring in-process parts - making long-travel Cartesian transfer robots a major upgrade to processes and operations. Download the White Paper from Bell-Everman