Senseacre Labs of India Agrowing of Israel enter a collaboration to enhance aerial precision agriculture in India with the next level of deep learning and artificial intelligence. The advanced solutions are based on Agrowing's patented "remote and close" imagery acquisition method and SenseAcre's experience of deep learning. The solutions will enable spotting of outlying (stressed) zones in the field, followed by immediate leaf-level high-resolution multispectral AI classification of the imagery, and providing actionable data for early-stage containing of the identified hazards.
Senseacre Labs, selected as one of the ten most promising drone technologies companies in India by SiliconIndia, is an experienced visual intelligence company. It has vast experience in the integration of Industrial grade UAVs and sensors across Agriculture, Environment Protection, Mining, Irrigation, Dams, and Construction Progress monitoring. Senseacre also developed stereo 3d visualization software for deep vision and analysis for all aerial imagery using DEM.

Agrowing's sensor provides superior NDVI imagery. It acquires 10 narrow 24nm to 30nm wide bands of 8MP or 12MP per band, depending on the camera body used. The worldwide patented sensor is based on an out-of-the-box innovative design utilizing Sony's A7Rxx modified camera bodies. Agrowing's multi-lens, high quality optics, single mount, single sensor, and a single mechanical shutter design enjoys Sony's A7Rxx Full-Frames BSI CMOS sensor, with its extreme dynamic range. The sensor overcomes typical multispectral acquisition issues of synchronization and chroma aberration, enabling leaf-level AI classification, as it is capable of acquiring aligned multispectral imagery from as close as 3m distance with resolution of sub 0.5mm per pixel.
The Collaboration between Senseacre Labs and Agrowing will enhance agriculture productivity by monitoring and quantification of soil, plant, water, and environment, using Agrowing's patented "Remote and Close" Imagery Acquisition Methods in the field and Senseacre's deep learning and artificial intelligence algorithms.
Senseacre specializes in crop health monitoring programs with deep applied research of classifying and identifying pests and weeds early to help farmers reduce their input costs, save the crop, and ensure better yield. Senseacre is focused on Agriculture and Climate resilient engagements in India, with the potential to expand globally. The company is working towards achieving greater insights with leaf-level close sensing and deep vision multispectral signatures algorithms.
Senseacre has already integrated Agrowing's sensor with a hexacopter and the initial insights are very welcoming.
"Agrowing's 10 band sensor is first of its kind in precision agriculture and we are happy to be the first to do such Integration and applied programs in India," said Vinod K Samanthula, Co-Founder & Managing Partner of Senseacre Labs. "We are keenly looking at Rice, Cotton, Wheat, Millets, Sugarcane, Turmeric, Potato and other horticulture crops to detect pests and diseases early."
Commenting on announcement, Ira Dvir, Co-Founder & CEO said: "We are happy to partner with Senseacre, the visual intelligence capabilities of which are exactly what is required for taking aerial remote-sensing from inaccurate NDVI to accurate leaf-level AI classification and identification."
"This Indian-Israeli partnership offers exceptional value to the rapidly expanding precision agriculture market in India," added Vinod Samanthula, Managing Partner, Senseacre Labs. "This technology alliance takes precision agriculture from high altitude remote sensing guesstimation, which calls for 'go check' verification in the field, to precise AI-analysis, which provides growers with reliable actionable data."
Senseacre and Agrowing will bring AI enabled Precision Agriculture solutions to Farmers, Governments, FPOs, Agriculture research organization, State Agriculture Universities, IITs and other private and public entities in India.
For more information, please visit https://agrowing.com and http://www.senseacre.com
Sony and Sony Alpha are registered trademarks of Sony Group Corporation (SNEJF)
Featured Product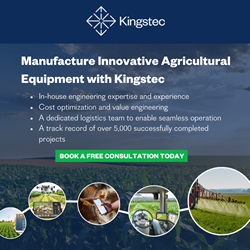 In the rapidly evolving agricultural landscape, leading AgriTech companies are increasingly leveraging the experience and expertise of strategic engineering and manufacturing partners to bring cutting-edge, cost-effective solutions to market. Kingstec is an all-in-one engineering, manufacturing, and logistics partner, with over 40 years of experience and 5,000 successfully completed projects. We can help you bring innovative, cost-optimized farm equipment, sensors, drones, components, and more to market quickly with in-house engineering and manufacturing expertise, a dedicated logistics team, and a network of world-class manufacturing and supply chain partners.