Annual Awards Program Recognizes Innovation in Agricultural Technologies Around the Globe
iUNU, an industrial computer vision company providing precision agriculture solutions to indoor growers, today announced it has been selected as winner of the "AI-based AgTech Solution of the Year" award in the 2021 AgTech Breakthrough Awards conducted by AgTech Breakthrough, a leading market intelligence organization that recognizes the top companies, technologies and products in the global AgTech market today.

LUNA from iUNU acts as a Digital Clipboard for growers. LUNA monitors an operation and compares forecasts with actual yield while also keeping tabs on every facet of the organization at a click of the app. The solution is able to automate repetitive work and makes use of greenhouse planning software that helps operators to analyze where to cut costs and where to allocate resources.
iUNU provides all this in a system based on data that can be easily accessed and managed on a laptop or cellphone so that as growers move during their careers, their knowledge stays with each greenhouse they operate.
Other key features include the ability of Luna's optical scanners to look for signs of pests and pathogens above the greenhouse canopy, with endless photographic angles that give a grower the ability to go back in time to see when, where, and how a problem began. Luna can also determine how many seeds germinate, giving growers verifiable data to hold seed companies accountable for their germination prediction rates. Lastly, multi-state operators and consultants can simply log in and remotely manage each team that's on the ground.
"We are overwhelmed to be singled out for this award by AgTech Breakthrough. We have worked hard to make sure growers understand that AI works to automate data collection, close the information loop, and allow them to focus on what they do best - grow. LUNA is an AI assistant, that helps plan, tracks inventory, optimizes growth, and forecasts," said Adam Greenberg, CEO and Founder of iUNU. "LUNA takes the ad hoc, often inefficient environment of a greenhouse and transforms the process into highly predictable outcomes. AI is here to stay and will empower the next big expansion for the industry allowing growers to cover more area with less time. The Luna system easily and fully integrates with almost all component-specific systems that operate in commercial greenhouses.
The mission of the annual AgTech Breakthrough Awards program is to conduct the industry's most comprehensive analysis and evaluation of agricultural and food technology categories, including Internet-of-Things (IoT) and Artificial Intelligence (AI) based agricultural technologies, farm management, indoor farming, food quality, data analytics and many more. This year's program attracted more than 1,500 nominations from over 15 different countries throughout the world.
"The average age of a grower is 57 and as they retire, their institutional knowledge will leave with them. Crop recipes, environmental data, germination rates, pest & pathogen control, and phenotyping - there's no central database of information," said Bryan Vaughn, Managing Director of AgTech Breakthrough Awards. "No company has developed a more comprehensive platform using computer vision with as extensive a data library as iUNU. LUNA from iUNU is an absolute game changer. Congratulations on being 2021's 'AI-based AgTech Solution of the Year.'"
####
About iUNU
Founded in 2013, iUNU ("you knew") is an industrial computer vision company headquartered in Seattle, with offices in San Francisco and San Diego. Connecting plants, facilities, and people through a single interface, LUNA turns commercial greenhouses into precise, predictable, demand-based manufacturers. An AI born in the heart of Seattle; trained in Silicon Valley and the greenhouses of Skagit Valley Washington; and now accessible from everywhere. The team at iUNU looks forward to introducing you.
About AgTech Breakthrough
Part of Tech Breakthrough, a leading market intelligence and recognition platform for global technology innovation and leadership, the AgTech Breakthrough Awards program is devoted to honoring excellence in agricultural technologies, services, companies and products. The AgTech Breakthrough Awards program provides a forum for public recognition around the achievements of AgTech companies and solutions in categories including farm management, indoor farming, automation, IoT and robotics, food quality, analytics and more. For more information visit AgTechBreakthrough.com.
Featured Product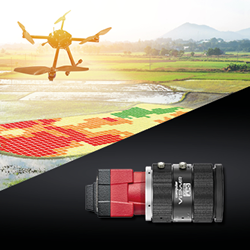 Allied Vision's compact and light weight Alvium SWIR (short wave infrared) cameras are the ideal choice to build cost-effective OEM systems used in embedded and machine vision applications. The cameras support a spectral range from 400 nm to 1700 nm at high quantum efficiencies. This allows to capture images in both the visible and SWIR spectra with a single camera and enables users to reduce overall system costs! Equipped with Sony's IMX990 and IMX991 SenSWIR InGaAs sensors, Alvium SWIR cameras deliver high image quality and frame rates. This makes them well suited for drones or handheld devices used in various industries such as, agriculture, mining, solar cell inspection or medical.