ONDO Smart Farming Solutions is pleased to announce that it is now part of AgroHub - the Bulgarian Digital Innovation Hub (DIH) for agriculture.
ONDO Smart Farming Solutions is pleased to announce that it is now part of AgroHub - the Bulgarian Digital Innovation Hub (DIH) for agriculture.

AgroHub (www.agrohub.bg) is an organization aiming to bring together knowledge and resources for the agricultural industry, with the ultimate goal to generate solutions that meet its needs and solve its problems. The Hub is part of the European project SmartAgriHubs, which has as its primary goal - the digital transformation of the European Agrifood Sector.
The Bulgarian AgroHub connects numerous agribusiness stakeholders in Bulgaria linked to agribusiness and technology - farmers, machinery, equipment and software manufacturers, organizations, institutions and others. ONDO is glad to join established organizations like the Institute for Agro strategies and Innovations, the National Grain Association, the Agricultural University Plovdiv, the Professional Association of Robotics and Automation and many more, and contribute with its vast expertise on optimizing the irrigation, fertigation and climate control in farms via precision farming solutions.
"The AgroHub has a very strong value in its combined expertise, experience and knowledge" - said ONDO Head of Product Ivaylo Enev - As an expert in precision agriculture solutions, we at ONDO will be eager to significantly contribute to AgroHub efforts towards building and integrating solutions meeting the needs of the agri-sector in Bulgaria and beyond.
ONDO smart agriculture solutions are already used by numerous customers in Bulgaria and Macedonia, with partnership discussions already taking place for all neighbouring countries. ONDO customers successfully optimize the resources used while boosting yield with ONDO, thus making substantial steps towards sustainable farming.
Find out more at:
https://ondo.io/
About ONDO:
ONDO (ondo.io) offers an innovative, digitally-controlled precision agriculture system for automated drip irrigation management and control, precise plant nutrition and climate control for various crops. ONDO can be used in greenhouses, orchards, vineyards or on the open fields, saving up to 85% of water, up to 50% of energy and up to 60% of losses caused by human error.
Featured Product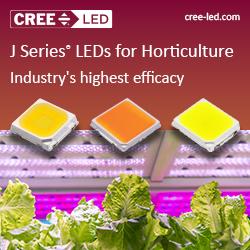 Horticulture and other forms of agricultural lighting require application-tuned ratios of spectral content, high efficacy and long lifetimes. Since these systems are designed to maximize yields for plants and animals, they require different metrics than lighting products designed around the human visual system. Cree LED delivers a wide range of spectral options and products optimized for these applications with leading efficiency and reliability.