Forbes Reports BrightFarms at the Forefront of Healthier, Environmentally Friendly Indoor Farming Movement
BrightFarms, a leader in locally grown packaged salads, has been featured in Forbes as a safer brand of salad.

Paul Lightfoot, President at BrighFarms, explained to Forbes contributor Liz Engel that BrightFarms is "structurally better than the product we compete with, and consumers are really going for it."
Following a surge of nationwide romaine recalls in the past year, including an E.coli outbreak just ahead of Thanksgiving, there are growing concerns about the safety of long distance, field grown salad greens.
Grown in local, indoor greenhouse farms, BrightFarms' produce is fresher, safer, cleaner, healthier and tastier than long-distance, field-grown produce. All BrightFarms salads including its romaine lettuce, are safe to eat and were not associated with the FDA and CDC's November 2019 romaine advisory.
"We're replacing what's...always been a long and complex supply chain. The salad industry is very centralized from the West Coast, and for places in the Midwest, that's a long journey," continued Lightfoot. "And with salads, which are two-week shelf life products, it's a really big deal."
With greenhouses in Pennsylvania, Virginia, Ohio and Illinois, BrightFarms continues to scale. This year, BrightFarms has plans to open a greenhouse in Selinsgrove, Pa. and begin construction on a greenhouse in Henderson County, NC.
To learn more about how BrightFarms grows safer, fresher salad greens, visit brightfarms.com.
About BrightFarms
BrightFarms is the No. 1 brand of locally grown packaged salads, serving the freshest, tastiest and most responsibly grown produce to consumers nationwide. BrightFarms operates hydroponic greenhouse farms in the communities it serves, enabling it to eliminate time, distance, and costs from the food supply chain. BrightFarms' growing methods, a model for the future of scalable, sustainable local farming, use far less energy, land and water than long distance, field-grown agriculture. Forbes has recognized BrightFarms as one of the "100 Most Consumer Centric Companies" and Fast Company has recognized BrightFarms as "One of World's 50 Most Innovative Companies" and one of the "Top 10 Most Innovative Companies in Food." BrightFarms is funded by leading investors Cox Enterprises, Catalyst Investors, WP Global Partners and NGEN Partners. For more information, please visit http://www.brightfarms.com.
Featured Product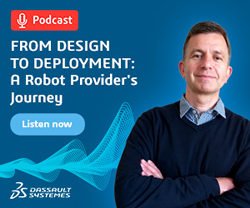 Let's listen to Arvind Krishnan, industry analyst at Lifecycle Insights and Michael Mayr, Industrial Equipment Sales Strategy Expert at Dassault Systèmes. They will discuss the robot industry and how startups can succeed in this market.