Agriculture and Weather Analytics Segment's FY19 Net Bookings Total $6.3 Million
Iteris, Inc. (NASDAQ: ITI), the global leader in applied informatics for transportation and agriculture, today announced that its Agriculture and Weather Analytics segment recorded $6.3 million in net bookings for the fiscal year ending March 31, 2019, representing a 32% increase from the same prior-year period.

The segment's full-year net bookings reflect significant and sustained demand for both Iteris ClearAg® and Iteris ClearPath Weather®. ClearAg provides environmental intelligence to agribusinesses and agriculture allied providers, while ClearPath Weather provides predictive roadway intelligence to state and local agencies, as well as commercial entities. Iteris offers both ClearAg and ClearPath Weather on a software-as-a-service (SaaS) basis.
Recent notable Agriculture and Weather Analytics new customer bookings include:
A leading crop science company focused in the field of biologics will integrate ClearAg's environmental intelligence into the crop science company's crop modeling platform.
RiceTec, a leading developer of rice seed technology, will use ClearAg's machine learning platform to develop advanced rice seed models.
A leading international contract research organization in the field of agroscience, Staphyt Agrosciences, selected ClearAg for use in 19 countries.
Two irrigation solution providers, including CropMetrics, will integrate ClearAg's environmental intelligence into their unique irrigation solutions offerings.
A national agricultural agency in the UK, the Agriculture & Horticulture Development Board, ingested ClearAg hyperlocal current and forecast weather data into the board's WeatherHub.
Several leading European allied providers, including Hummingbird Technologies and Dacom Farm Intelligence, will embed ClearAg APIs and/or visualization components into their solutions.
"We are excited by the response from our target customer base to the solutions-oriented approach we introduced in FY19," said Jim Chambers, senior vice president and general manager, Agriculture and Weather Analytics at Iteris. "Looking ahead, we anticipate continued significant demand for our environmental intelligence and predictive roadway intelligence solutions, with a particularly high level of customer interest in ClearAg emanating from the Europe and North America markets."
About Iteris, Inc.
Iteris is the global leader in applied informatics for transportation and agriculture, turning big data into big breakthrough solutions. We collect, aggregate and analyze data on traffic, roads, weather, water, soil and crops to generate precise informatics that lead to safer transportation and smarter farming. Municipalities, government agencies, crop science companies, farmers and agronomists around the world use our solutions to make roads safer and travel more efficient, as well as farmlands more sustainable, healthy and productive. Visit www.iteris.com for more information and join the conversation on Twitter, LinkedIn and Facebook.
Featured Product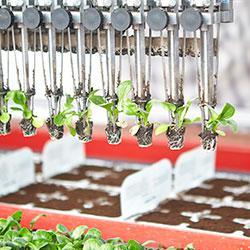 MICROMO launches the new MC3/MCS motion control family. The new high performance, intelligent controllers are optimized for use with FAULHABER motors, offer electronics for simple operation with state-of-the-art interfaces for multi-axis applications, and provide a motion control system solution with the most compact integration into industrial grade housing.